Another review today. This time I am putting the notorious Arrtx Acrylic Markers under the microscope.
I have previously reviewed Arrtx 126 colored pencil set and I totally astounded by their quality/price combinations. Naturally the bar was already high. Let me tell you that: They didn't disappoint.
Disclaimer: The markers were sent to me for review, and some links (marked with *) are affiliate links. However this is not a sponsored review and all opinions are my own.
Another disclaimer: I am not an expert when it comes to markers. I do enjoy using them, mostly for non photorealistic stuff (for example on my kids channel on youtube @joannavukids) but they are not my primary medium. I will do my best, however, to deliver a detailed, unbiased review.

About Acrylic Markers
There are many kinds of markers on the market: water-based, alcohol based, oil based… you name it. Acrylic markers contain water based acrylic paint. Which comes with all the advantages and the disadvantages of acrylic. They are generally opaque, quick drying and blendable while wet. Once dried, they are permanent, just like acrylic. The most well known acrylic markers out there are posca markers, so I expected something similar. However, arrtx acrylic markers are really unique, both design-wise and art-wise. Let me explain.
General Characteristics
They come in a simplistic, yet semi-luxurious cardboard case (which I am beginning to think is the "signature" look of arrtx boxes!). They come in two different 30-piece each packages. One including pastel colors, and one general colors. They are so well-designed, that my kids demanded the markers as soon as they saw them. I promised I will give them to them once I finished with this review. I am looking for a loophole, how to keep them for myself!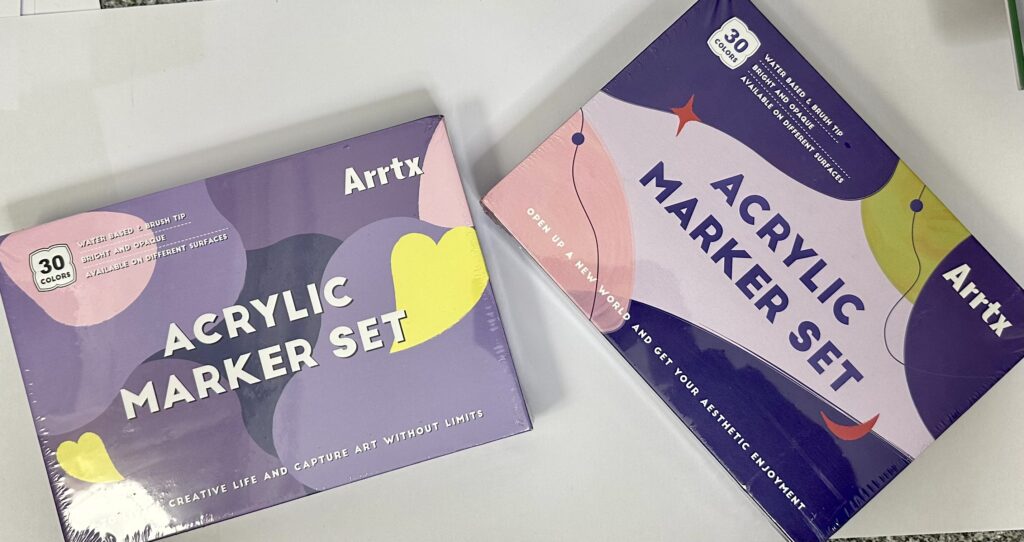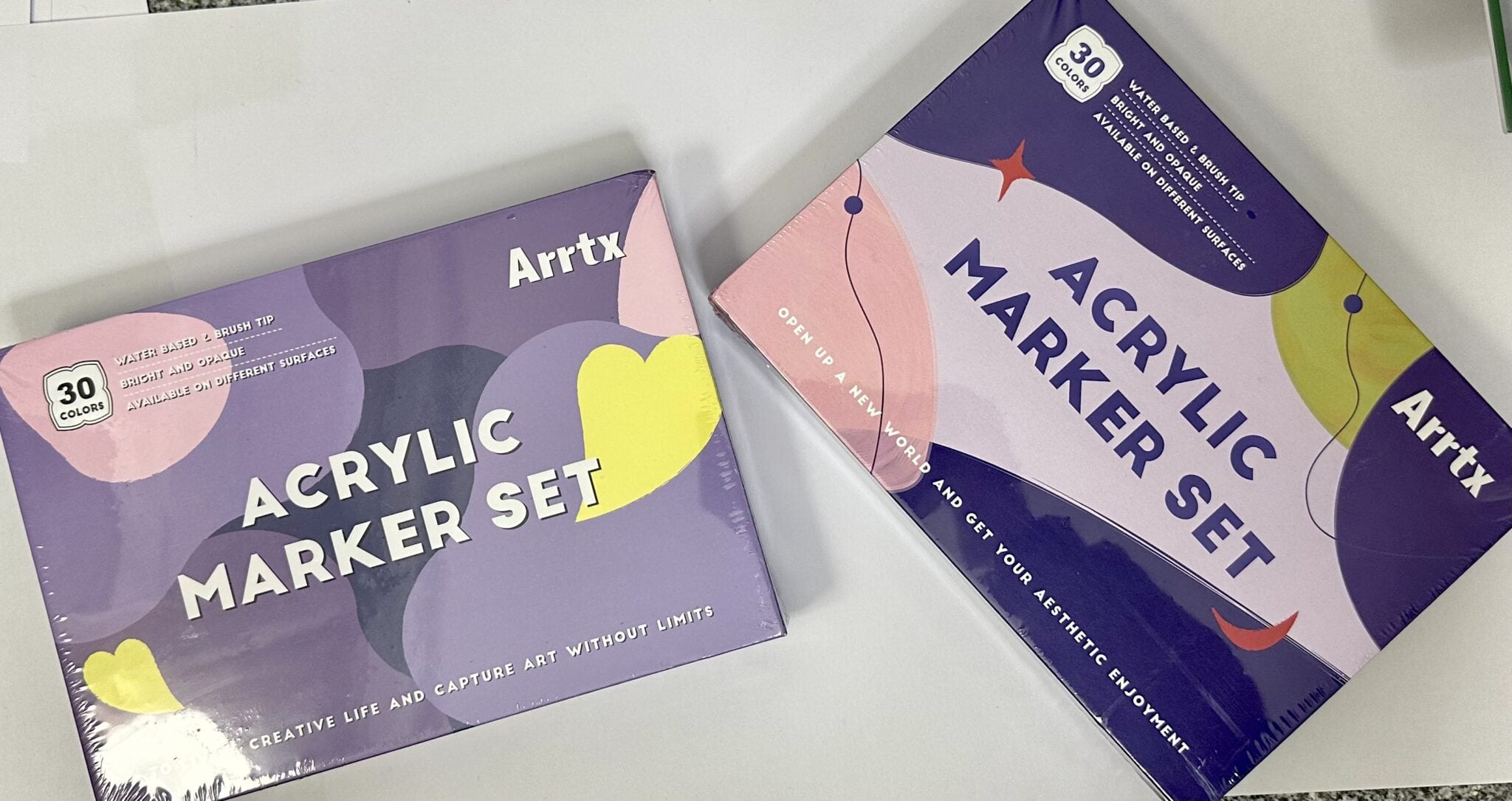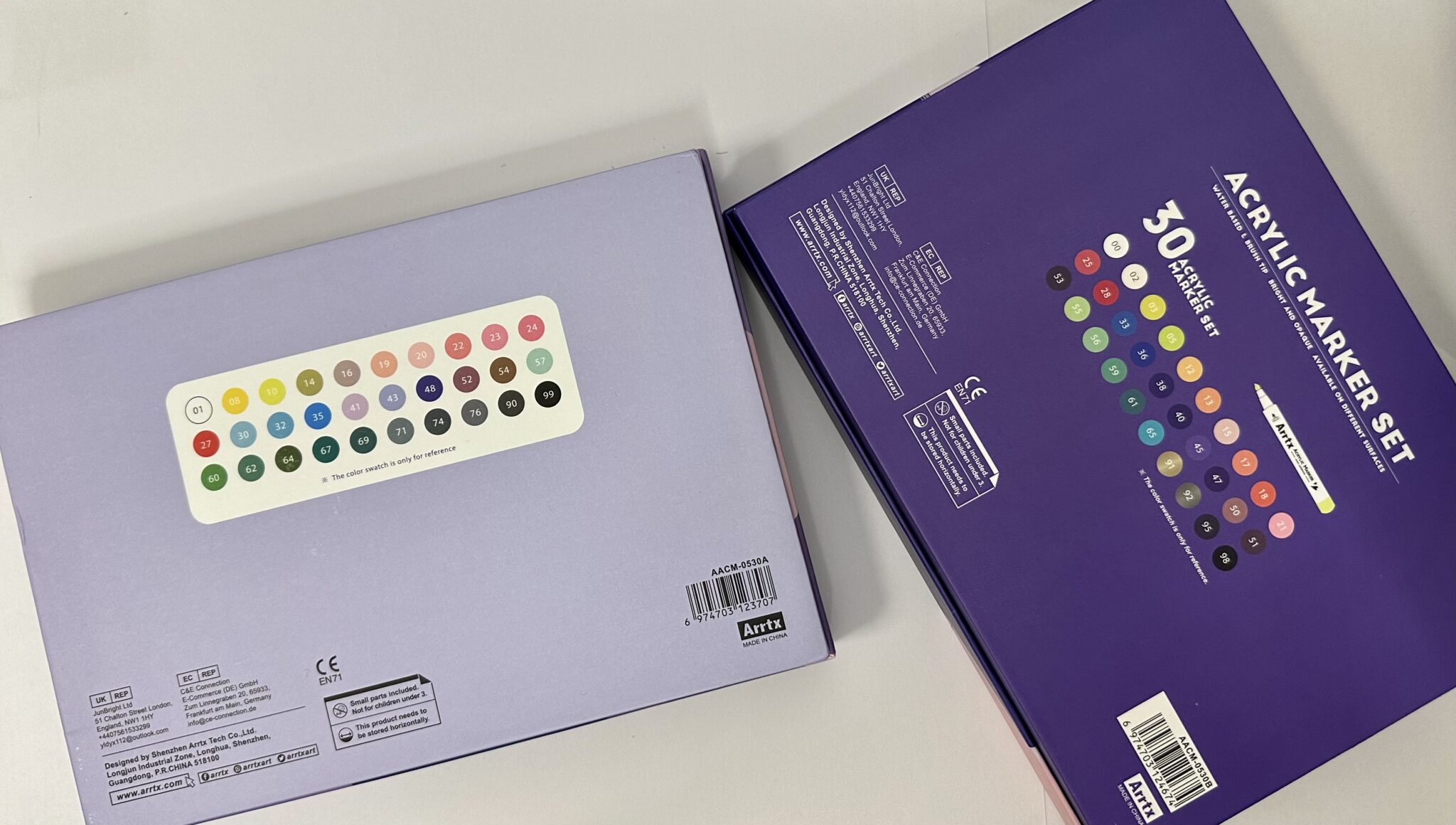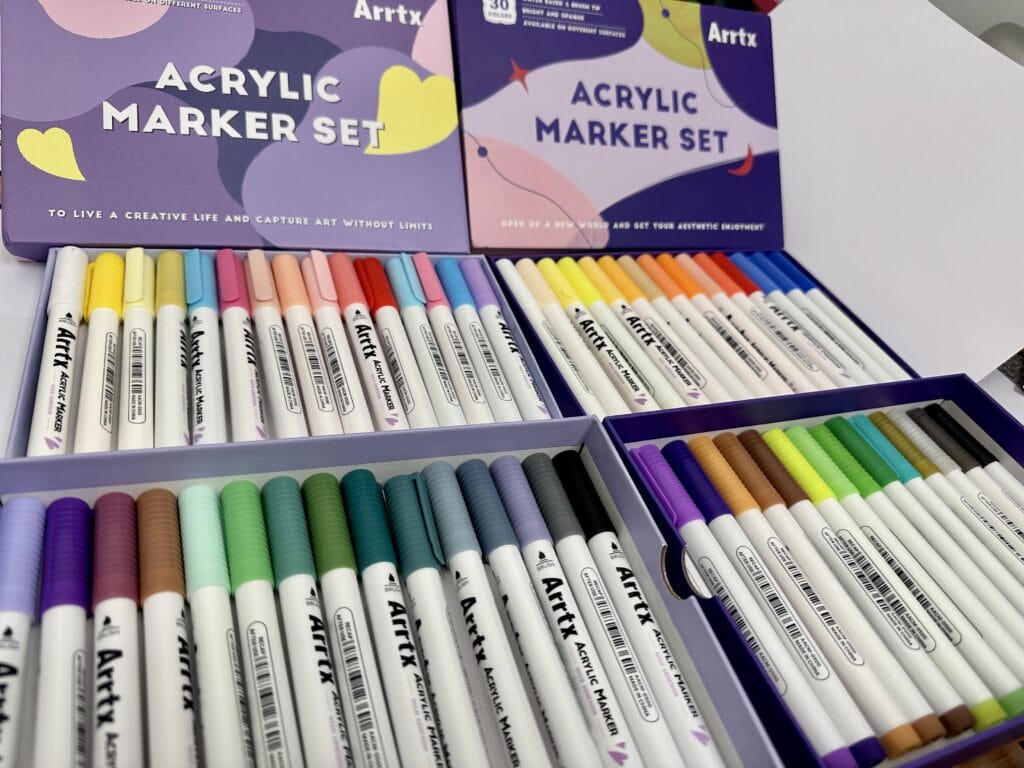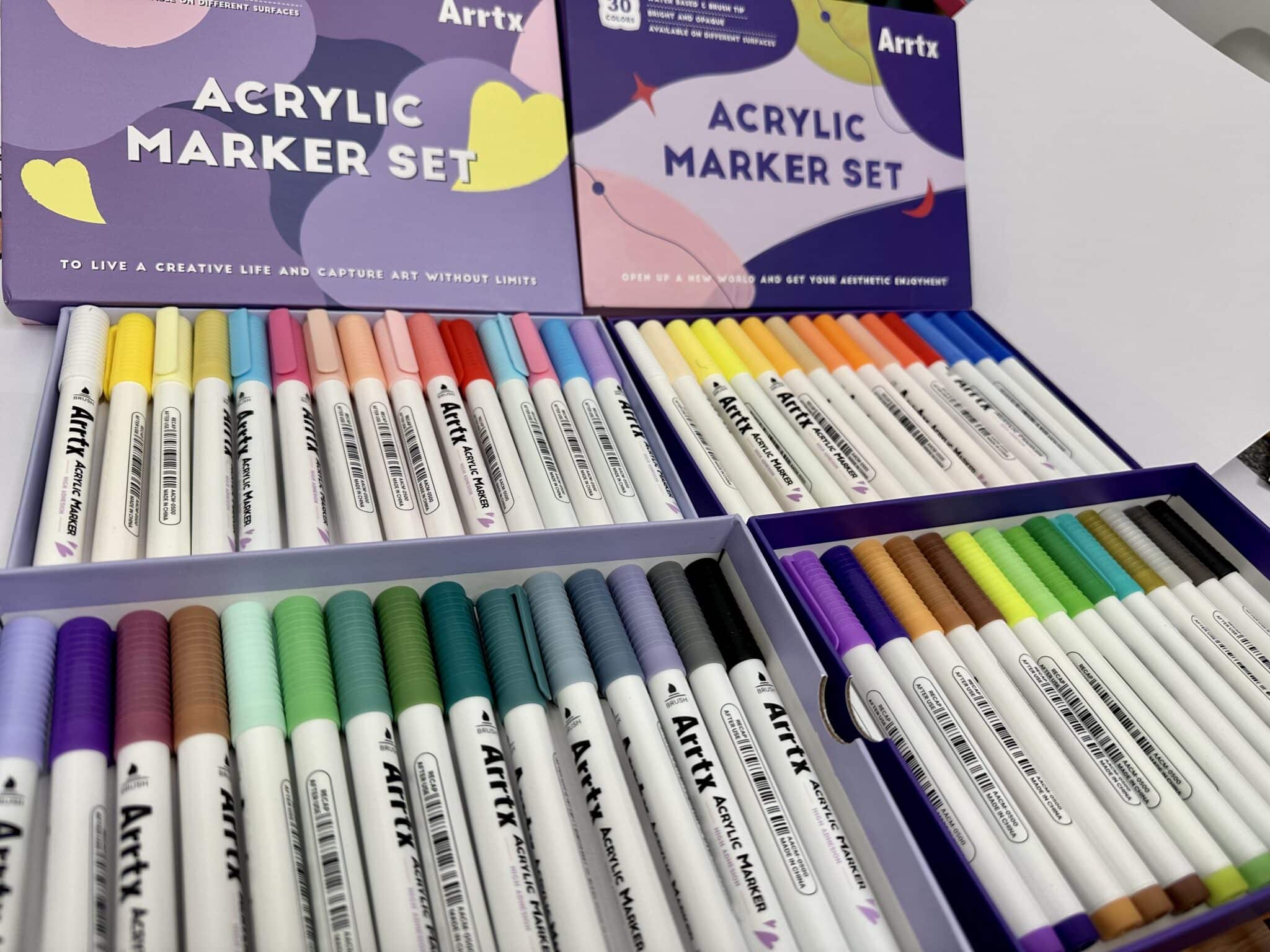 Marker Design
They come in a super thin adjustable foam tip, which means the precision that can be achieved is impressive. I honestly expected to see something similar to posca markers. Posca tips are generally thick and they need to be activated in order for the ink to start flowing, which comes with quite a few disadvantages, that I will not elaborate here. Together with the flexible foam tip they feel like painting with a brush.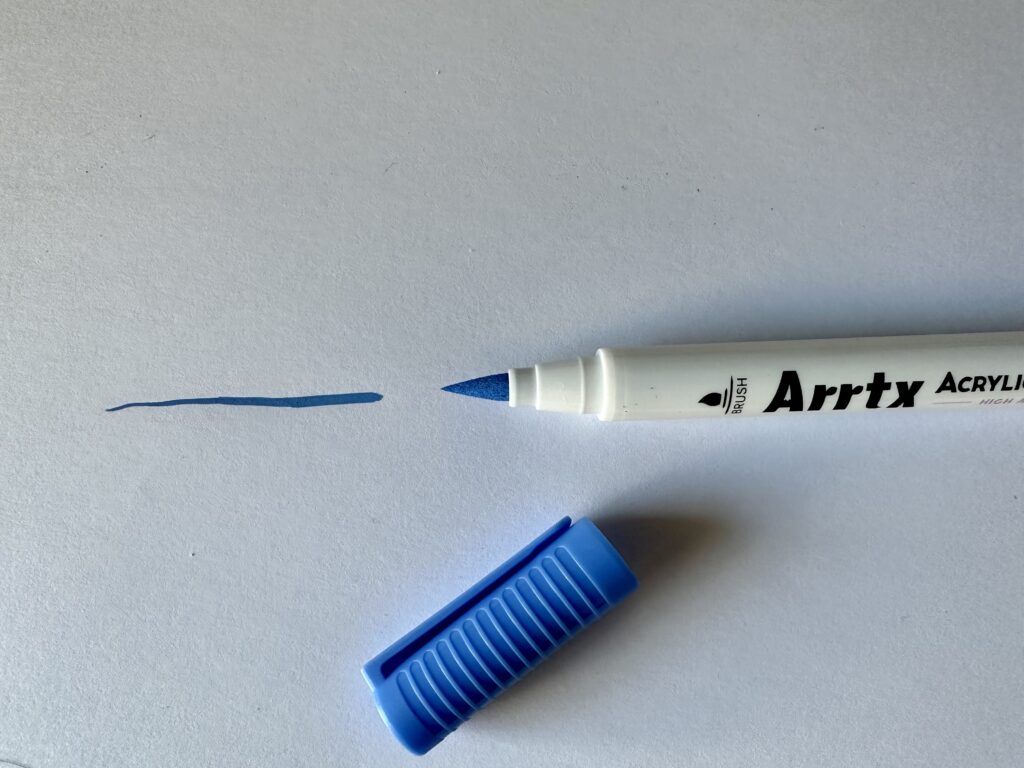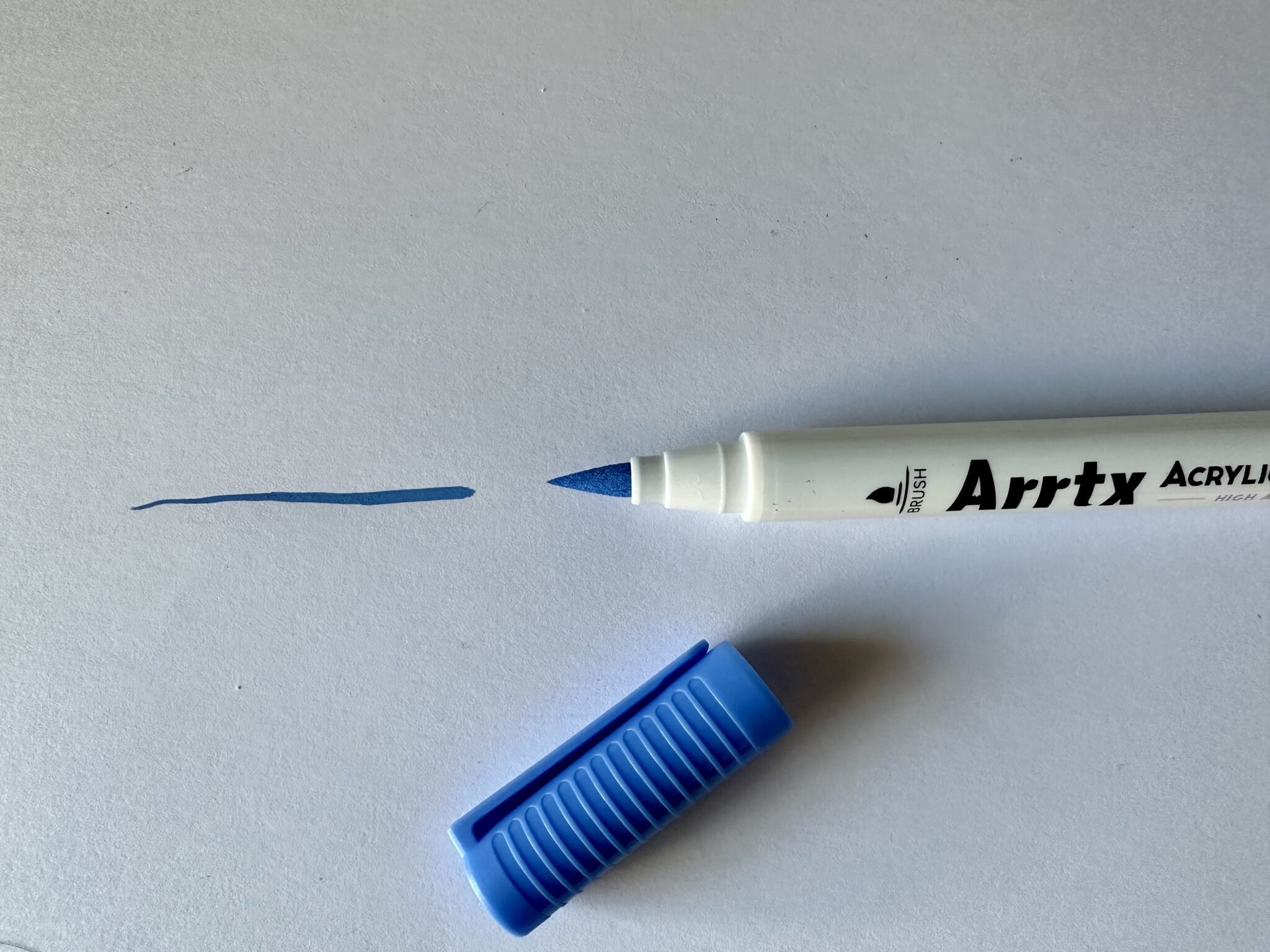 Color Variety
Swatched on paper, Colors from the General palette are totally opaque and more pigmented, whereas the Pastel palette offers slightly more …, well, pastel colors, which are not 100% opaque. (They require two or more coats to turn opaque) No two colors from the two palettes are the same, one set complements the other.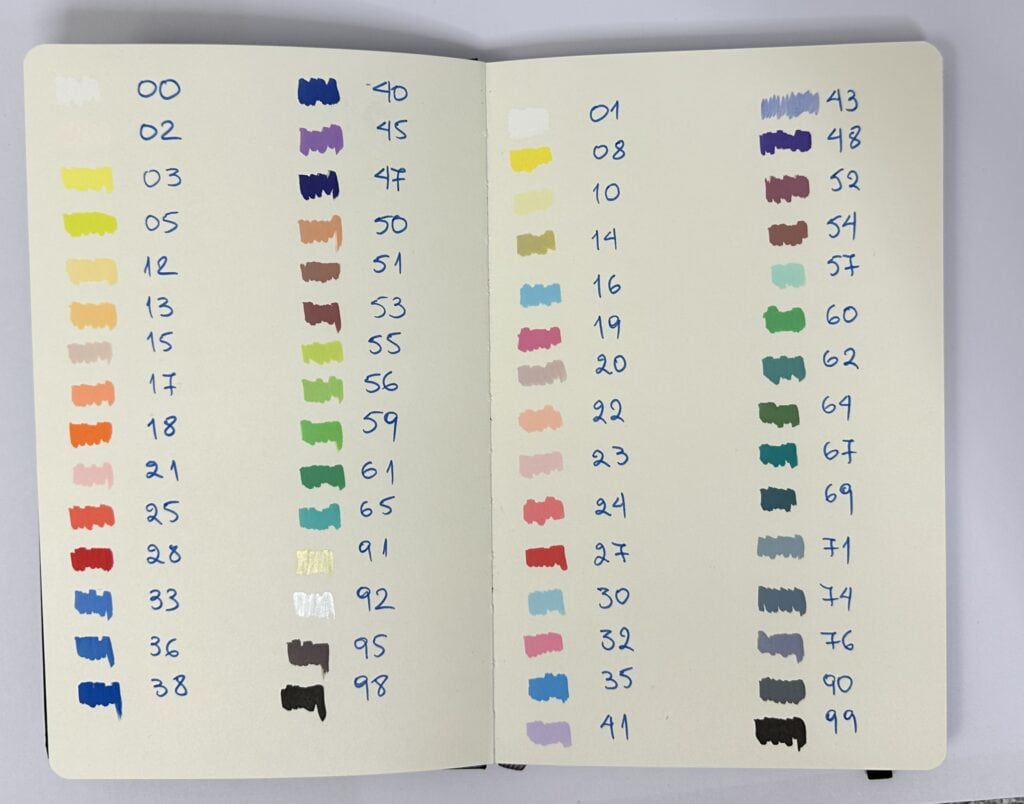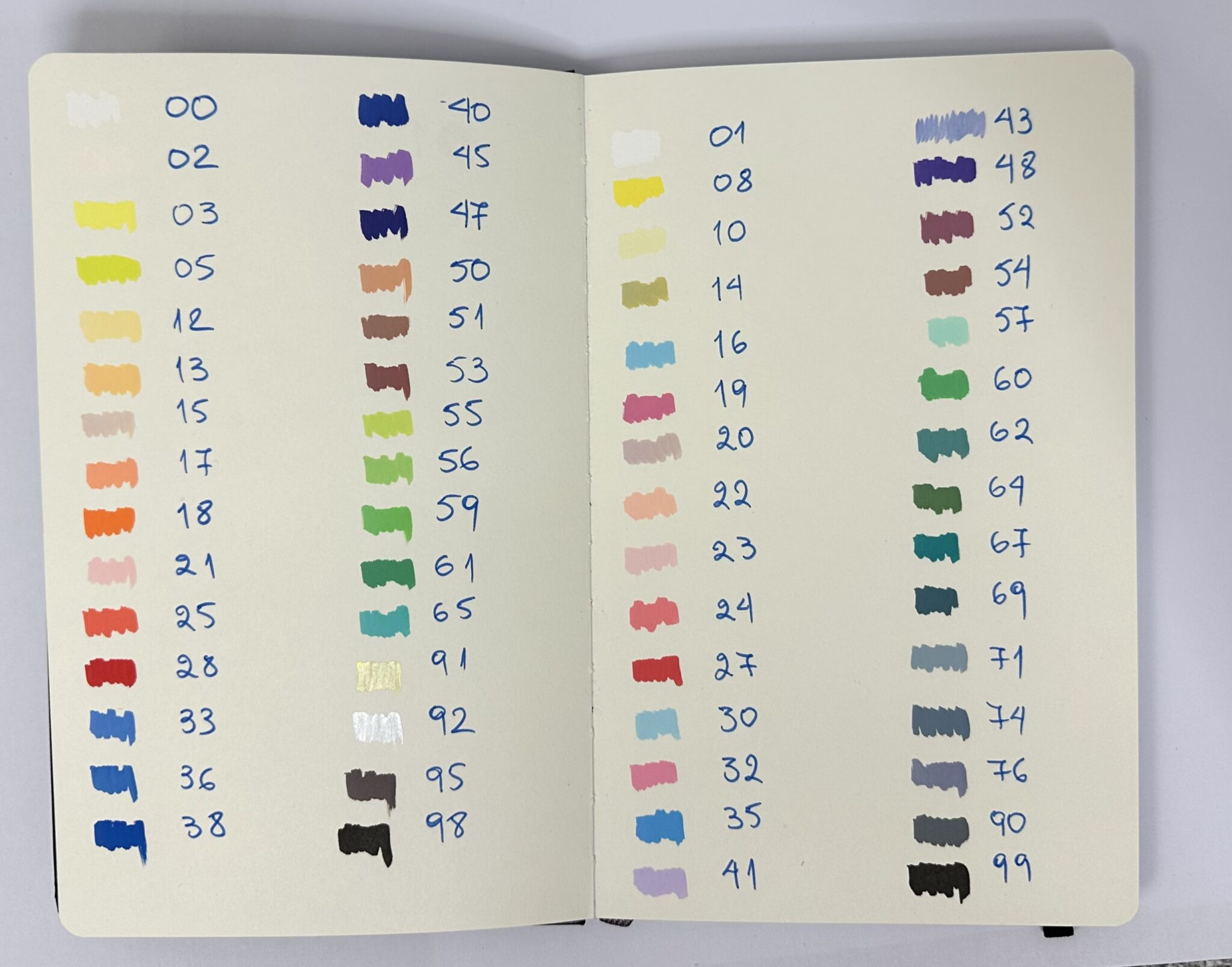 Color payoff
They deliver an insane amount of pigment on paper. As mentioned, the markers in the general palette are 100% opaque whereas the markers in the pastel palette are a bit more watery (but they can turn opaque with two coats).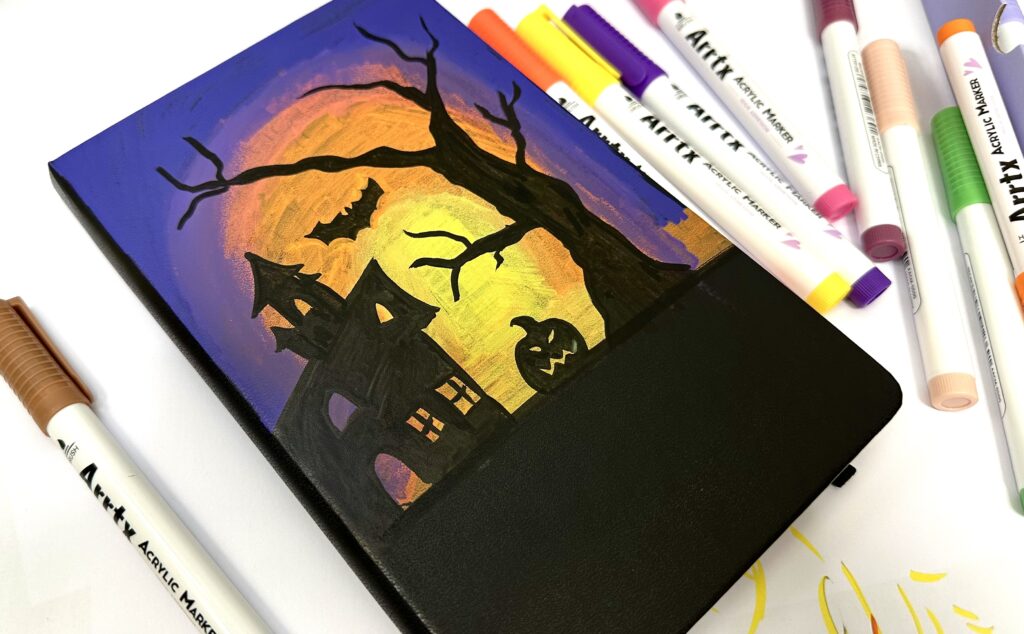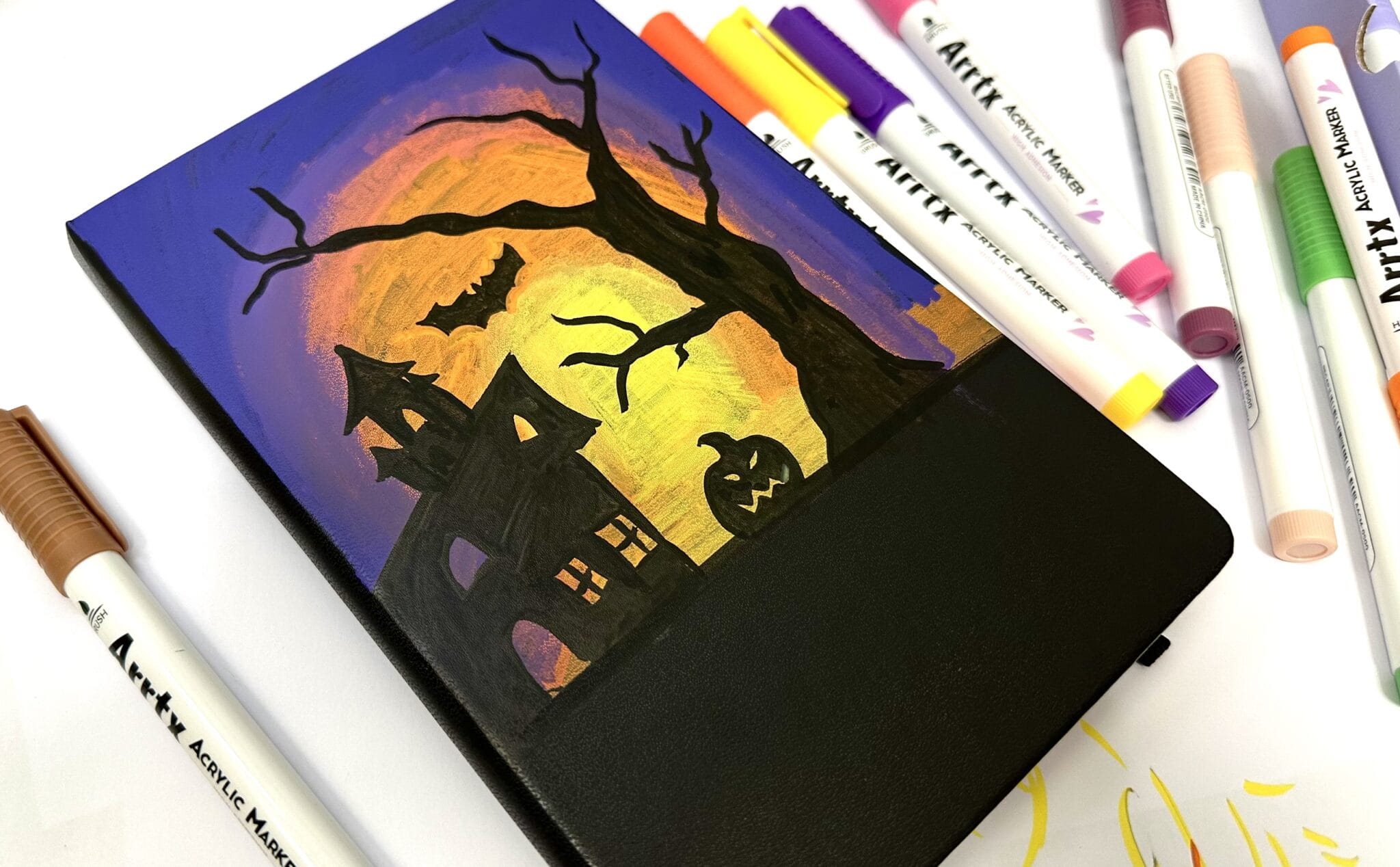 Arrtx Colored Markers on Various Surfaces
The best thing about the markers is that they can draw anywhere! They strongly reminded me of my childhood when we used to vandalize school desks, walls, etc (shhhh don't tell anyone!) with posca markers and sharpies. They can be used on paper, glass, fabric, porcelain and a lot of other surfaces I am sure, that I haven't tested yet. Which means that creativity is off the charts.
Paper
Paper is the trickiest medium to use Arrtx Acrylic Markers on. Paper generally is a porous surface, so Acrylic dries immediately and blending is almost impossible. However, they provide such a wide range of super bright colors, they are a joy to use. Also, they practically come in 60 shades, which is insane for acrylic markers. Oh, also they are completely opaque on paper.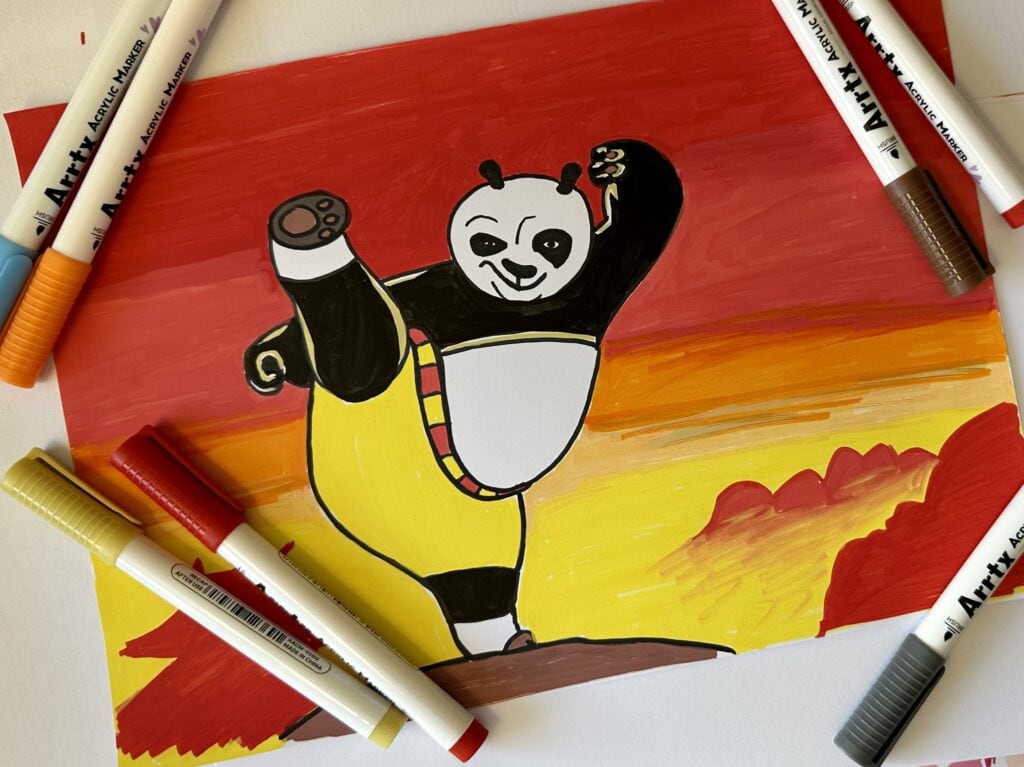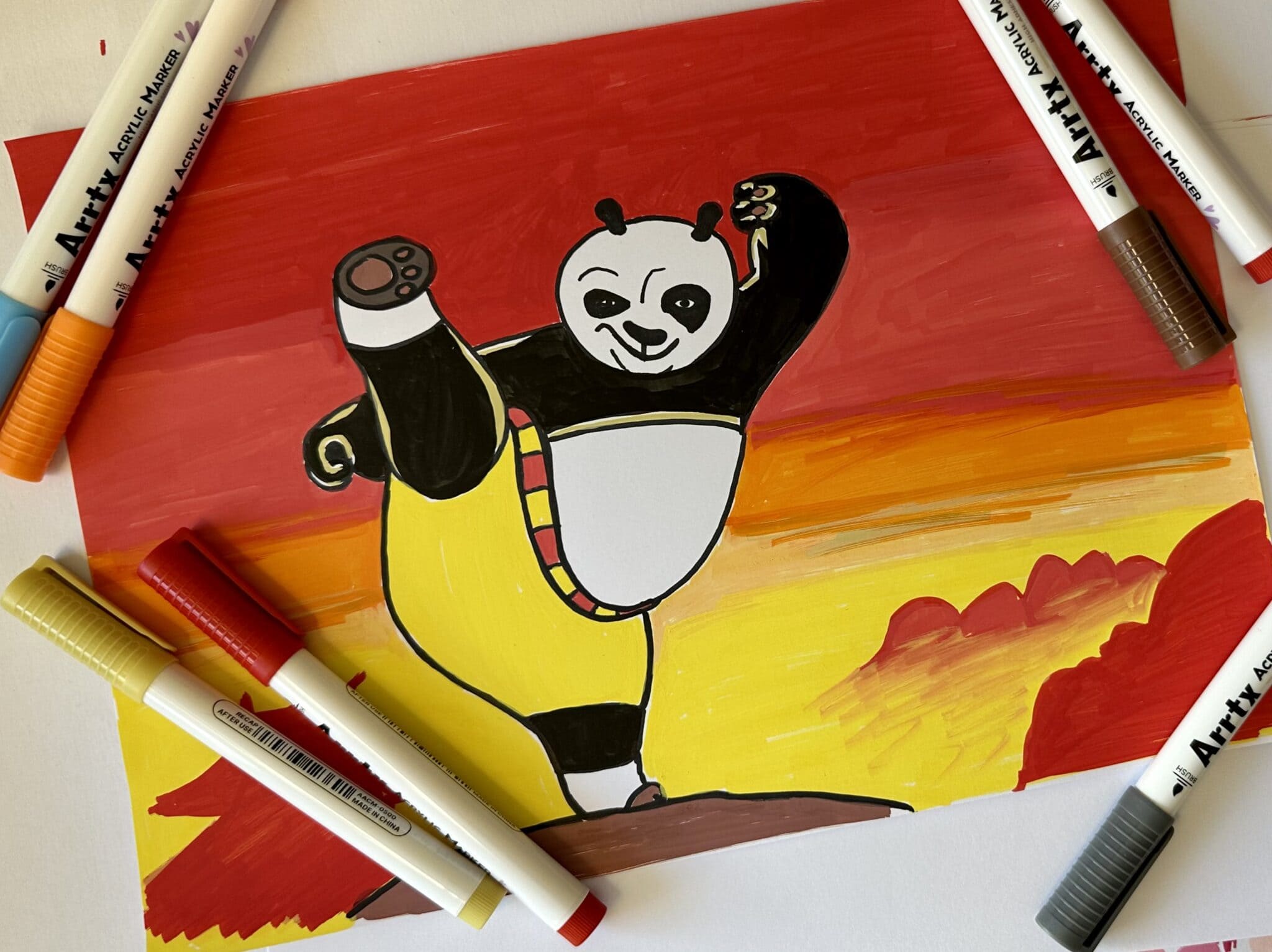 Leather/Fabric
Arrtx on leather/fabric is semi-opaque and it might require multiple coats of paint to turn 100%. The flexible tip allows for extra definition even on bumpy surfaces like that of jeans. The colors are super bright even on black surfaces. If you wanted to give your old jeans, jacket, t-shirt a makeover… now the perfect time!
Warning: On fabric they are permanent and waterproof (yes, really!) so be extra cautious with your designs because you probably won't be able to make corrections!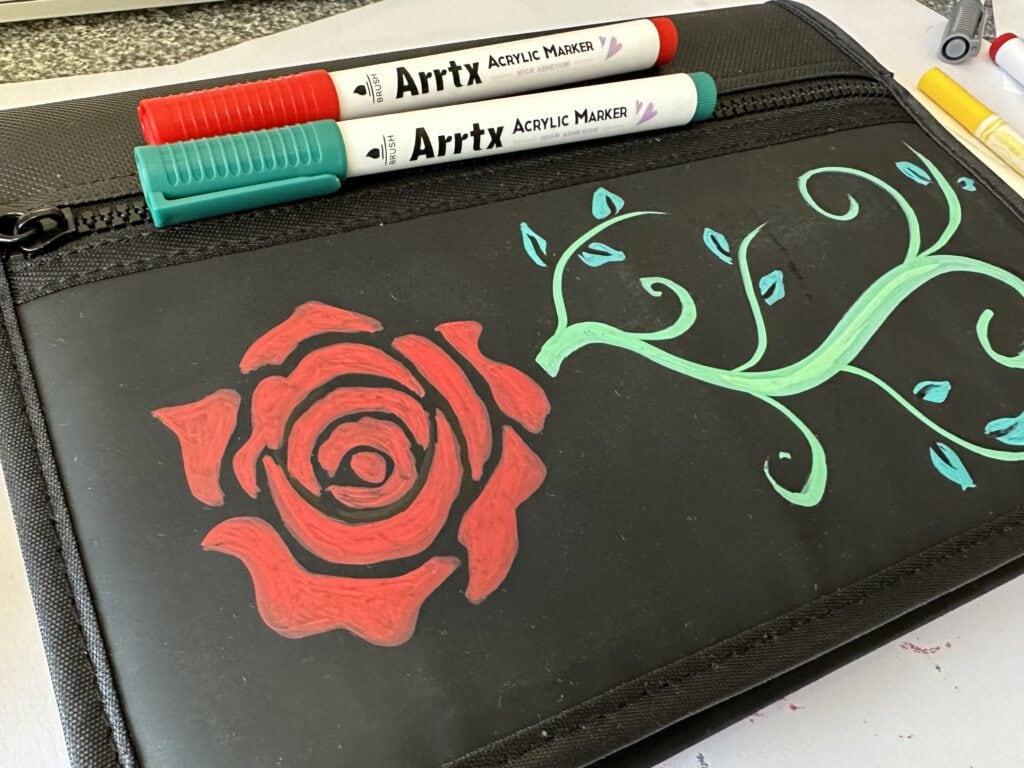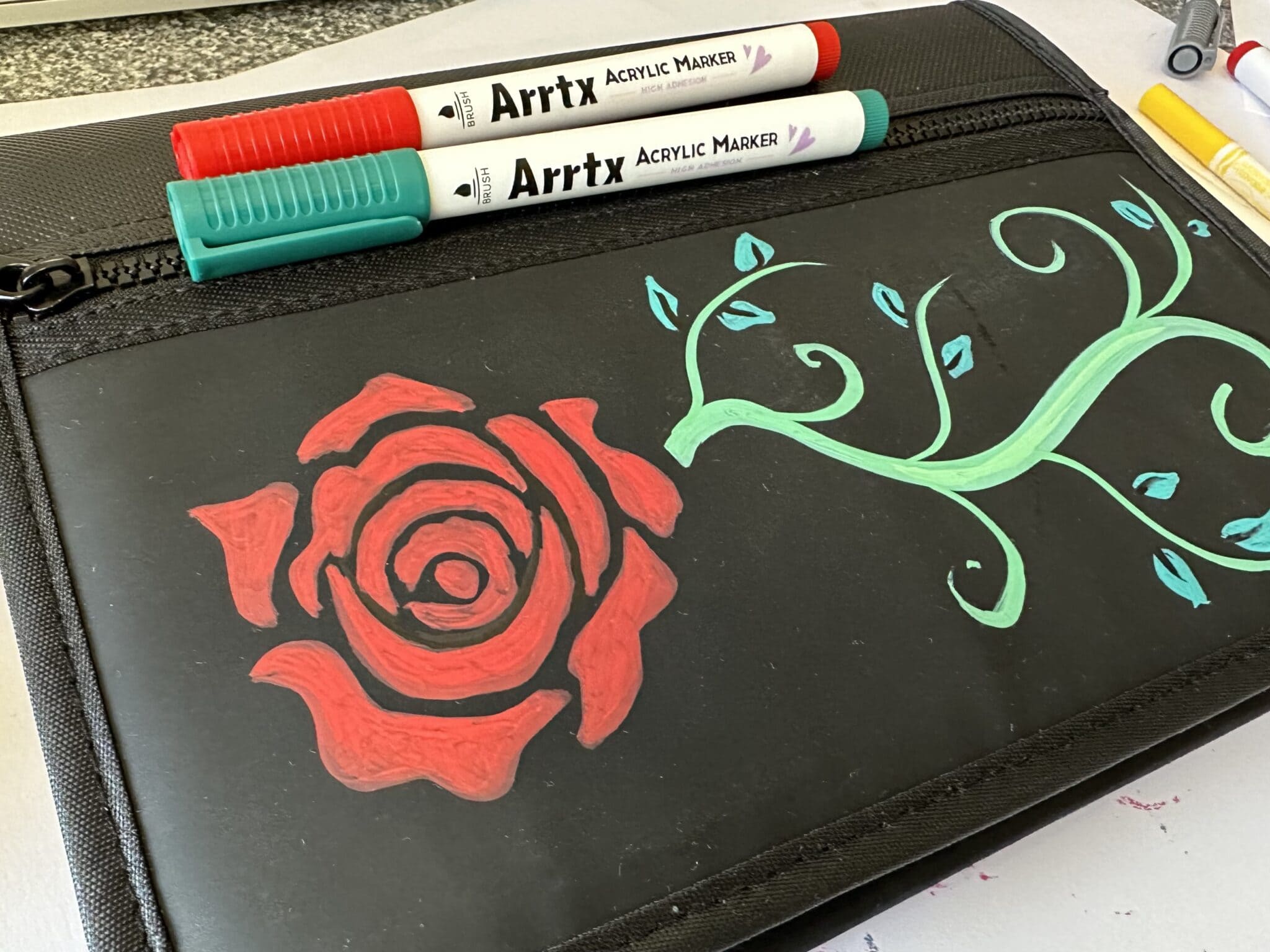 Glass/Porcelain
Just like fabric, they are super bright, super waterproof and super permanent on glass. The only difference is that since glass is a smooth surface, it takes longer for the markers to dry. Also they might look patchy at places, because the paint tends to "slide" on the glossy surface, in which case it needs more layers to look good. However, once again when dry, the paint doesn't budge and cannot be removed, washed off in any way. (Although I suspect it can potentially be scratched with extensive use. I will keep you posted!)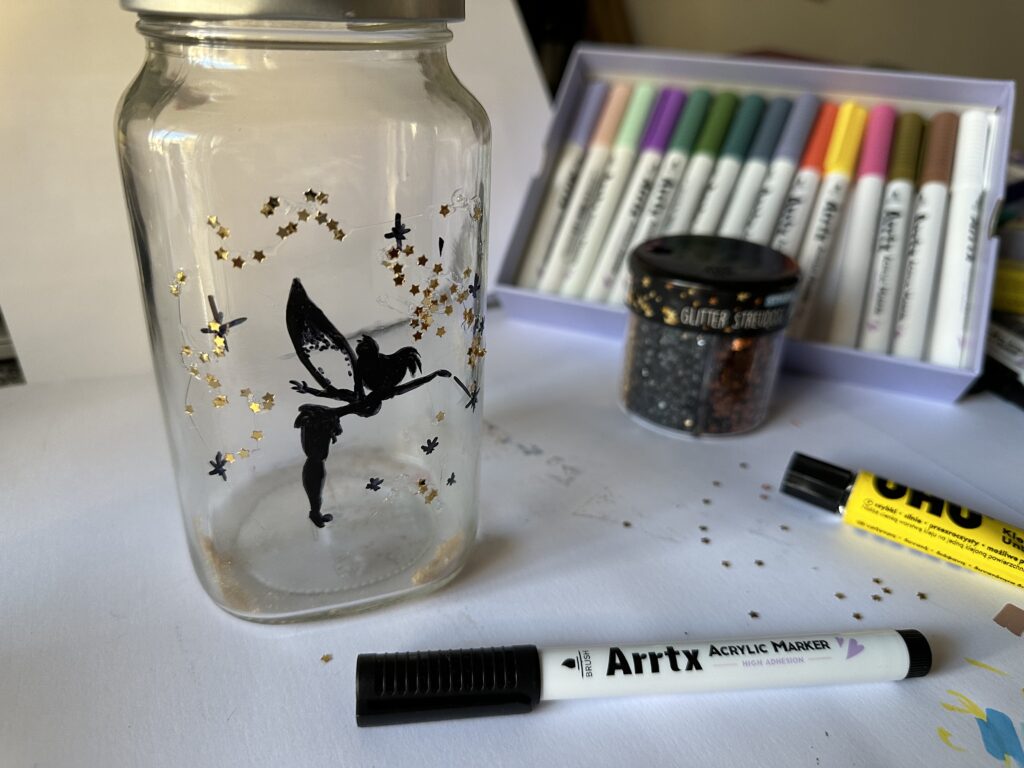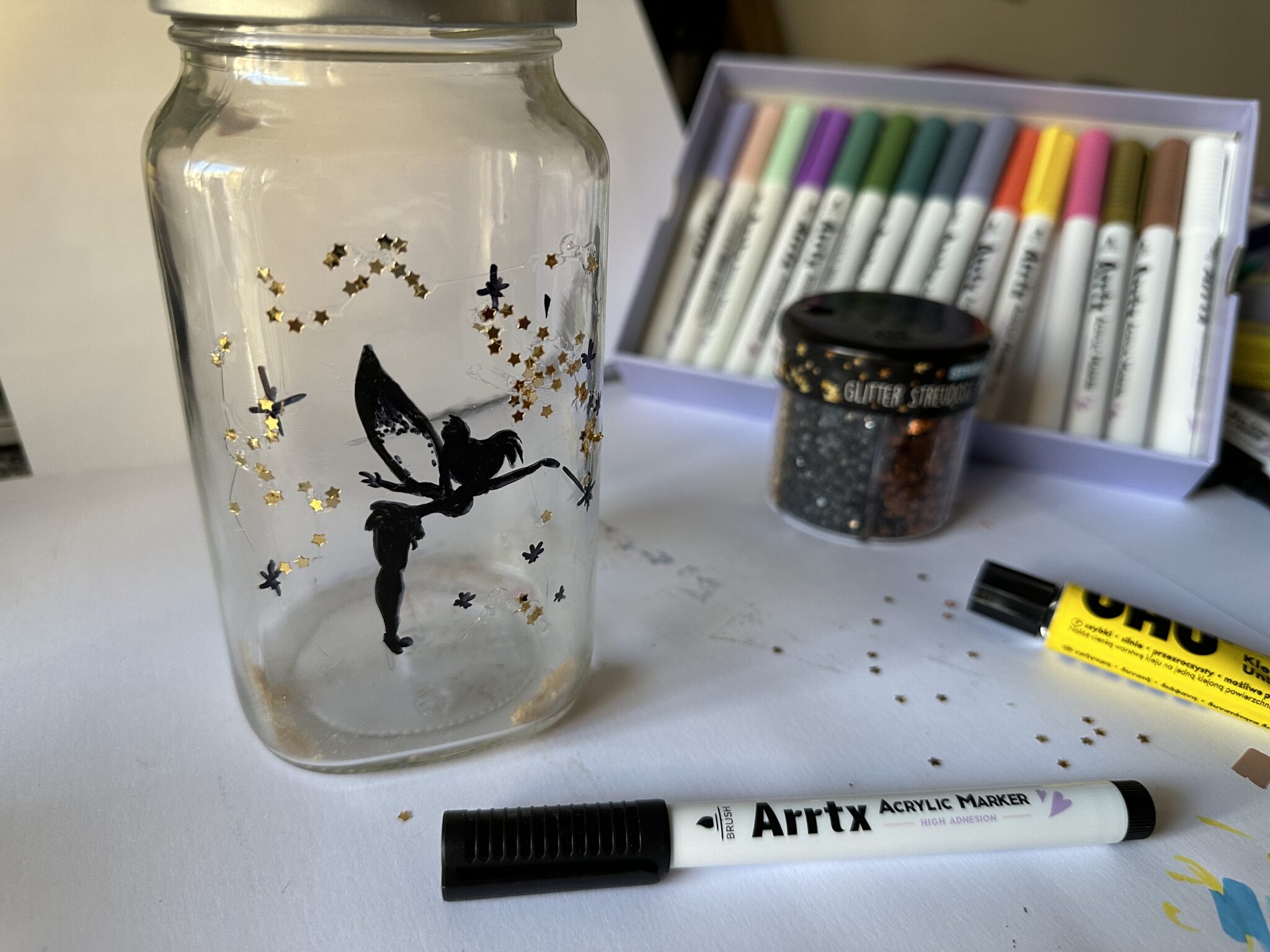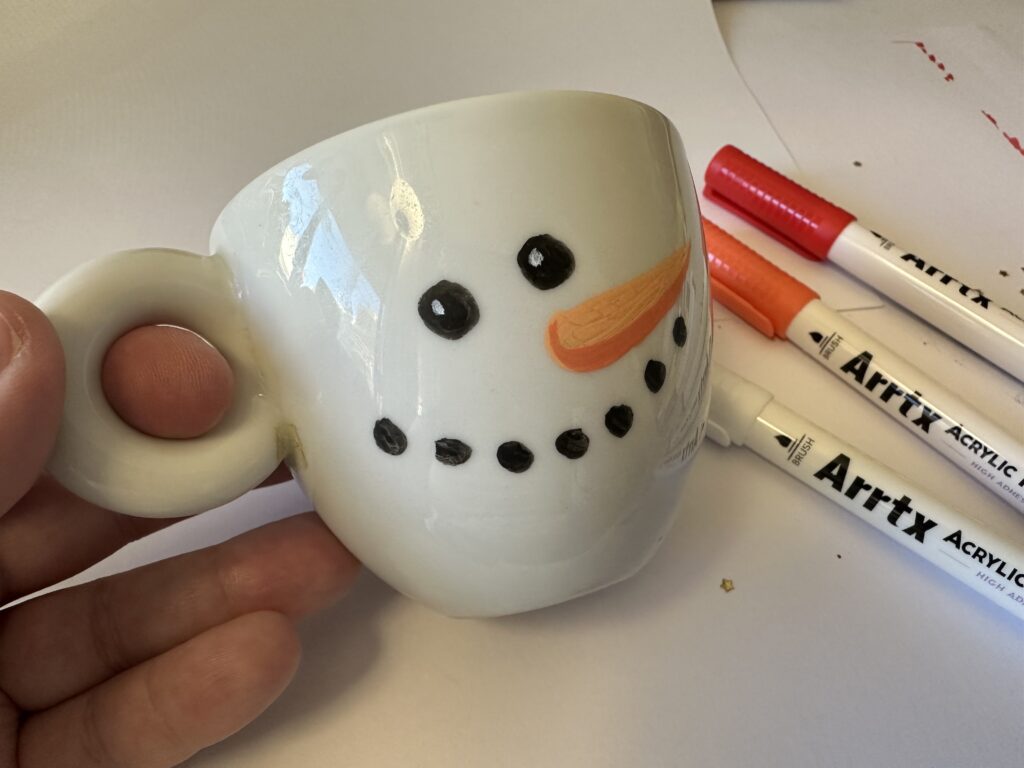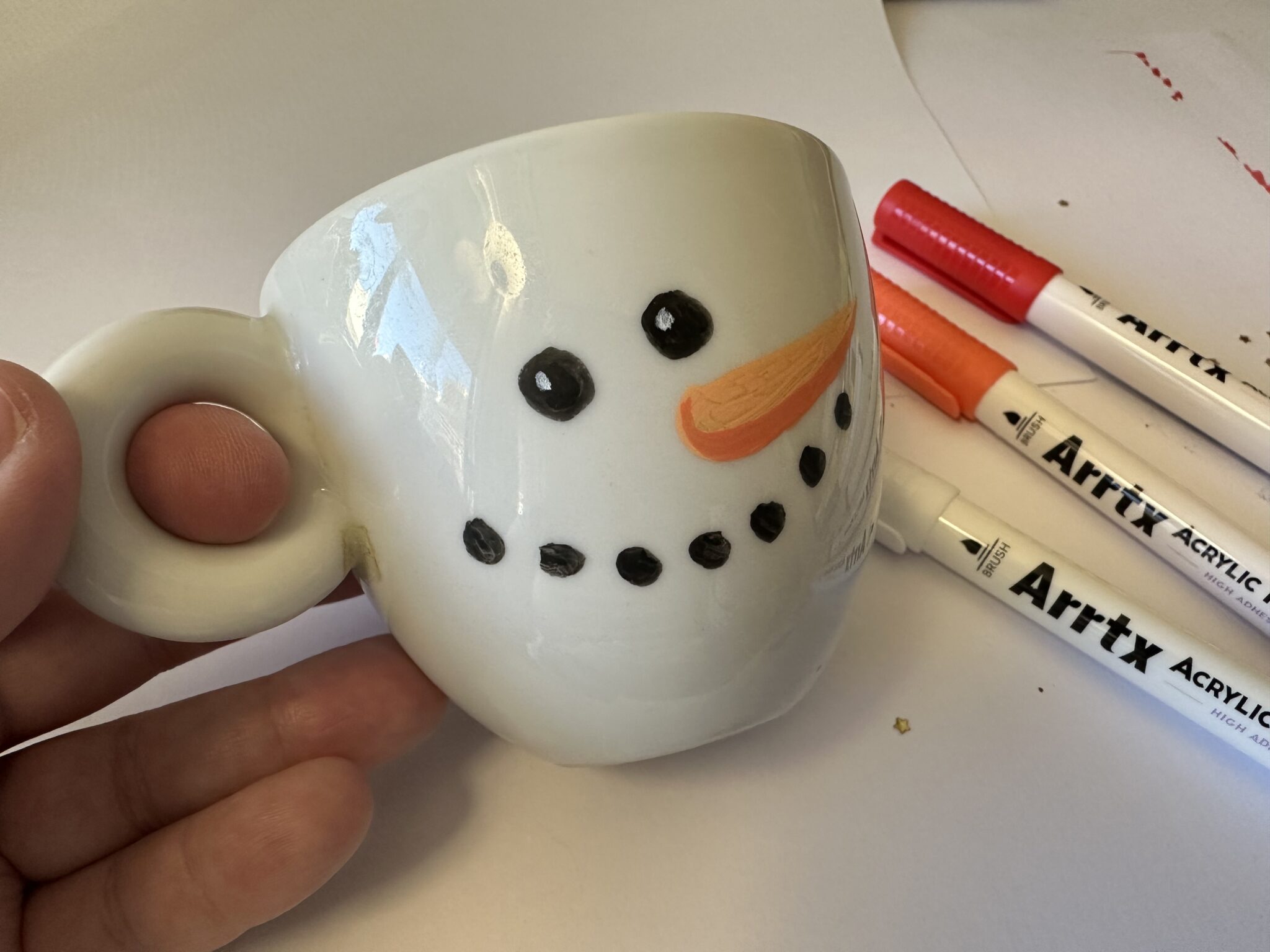 Lightfastness
What about lightfastness? First of all, markers are normally used for illustrative art, not fine art. All alcohol markers for example are the opposite of lightfast. However, among all markers, acrylic markers are the most lightfast out there (or as lightfast as acrylic can be).

Price
The whole 30 marker set retails 27.99$ on Amazon, which is almost … absurd, compared to other permanent markers. (Yep, permanent markers are not cheap!) A set of 12 medium posca makers for example, costs 34$.

Joy to use
The best thing about Arrtx acrylic markers is that they are… a total joy to use! It was a breath of fresh air to take a break from photorealism and create something completely different. One thing is for sure, I will keep experimenting with these markers and keep updating this post. Stay tuned!

Aaaaand don't forget to get your set here: (*affiliate links)
US: https://amzn.to/3DetkfG *
CA: https://amzn.to/3kFFxn8 *
DE: https://amzn.to/3H5dZPx *
FR: https://amzn.to/3DcYTXl *
UK: https://amzn.to/3HukZah *
Aliexpress: https://www.aliexpress.com/item/1005004961566054.html?spm=5261.ProductManageOnline.0.0.63294edfGUMeds