According to my social media log it's been almost 3 years since I last used graphite pencils, and about 1.5 years since I used traditional media in general. Still… pencils are my favorite toys, when I see something new, I MUST have it! Naturally, my pencil collection, which I've built over the course of many years, consists of a lot of pencils. In fact I think it consists of more pencils than I can use through my entire life. (Especially if you take into account how much I've drawn the last couple of years!) However, that doesn't stop me from buying new ones. When I saw that Faber-Castell released a jet-black, shine-free graphite pencil, I had to have it. The idea alone was enough to put me out of hibernation.
If you have been drawing traditionally (and I suspect this is the case since you are reading this blog post) you know that pencils artists constantly grumble about one thing: graphite shine. Every now and then a product hits the market that claims to get rid of graphite shine. I have extensively covered the issue here. But, Faber-Castell in the game, this is huge news. So, let's test out some pencils, shall we?!
The pencils
Faber-Castell Pitt Graphite Matt Pencils come in 8 grades of softness: HB, 2B, 4B, 6B, 8B, 10B, 12B and 14B. Wow, the number alone is impressive! I just got grades 2B, 8B and 14B. First results were really promising, 14B is pitch black and matt. But the biggest surprise is 2B. Even though it is not black (after all it is only 2B!) it looks matt!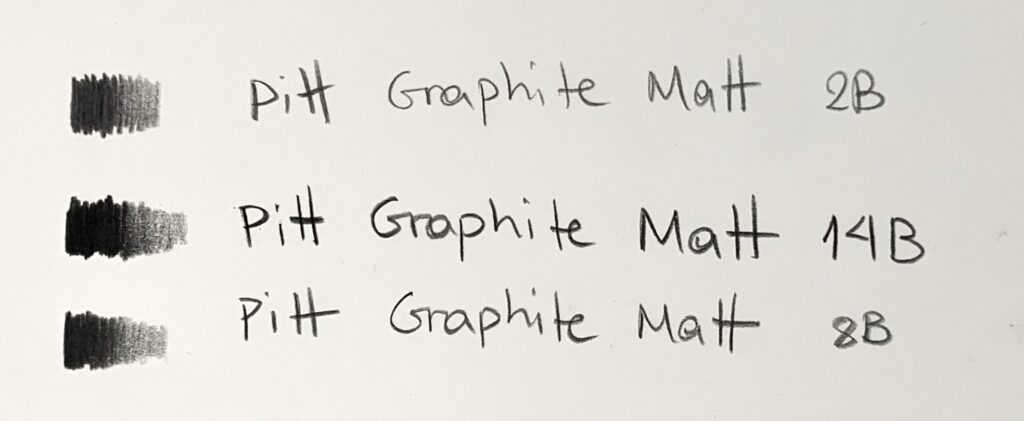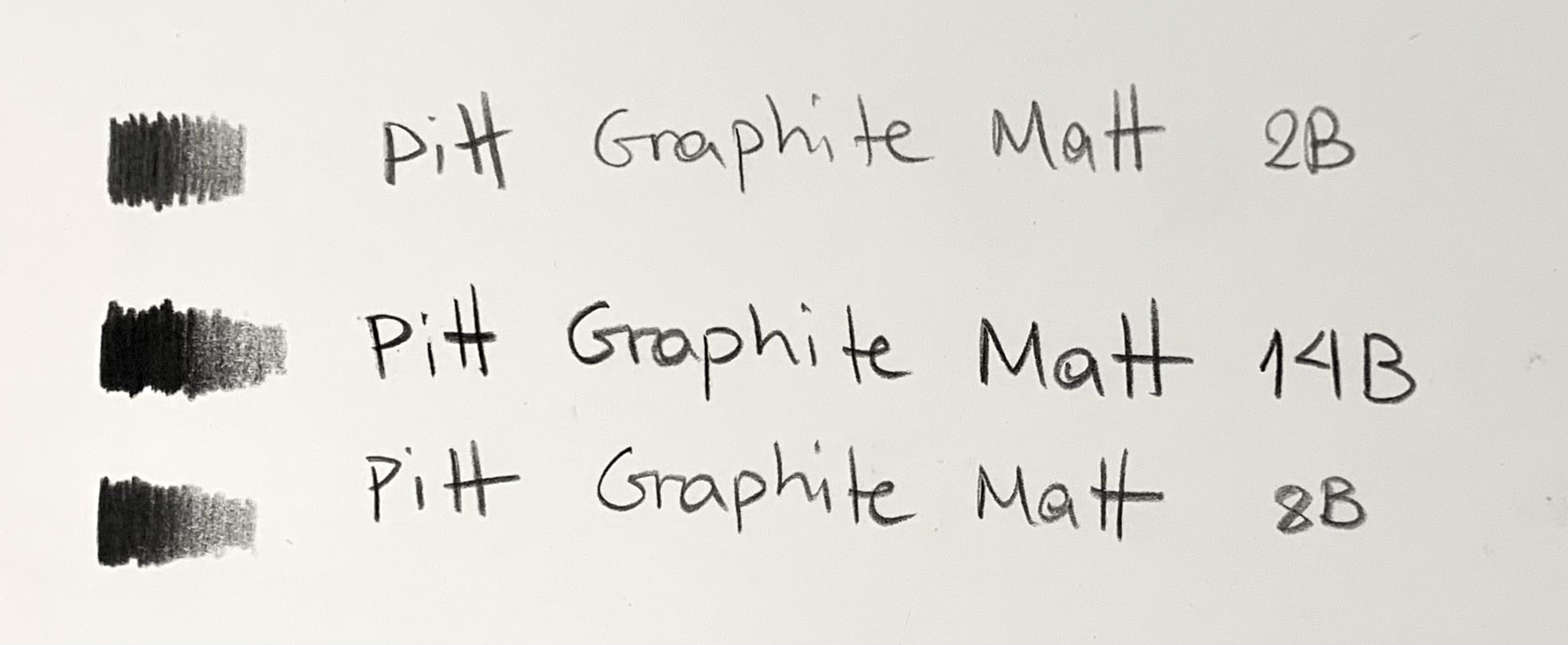 Black pencils swatched

Let's see, however, how they rank compared to my all-time favorite black pencils. Below, you can see all the pencils I tested, swatched.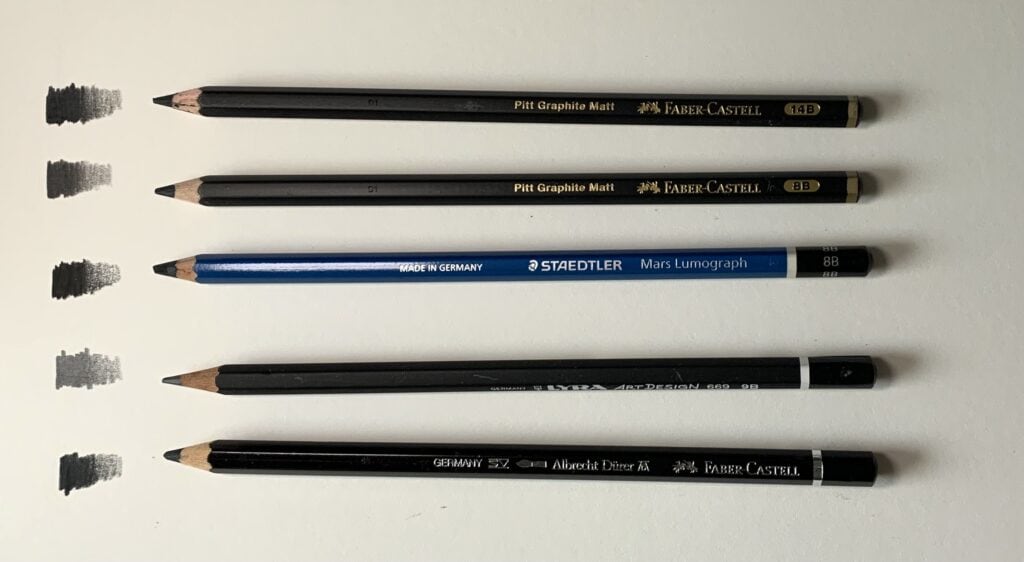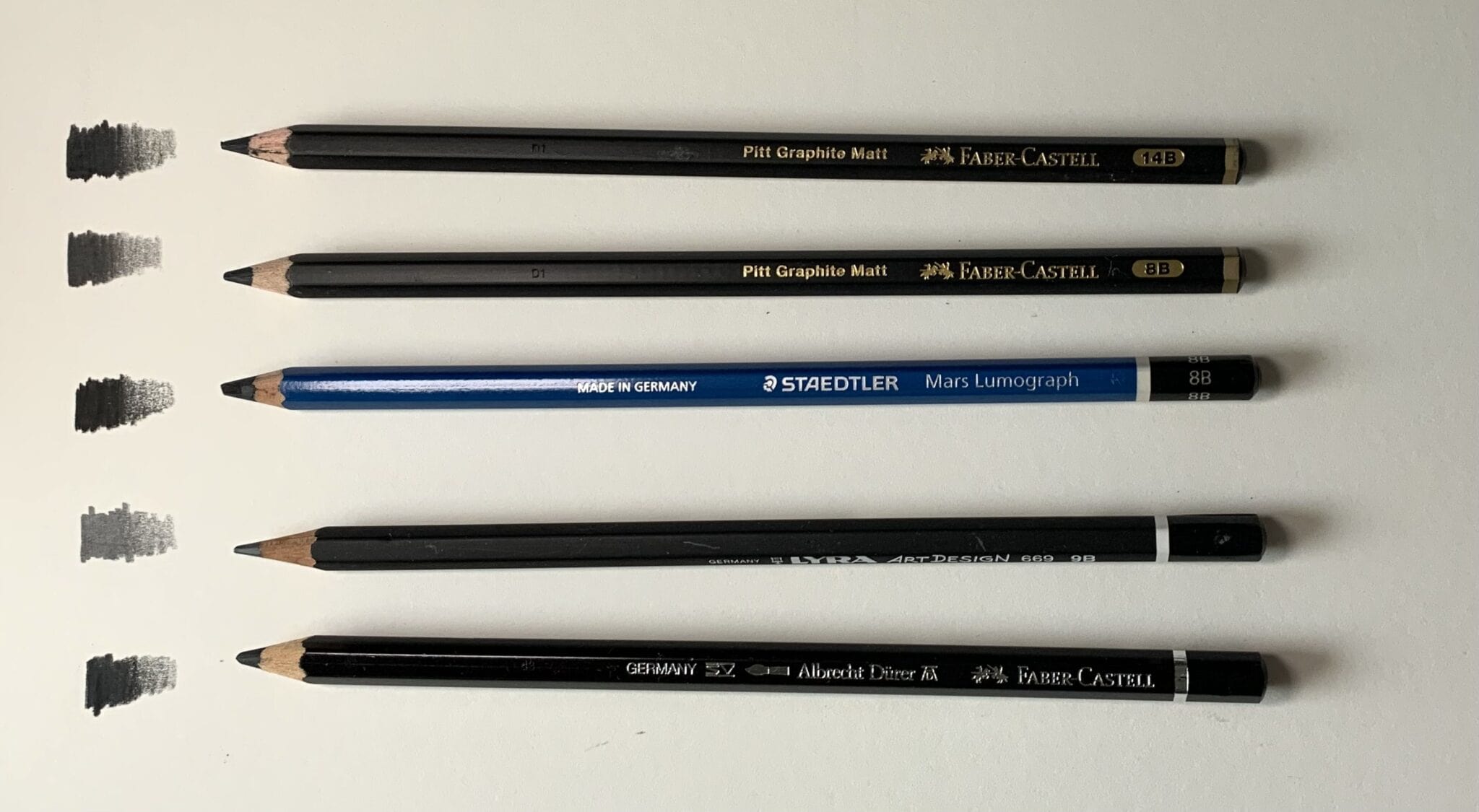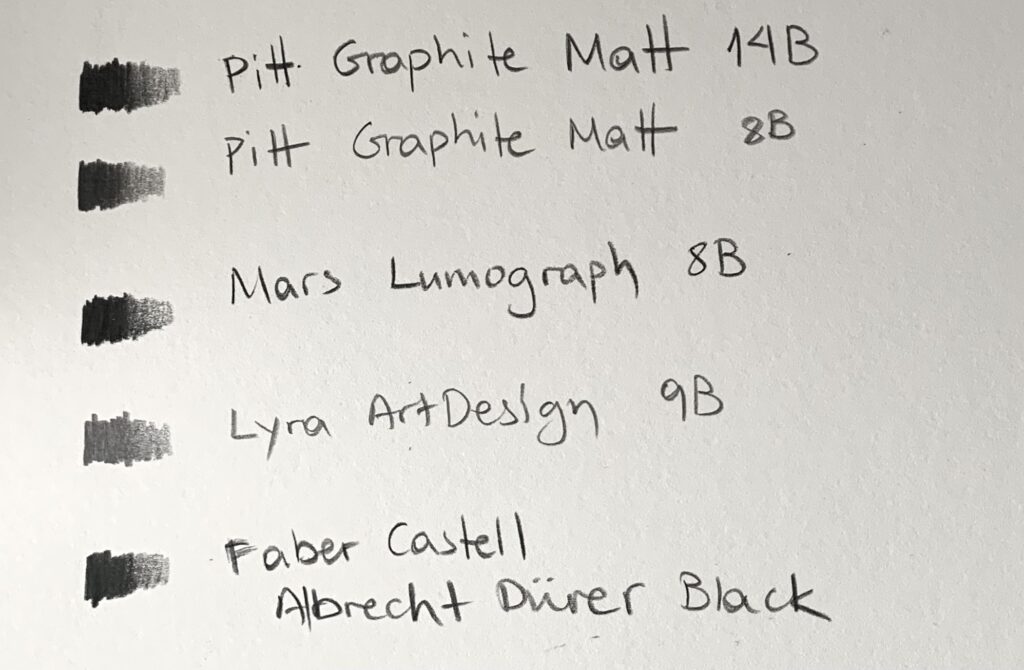 From top to bottom we have:
Faber-Castell Pitt Graphite Matt 14B
Faber-Castell Pitt Graphite Matt 8B (I thought I should include 8B, since this is the highest grade most brands go)
Staedtler Mars-Lumograph 8B
Lyra Rembrandt ArtDesign 9B
Faber-Castell Albrecht Dürer Black (honorary mention since it is basically a colored pencil, not a graphite one, but I sometimes use it on my graphite drawings)
And since I like to scrutinize everything, I took various photos from different angles. All photos were taken under direct lighting.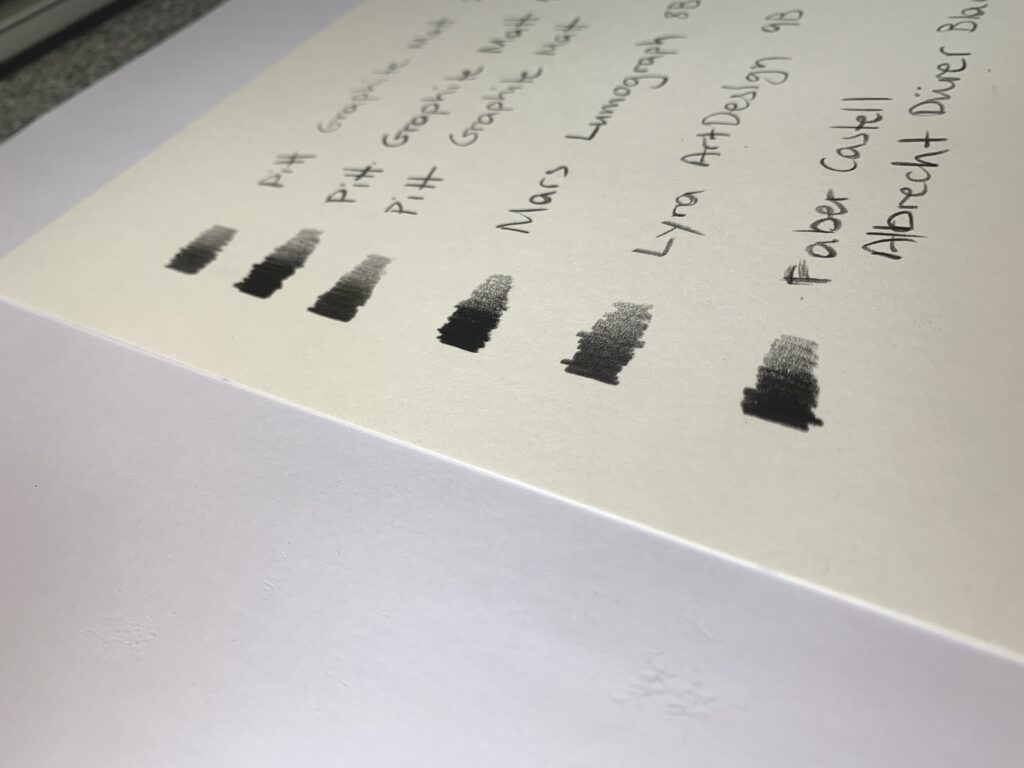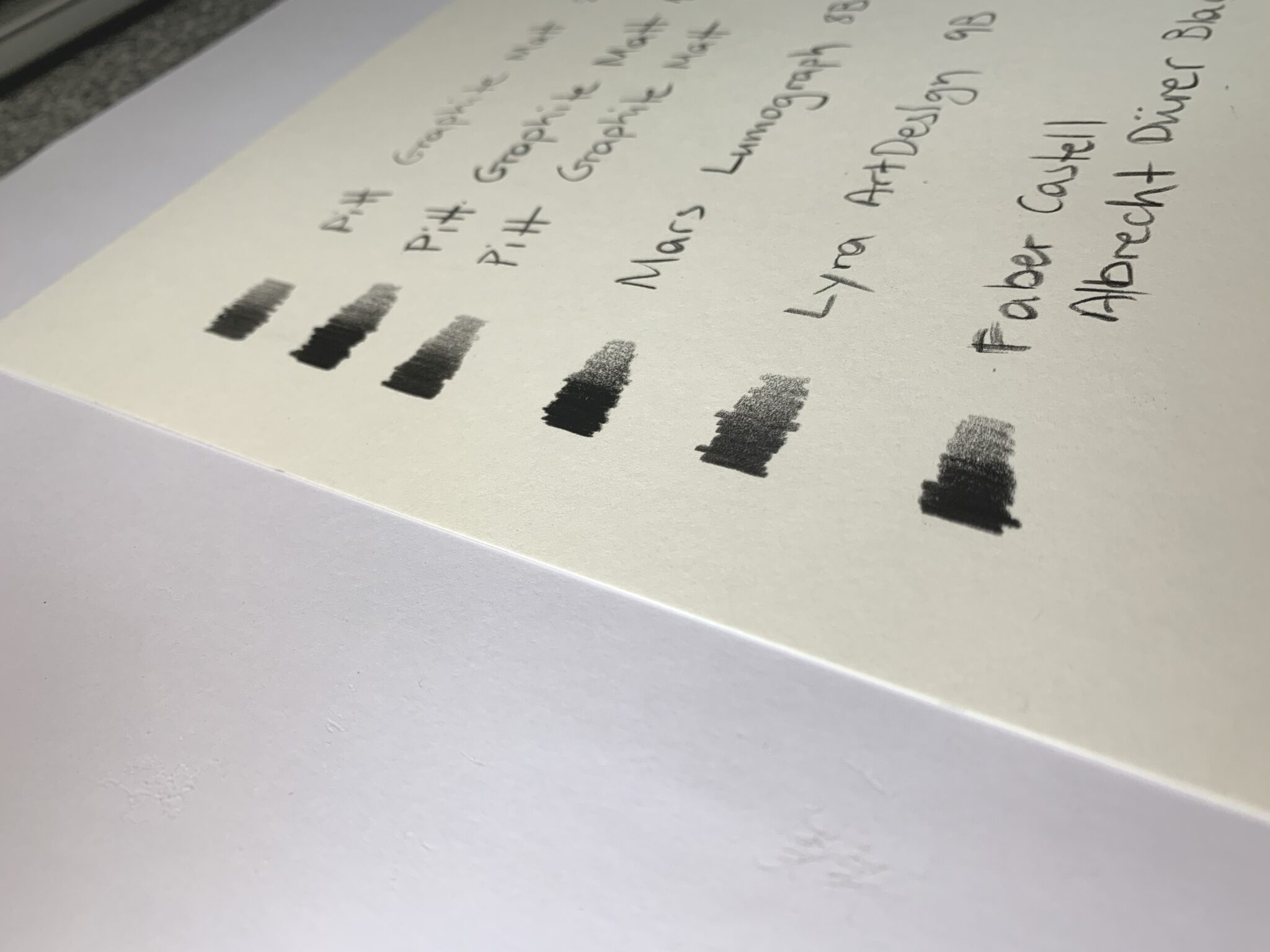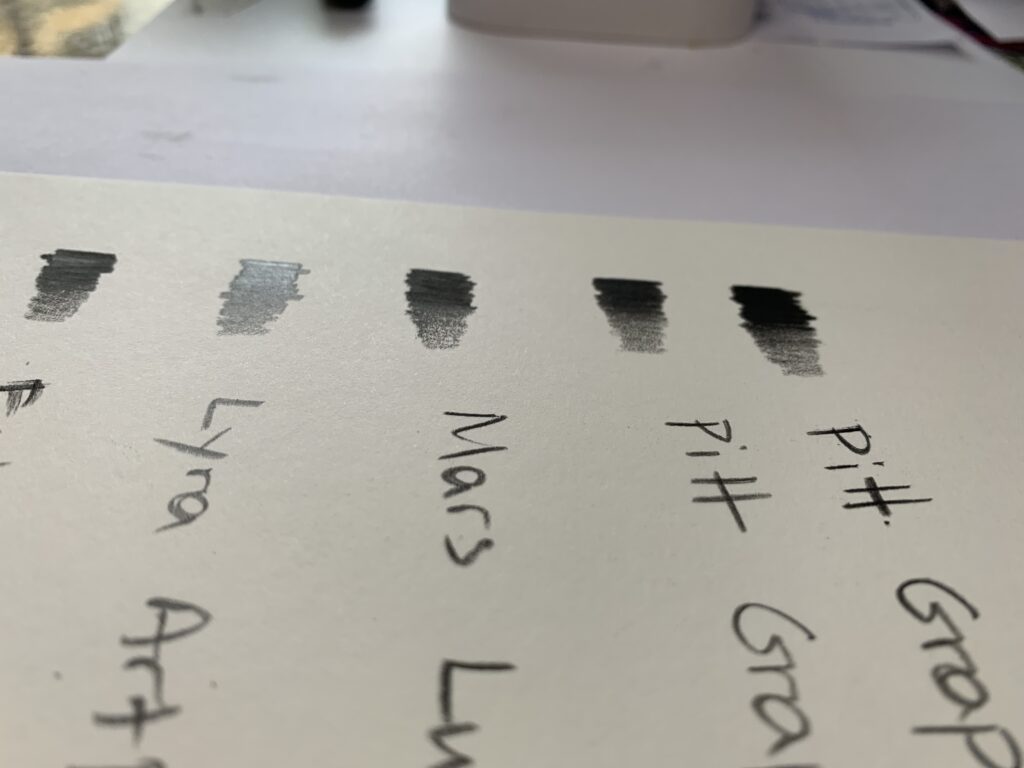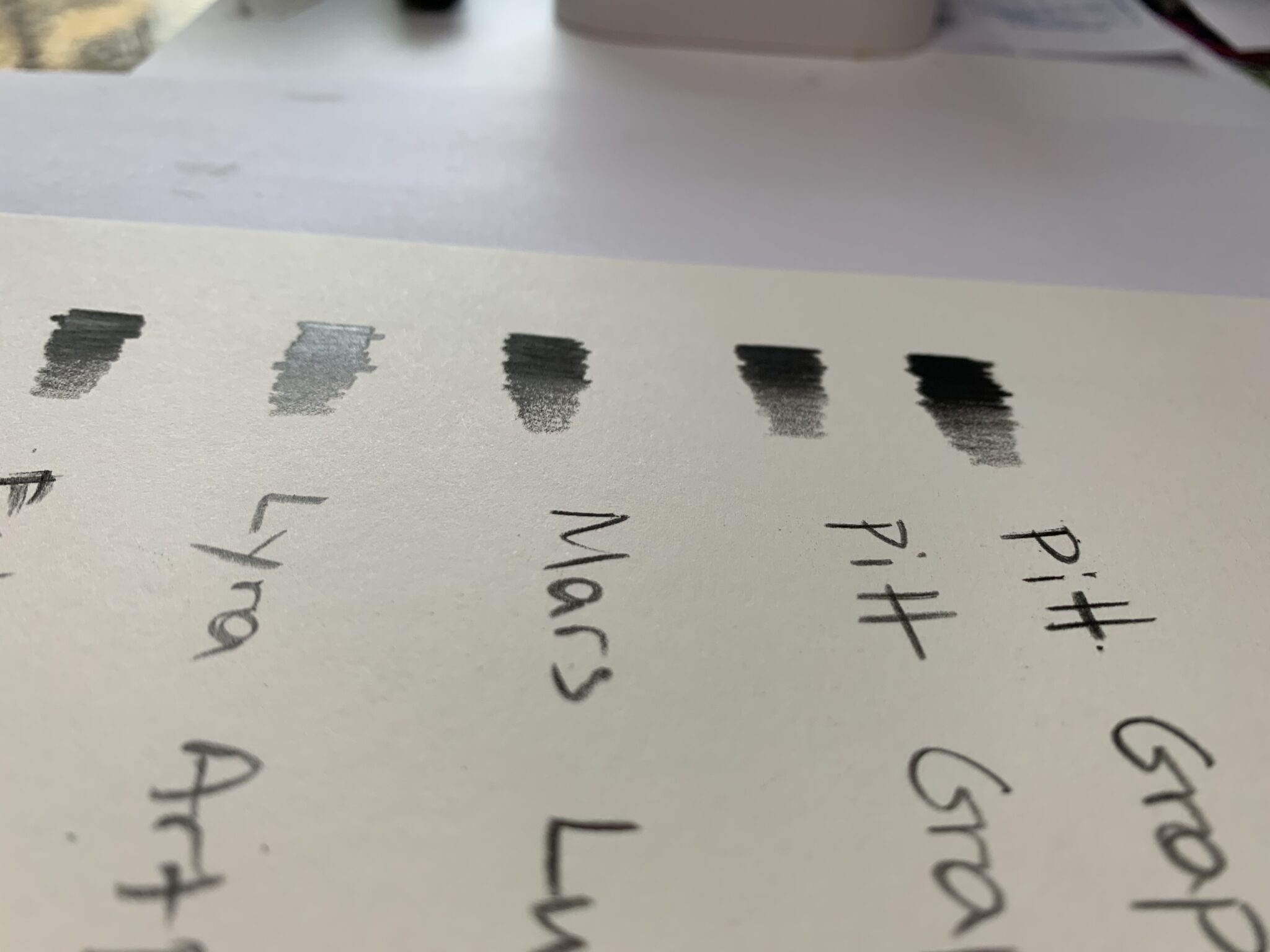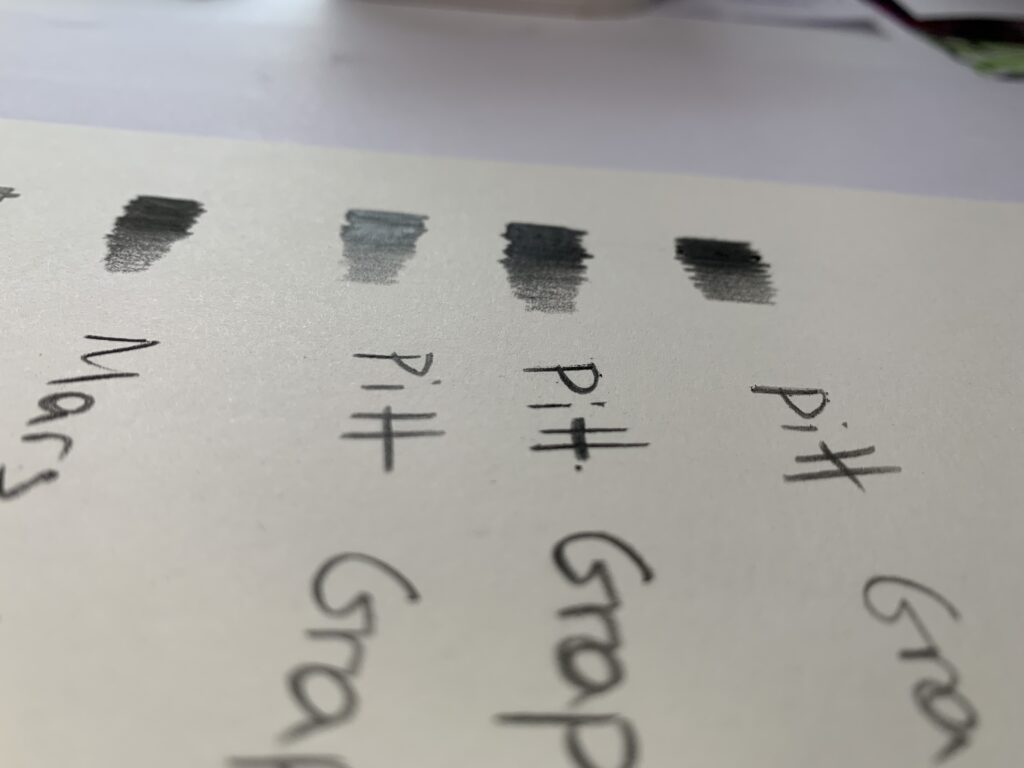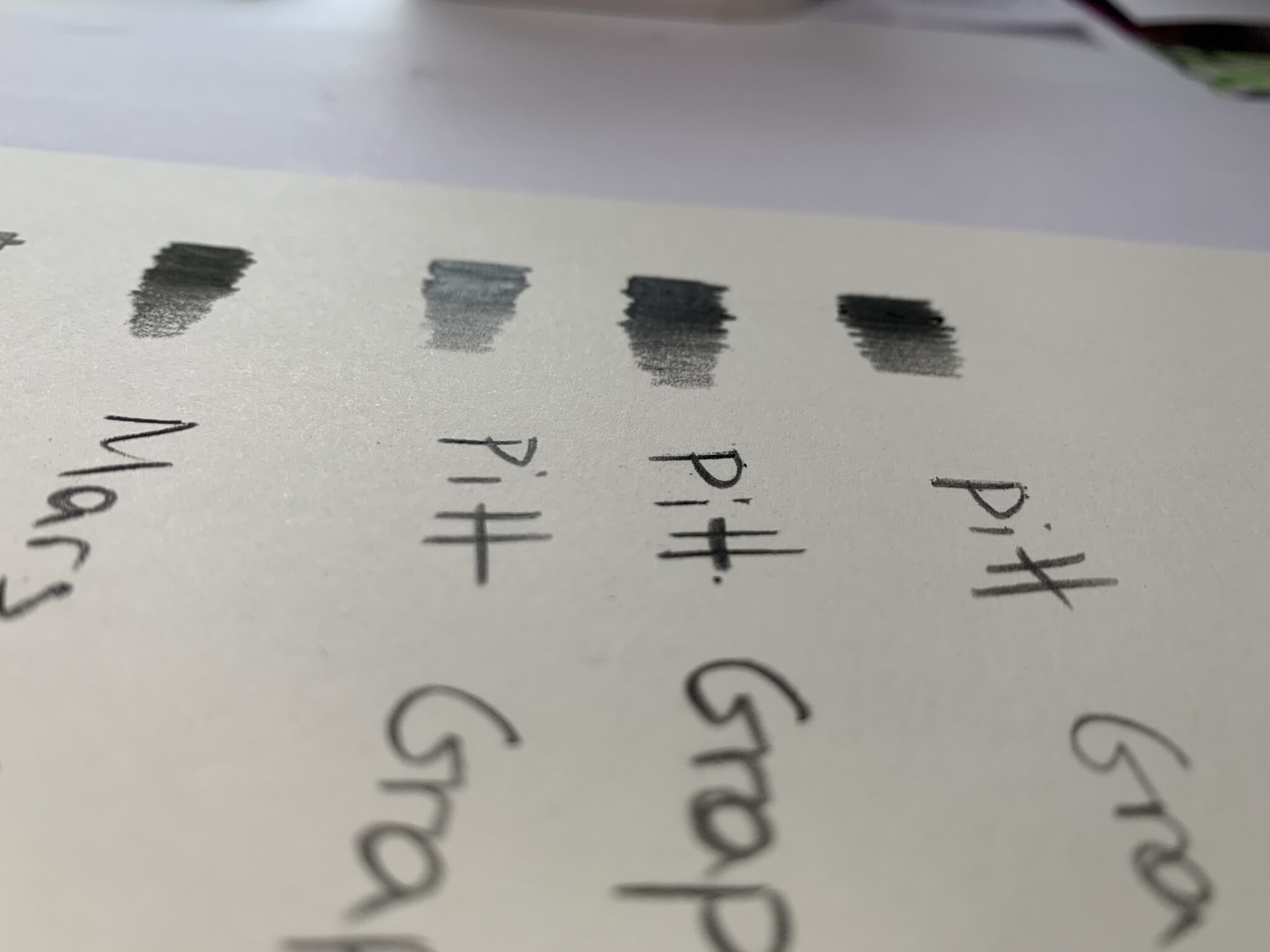 As expected, the shiniest pencil is Lyra (it is the only one that is a "true" graphite pencil, all others have a charcoal-ish quality) but surprising is the fact that Pitt Graphite Matt pencils have a considerable shine when viewed from a certain angle.

The results
Sometimes we expect too much, we think that the next pencil, phone, eyeshadow (it can really be anything) will "magically" solve all our problems. Unfortunately this is not the case. You have to put all the hard work. I expected these pencils to be phenomenal, Faber-castell is a guarantee after all. But even though they didn't magically solve all my drawing-related problems (how can a pencil do so, after all) they do have some indispensable characteristics. Let's break them down, and compare the pencils to the other black, Matt pencils of the list.

Faber-Castell Pitt Graphite Matt
Overall, great quality pencils. The only drawback is that they give off a considerable shine when viewed from a certain angle. Not as much as normal graphite pencils, but still (a lot more compared to mars lumograph). The best thing about these is that they are easy to work with and blend into the drawing. With other Matt pencils you get a gritty quality, similar to that of charcoal pencils, it requires a lot of work to use them together with normal graphite pencils. I didn't have this feeling with Pitt graphite Matt. As for their "blackness", they are black but not pitch black. Actually for their grade (14B!) I expected more. However, they are exceptionally well-made and they are definitely worth a try, especially if you are into Faber-Castell pencils (=pencils on the harder side). And most importantly, they are super fan to use! They cost 2.5€ on the faber-castell website. Which is quite pricey compared to the rest of the pencils on the list (keep reading for more details). Fortunately you usually don't need many graphite pencils (contrary to colored pencils), so this won't be an issue for most. If, however you are on a budget, you might wanna take this into consideration.
Overall Score
Black intensity: 4.5/5
Blendability: 4.5/5
Mattifying ability: 4/5
Price: 2/5
Joy to use: 5/5
Staedtler Mars Lumograph
These ones have been my go to pencils for a long time. They are pitch black and Matt. If you've been following me, you might have noticed that I looooove dark values any high contrasts. And for that, mars lumograph is unbeatable. But… they come with a drawback, a not-so insignificant one. They are hard to use. Let me explain: They give off a gritty quality (similar to that of charcoal) which makes them hard to blend with the rest of the drawing. It requires a lot of effort to make them work, many many soft layers and a lot of time. But if you don't mind doing the extra work, the results are definitely there. They cost 0.96€ each.
Overall score
Black Intensity: 5/5
Blendability: 3/5
Mattifying Ability: 4.5/5
Joy to use: 3.5/5
price: 5/5
Lyra Rembrandt ArtDesign
These are my go-to pencils when I am… lazy and don't feel like doing all the hard work that mars lumograph require. They are ordinary graphite pencils, just extra dark, which comes with all advantages and disadvantages of graphite. They blend super easy but shine is over the top. However, they are the darker "real" graphite pencils that I have ever come across. (and by graphite I mean they have all qualities of graphite, unlike Pitt graphite Matt and Mars Lumograph that are mostly charcoal-ish. They cost 0.80€ each.
Overall Score
Black Intensity: 3/5
Blendability: 5/5
Mattifying Ability: 2/5
Joy to use: 4.5/5
Price: 5/5

Faber-Castell Albrecht Durer Black
Last but not least, a honorary mention, Faber-Castell albrecht durer black. This is officially a colored pencil, not a graphite one, and as such has none of the qualities of graphite. The reason it is on the list is that I sometimes use it for really dark values. (for example when I have run out of mars lumograph!) it's super black for sure, but it is nor Matt, neither easy to mix with graphite pencils. However, I find it to be a good alternative. Costs 3.43€ per pencil.
Overall Score
Black Intensity: 5/5
Blendability:3/5 (blendability regarding graphite)
Mattifying Ability: 3.5/5
Joy to use: 3.5/5
Price: 1/5
How Pitt Graphite Matt perform on an actual artwork
I chose a really dark reference image of Gerard Butler (oh and by the way I am a mega fan, this man's a GENIUS!) and even though you can see some graphite glare, especially at the darker parts, (but only from certain angles, under artificial lighting) I am honestly dumbstruck. These pencils DO deliver results. I won't say anything more, the results speak for themselves. Can't wait to use them again. Will keep you updated!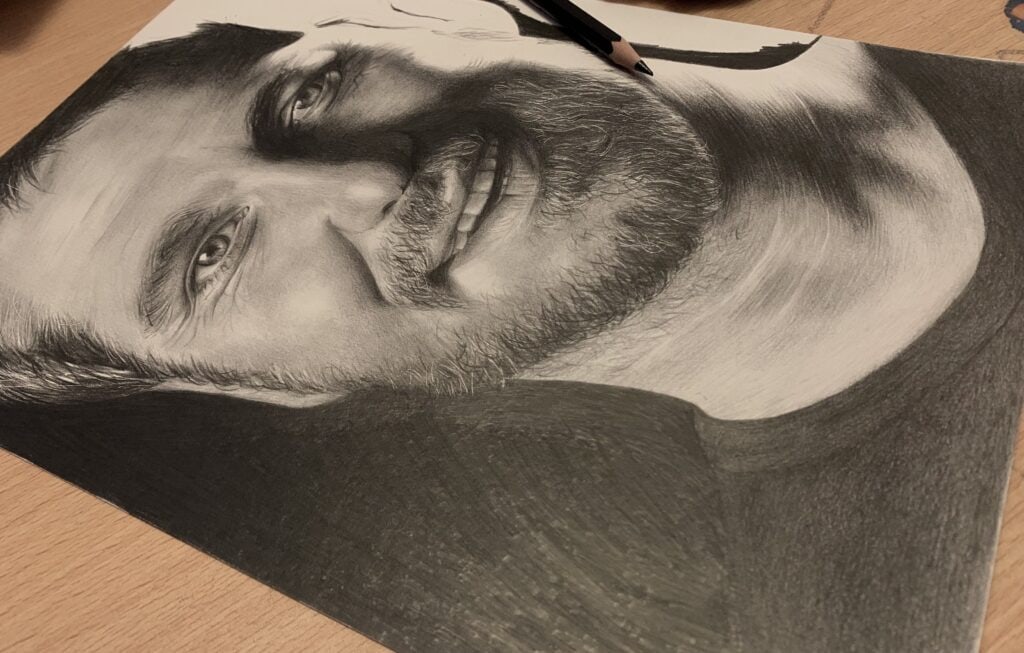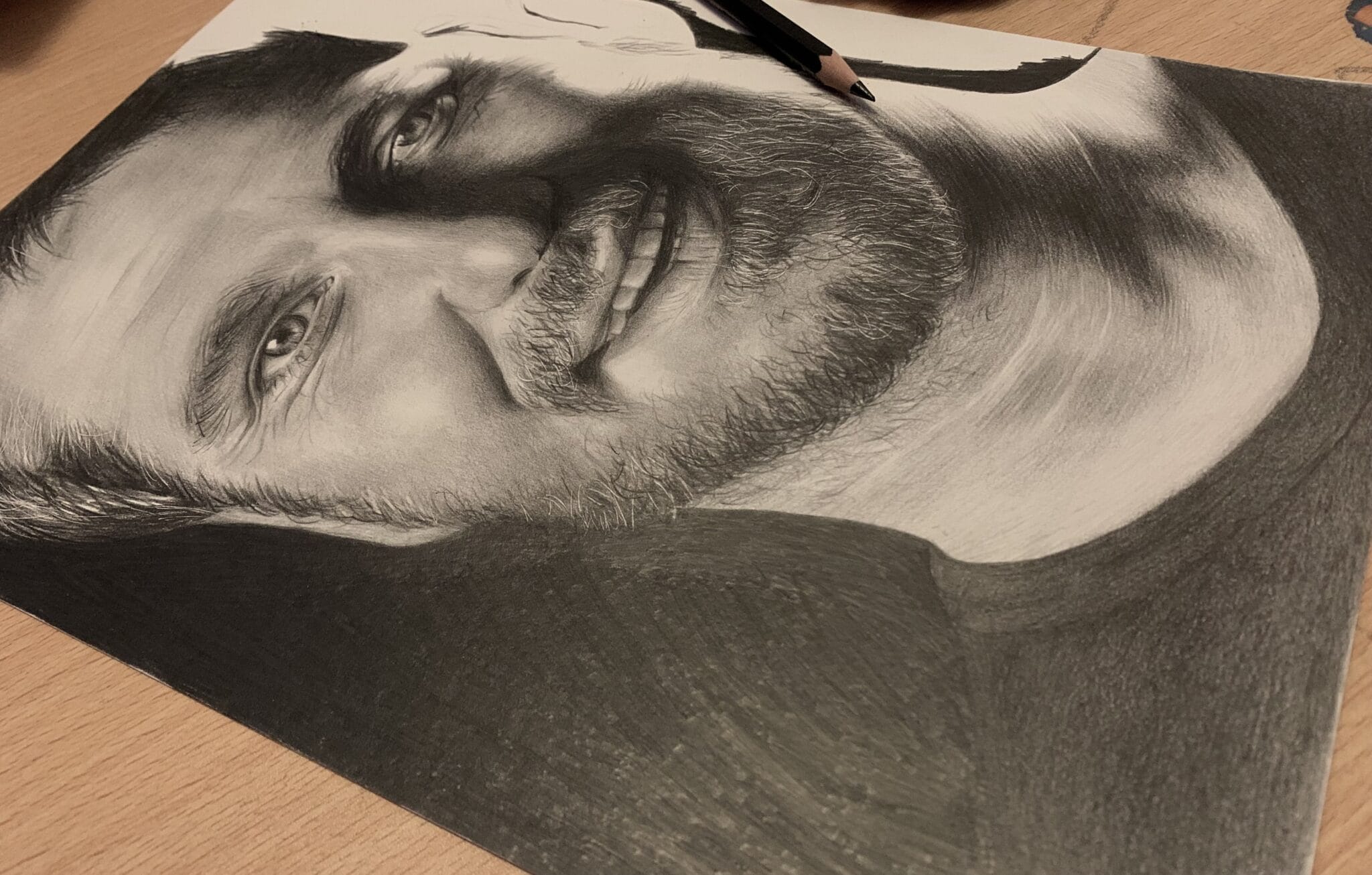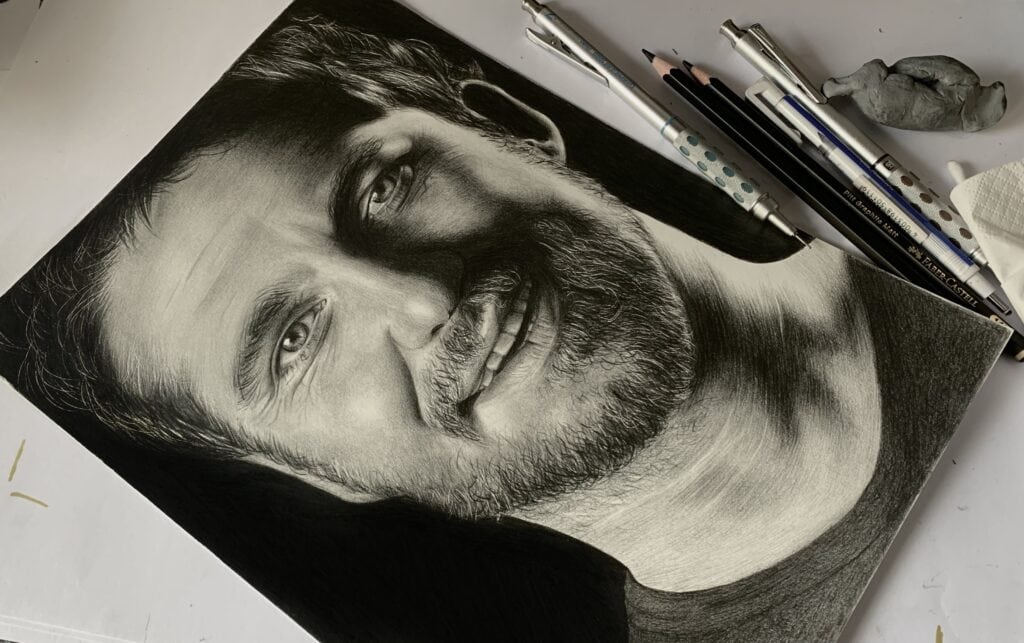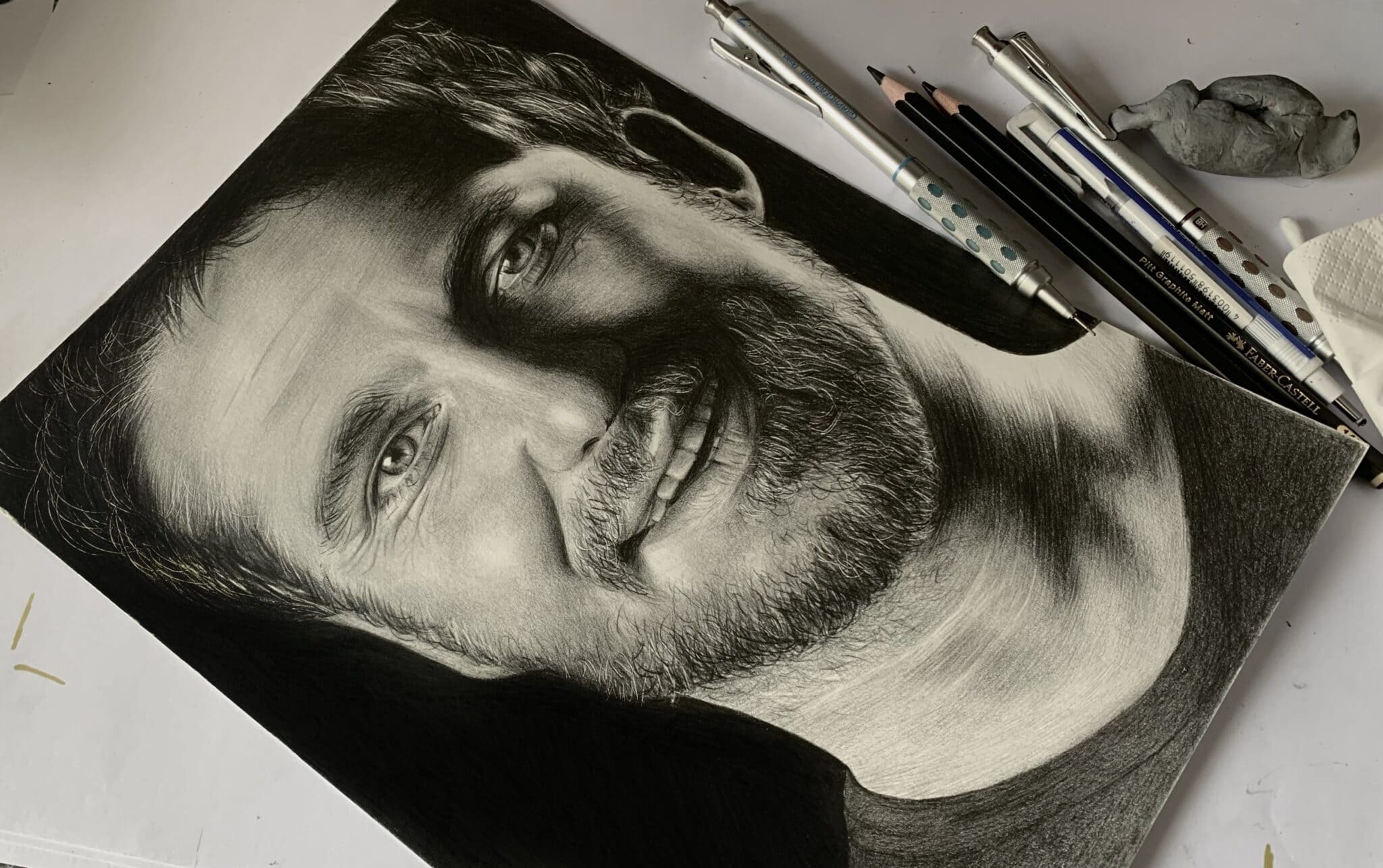 So, will I be switching to Faber-Castell for dark values? Yes, and no. For sure, I won't be tossing the rest of my pencils. As you've seen, no black pencil is the same, so using one over the other pretty much depends on the result you aim for. But I am very happy I found a good quality pencil with that much of a potential!

Have I found my holy grail Pencil? Hmmmm, not yet, the quest isn't over. But I suspect it will never be. As just mentioned, we all expect different things from our pencils, so not being 100% satisfied is part of the joy I guess!

What about you guys? Have you found your holy grail black pencil? If not, maybe you can certainly check out Faber-Castell Pitt graphite Matt pencils! (*affiliate links)