Lately I've been playing with DGArt app. DGArt is (I am quoting their website here) "a 3D modeling tool designed for artists, game designers and developers to create 3D assets and content from start to finish. It is affordable, complete, and easy to learn and use. With DGArt on your iPad, you can effortlessly construct 3D models, art, and computer graphics images".
Personally, as a 3d modeler and an avid iPad user, DGArt is the app I didn't know I needed!
First things first, DGArt is not a sculpting app, it is a modeling app. Every 3D model is approached with a number of geometric primitives, that can be cut, extruded, duplicated etc. If I must compare it to another app, that would be blender (the modeling part). Which is huge news if you think about it, blender on the iPad, how cool is that?!
Without further ado, let's jump straight to the review. I won't be talking about how the app works, DGArt website has a very thorough guide (so please refer there for instructions). Here I will be sharing my personal experience with the app.
Ease of use
It is a super simple, easy-to-use, intuitive app that can be used both by beginners and advanced 3D modelers. Works fine with Apple Pencil and you can create your 3d assets effortlessly. Overall, the app is a joy to use. And since I keep comparing the app to blender, let me tell you that, it has NOTHING to do with the complexity of blender!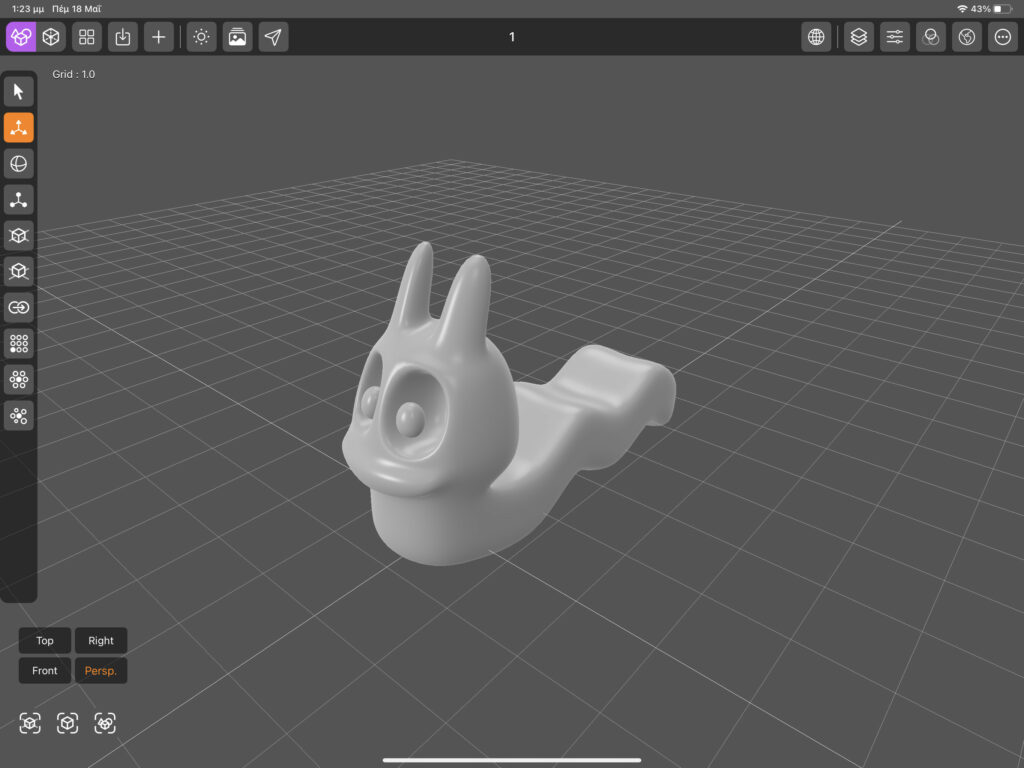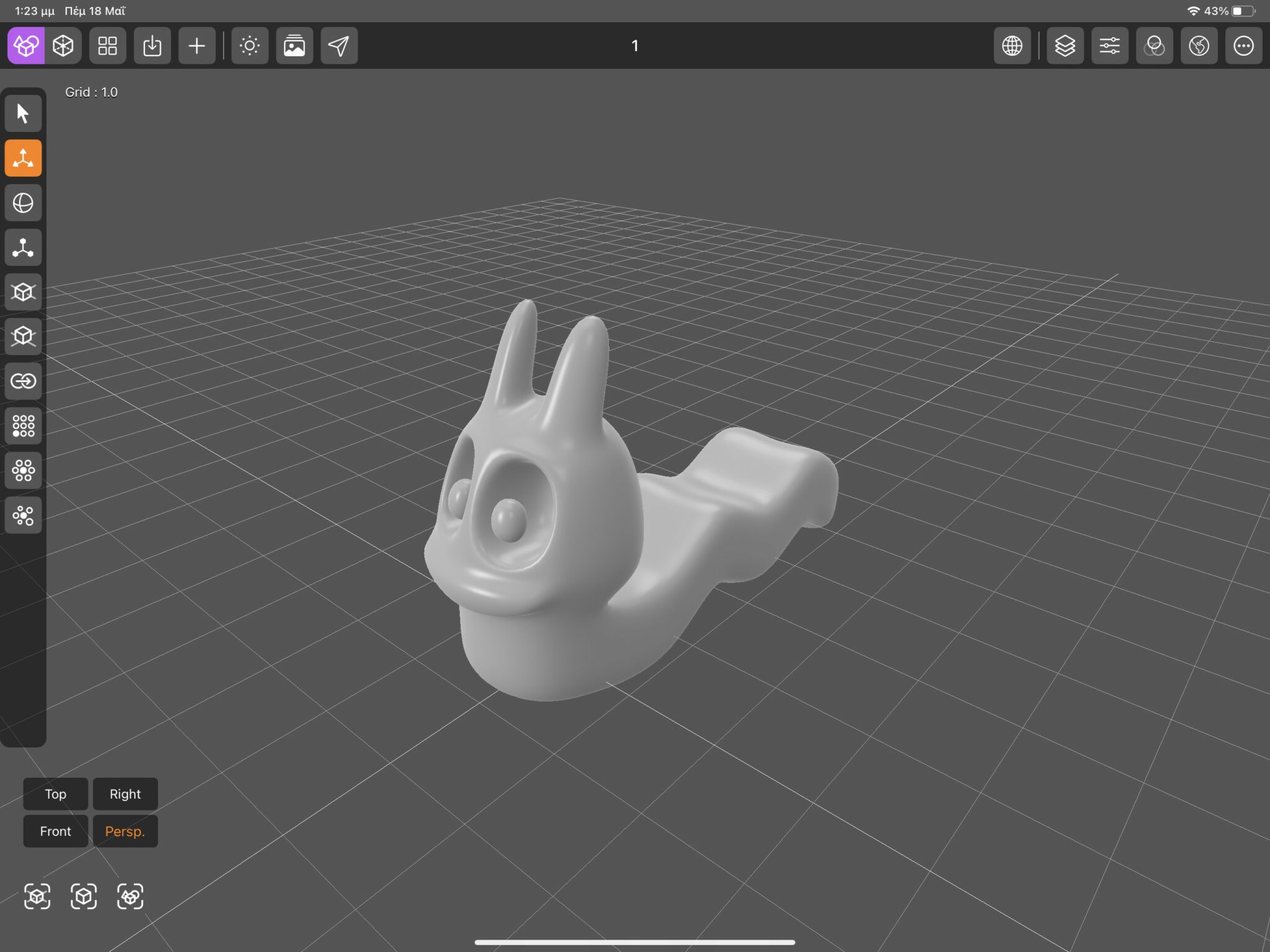 What you can do
You can add a variety of geometric primitives, which you can extrude, cut, divide, rotate, scale, duplicate, etc. You can work with nodes, which you can manipulate to transform the object(s) to your liking. You can also color your scene and add lighting. The app is perfect for low poly scenes and low poly characters.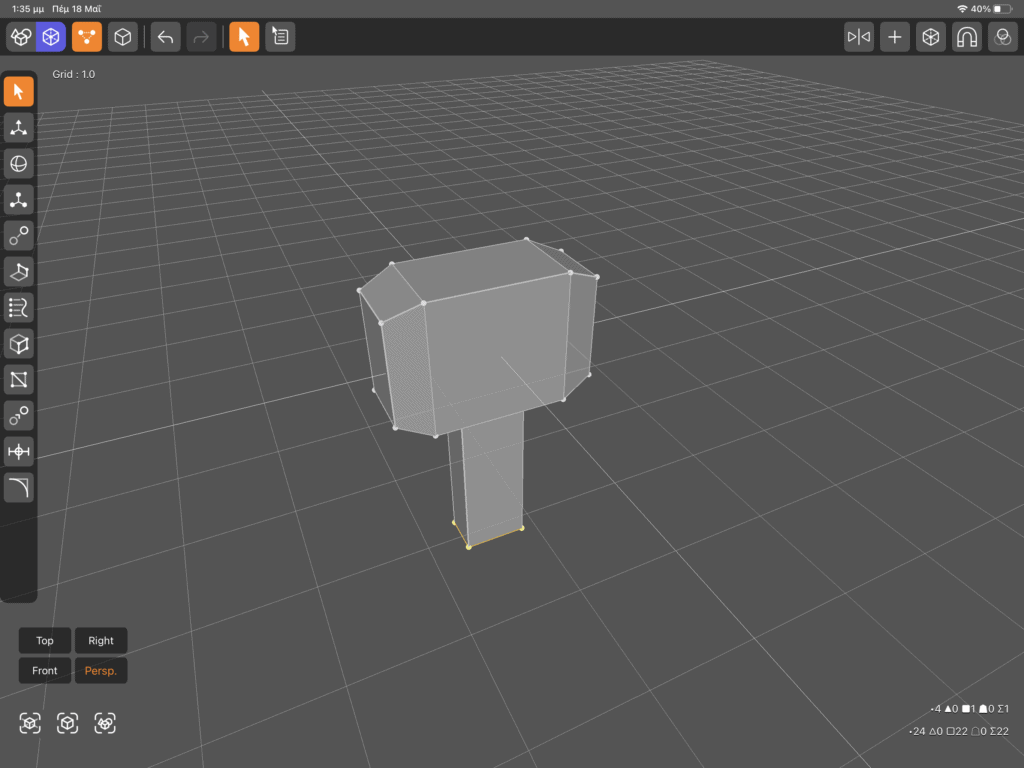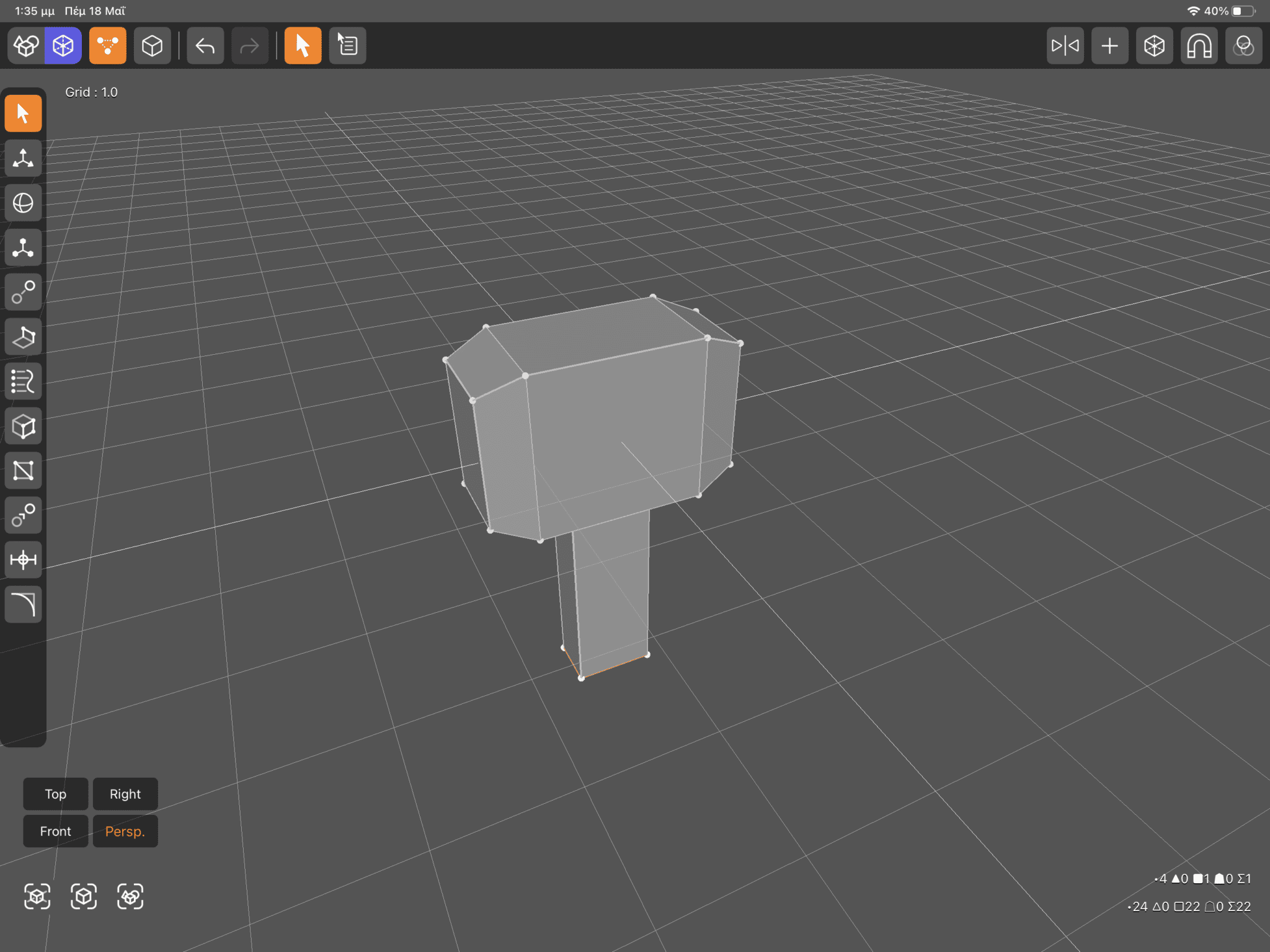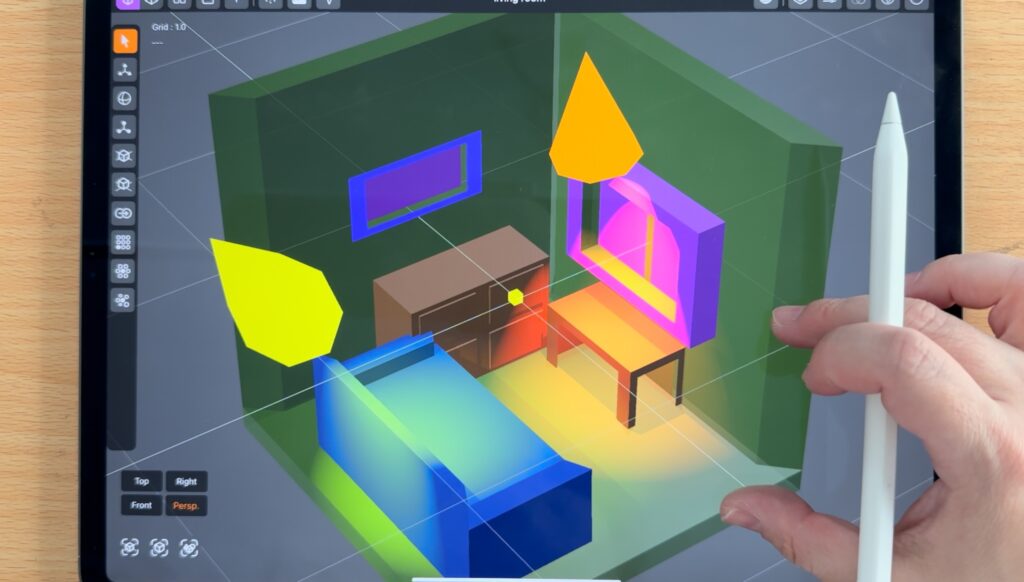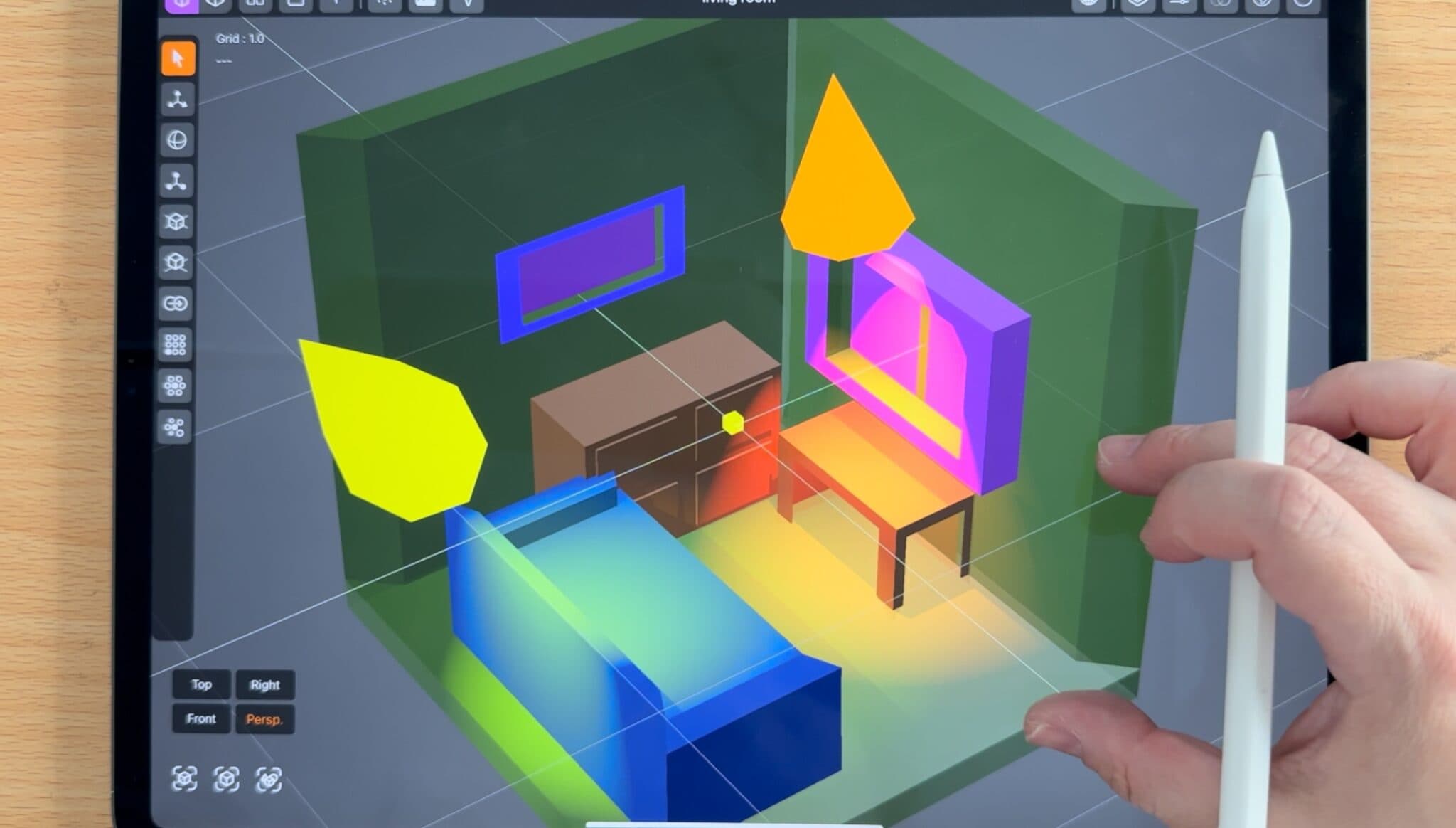 What you can't do
Officially, you cannot sculpt. However, you can manipulate every single node individually, so you can "fake" sculpting.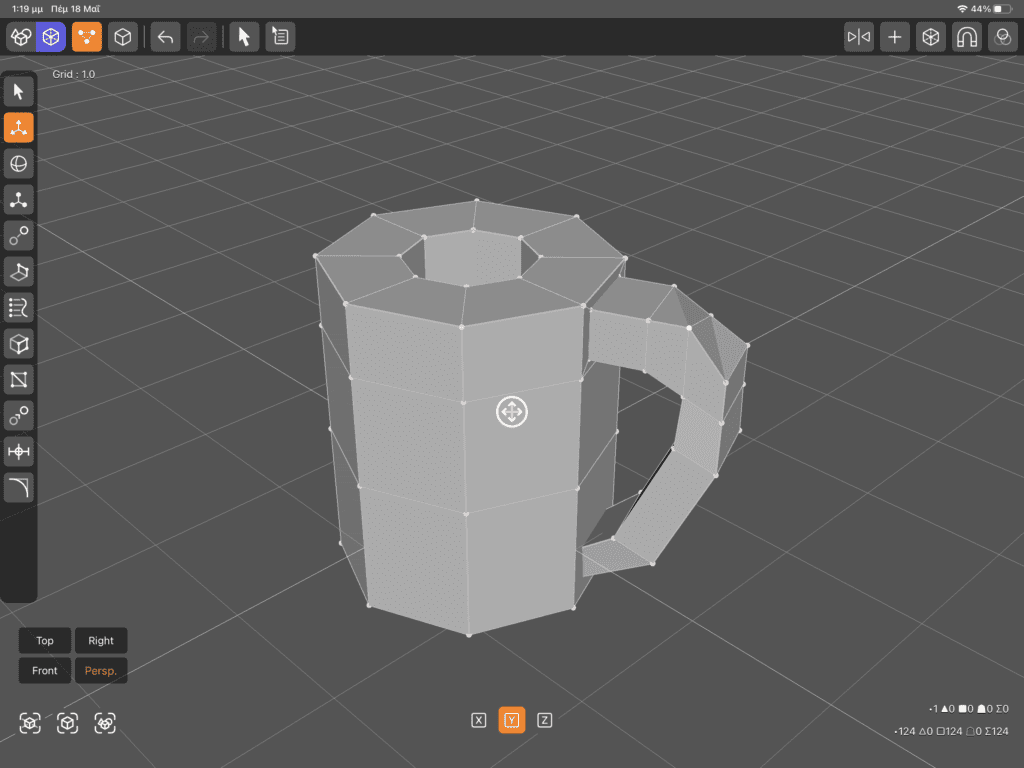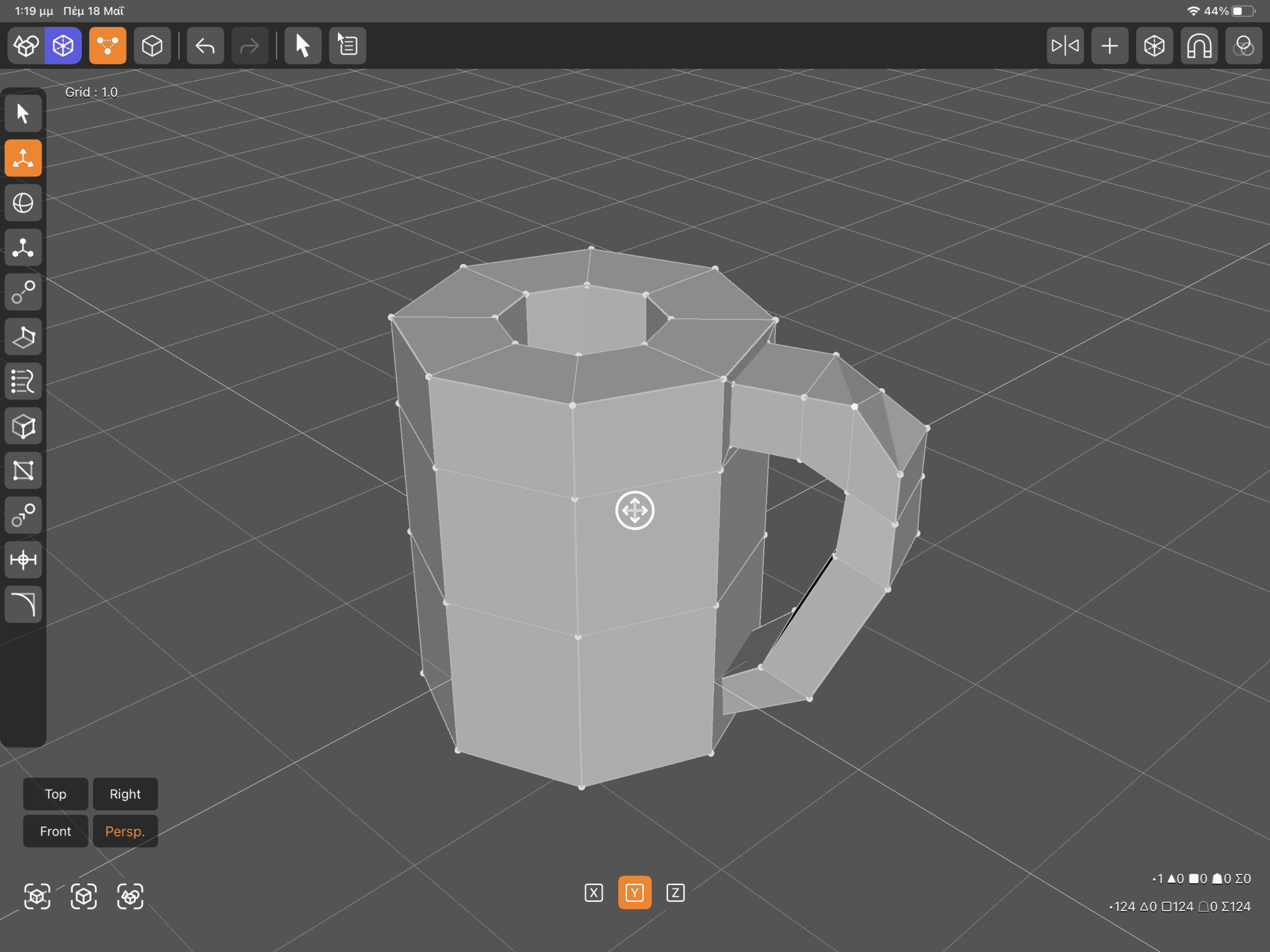 There are no modifiers (unlike Blender) but you can smooth your shape at will.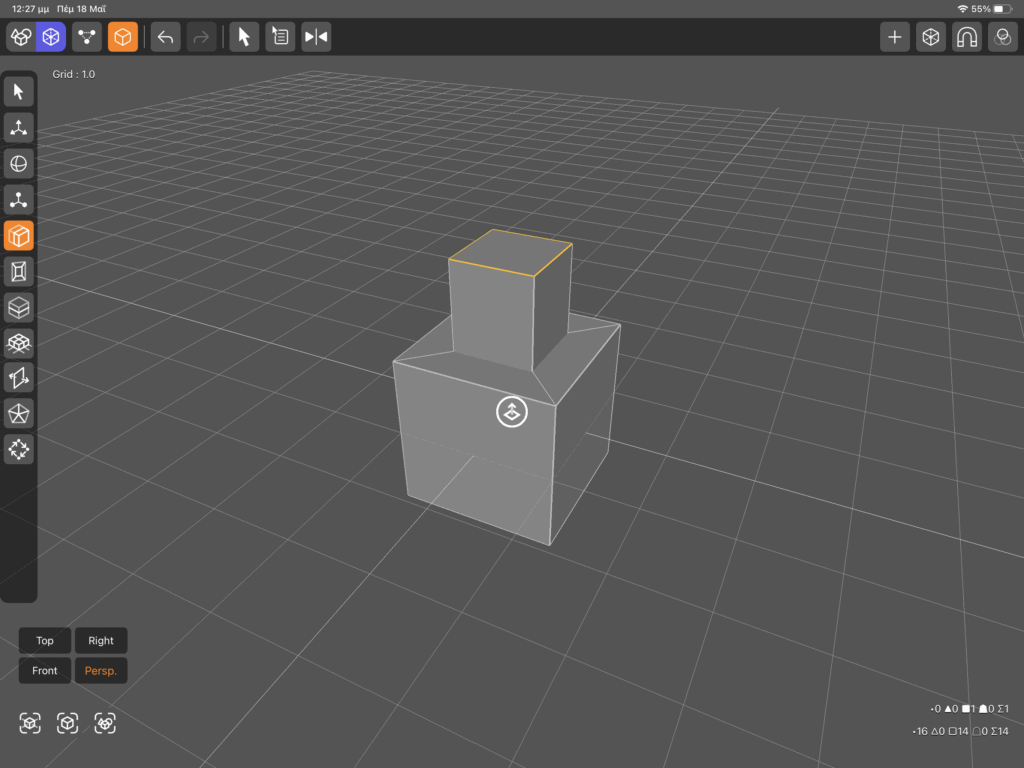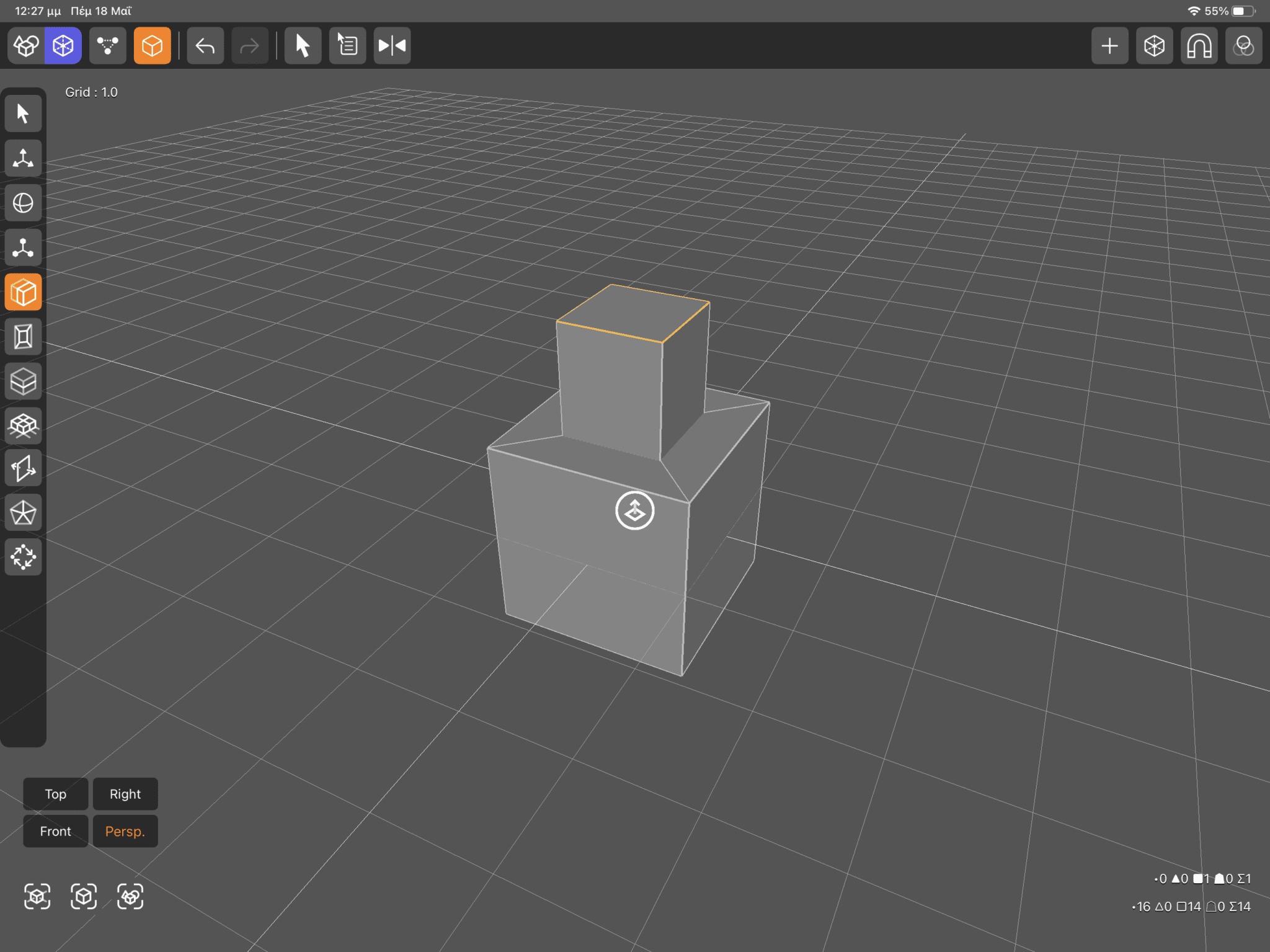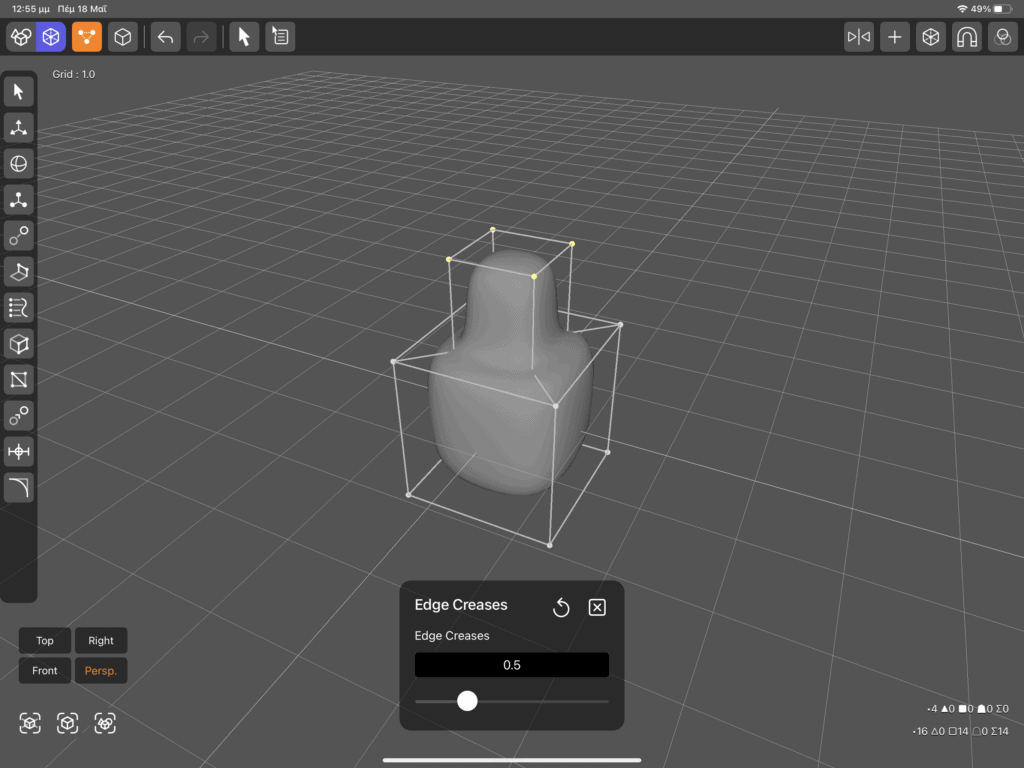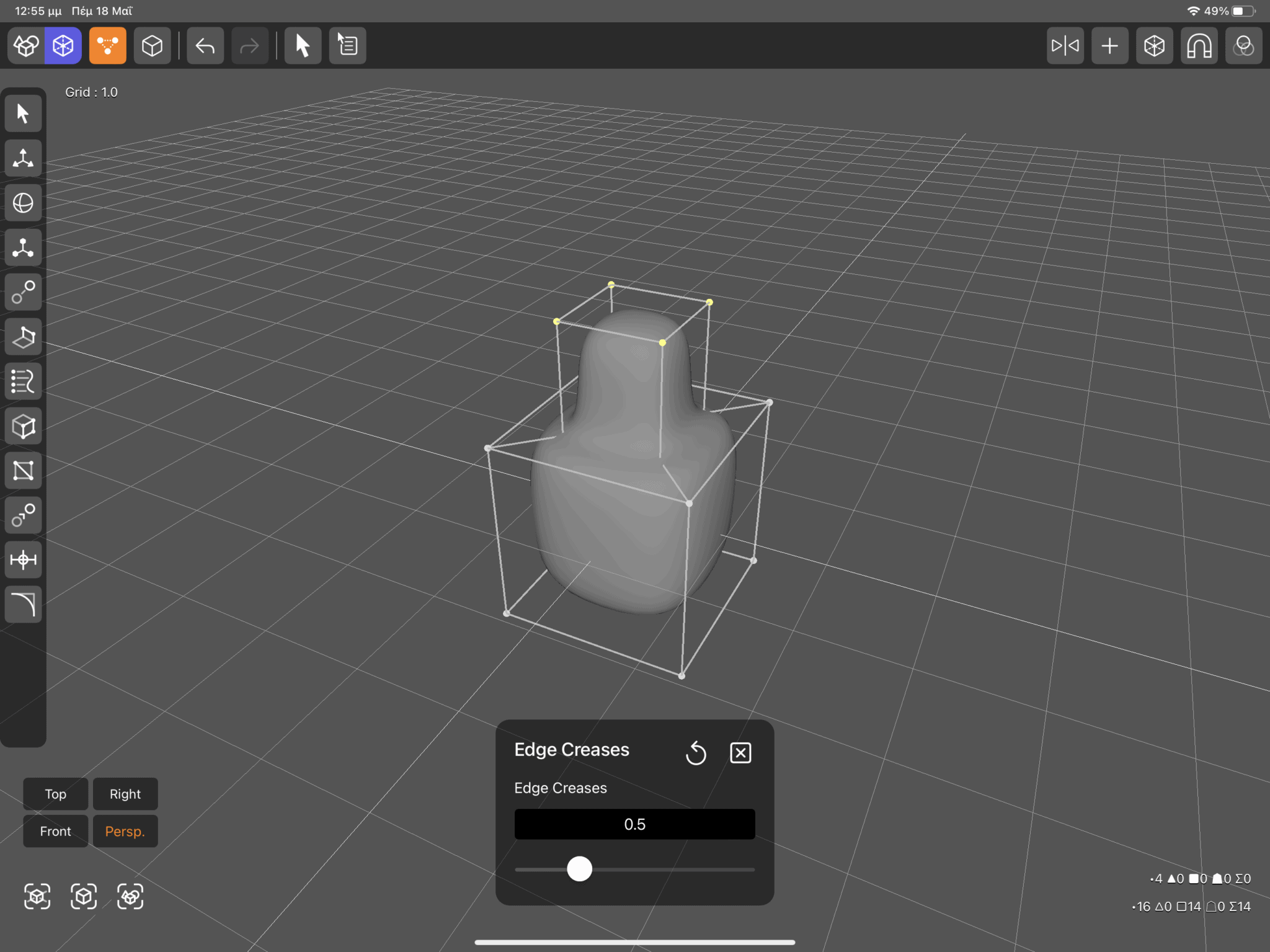 You can only export your model as a .scn or .usdz file, so if you need another format you have to go through another app/program.
Export format – compatibility with other 3d programs
Files can be exported either as .scn files or .usdz files. The .usdz file can be imported into many other 3d programs like Blender, Maya and 3ds Max to name a few. Which makes the app perfect for modeling on the go, you can begin working on an idea on your iPad, then polish up it up on your pc.

Import to playgrounds and create an new app
As someone who used to design iOS apps, I couldn't be more enthusiastic about that! I mean, holy guacamole, is this for real?! Yep, the .scn file can be imported directly to swift playgrounds, so that you can use your 3d assets to make your own app! How cool is that? I haven't tested this feature yet, but for my next project, I plan to create a 3d world in DGArt, then import everything into playgrounds and try to make an actual game. Wish me luck guys! (oh, and if you have any ideas for a simple game, please shoot!) I will be updating this post, so keep checking out this place to see how it works.

Issues/Bugs etc
There are a couple of things I wish were different. Two finger gesture for "undo" action doesn't work. In order to undo you need to tap the "back" button which is visible only in "modeler" mode.
Also the app crashes when you add overly complicated shapes. This might be partly because of my iPad Pro 2020 (I have the same problem with nomad sculpt app) and might not be a problem with M1 iPads, however you need to be cautious when you create overly complicated scenes.
Price
No review is complete without a price report. The app costs 19.99€, which you pay one time only, and it is quite a bargain for a 3d modeling program. For example shapr3d, admittedly a superb 3d modeling app, has a recurring monthly cost of 25$. Even though the app is great, the cost makes it untouchable. On the other hand DGArt is so affordable, it is almost surreal.
Thoughts
I'm impressed. I am not gonna lie, I have limited experience with 3d modeling programs. However, this one is so easy-to-use and complete, I am honestly surprised that it isn't already well known. If you are looking for a great, affordable 3d modeling app on the iPad, you should definitely check this one out!