iFontMaker is an iPad font-making app that came out in 2010. Yep, it is as old as the first iPad! Up to this date, it is the only app that allows you to create a font exclusively on the iPad.
For people like myself that have no other option except create on the go, it is a game changer.
I will begin by saying that the first fonts I ever created were designed in iFontMaker. Up to this date I haven't stopped using the app. Moreover, some of my most popular, best-selling fonts were done exclusively in iFontMaker, which is proof that the app works and can be used professionally. But let's break things down, shall we?
Pro's
It is an intuitive app
It is the most intuitive font-creating-app I have ever used – and mind you I have tested a lot! Up to this date I haven't found another program that is as easy to use and as intuitive as iFontMaker. You can "draw" your characters so fast and easy, that you can literally design and publish a font in 5 minutes. Yep, what they claim on their site is not a lie. (Beware thought, I come from a drawing background so I love the fact that that you can "draw" your font. If you work mainly with vector shapes you might find iFontMaker tricky)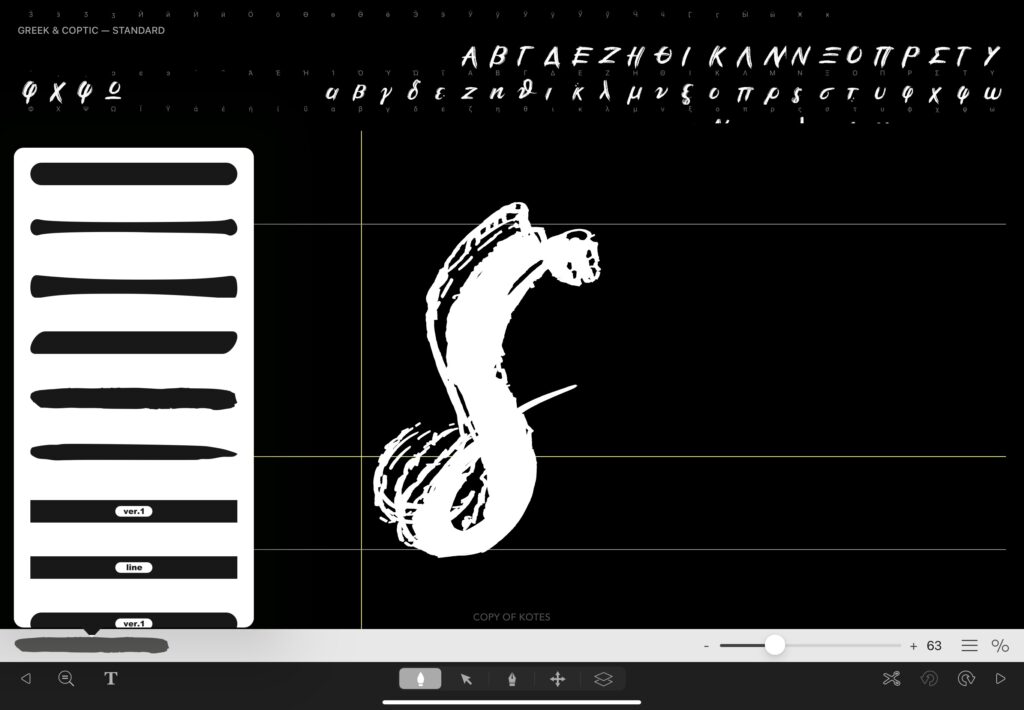 All basic vector manipulating acts in your hands
Bézier curves, brushes, shape manipulation, most basic functions of a vector-based program are covered. You can choose from a variety of brushes, edit Bézier curves, copy, move and generally transform individual shapes any way you like. (Unfortunately you cannot generally transform characters as a whole, keep reading for details)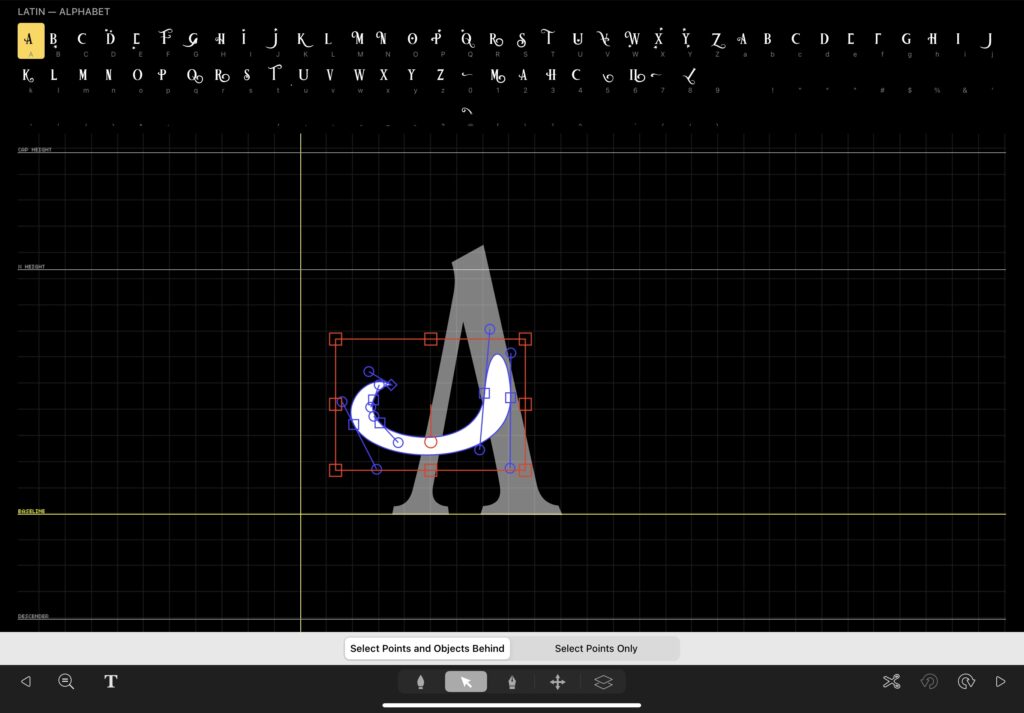 Multi-language support
It covers all characters in every single language (that I am aware of). I have been using the app for many years and there isn't a single character that I couldn't create. Oh and I am Greek so when I talk about multi-language support you can take my word for it!
Kernings
Kerning is the process of adjusting the spacing between characters in a proportional font, usually to achieve a visually pleasing result. In iFontMaker kernings are a joy to work on. Not only it is easy to work on kernings, but it is visually appealing, a real joy to adjust them real time.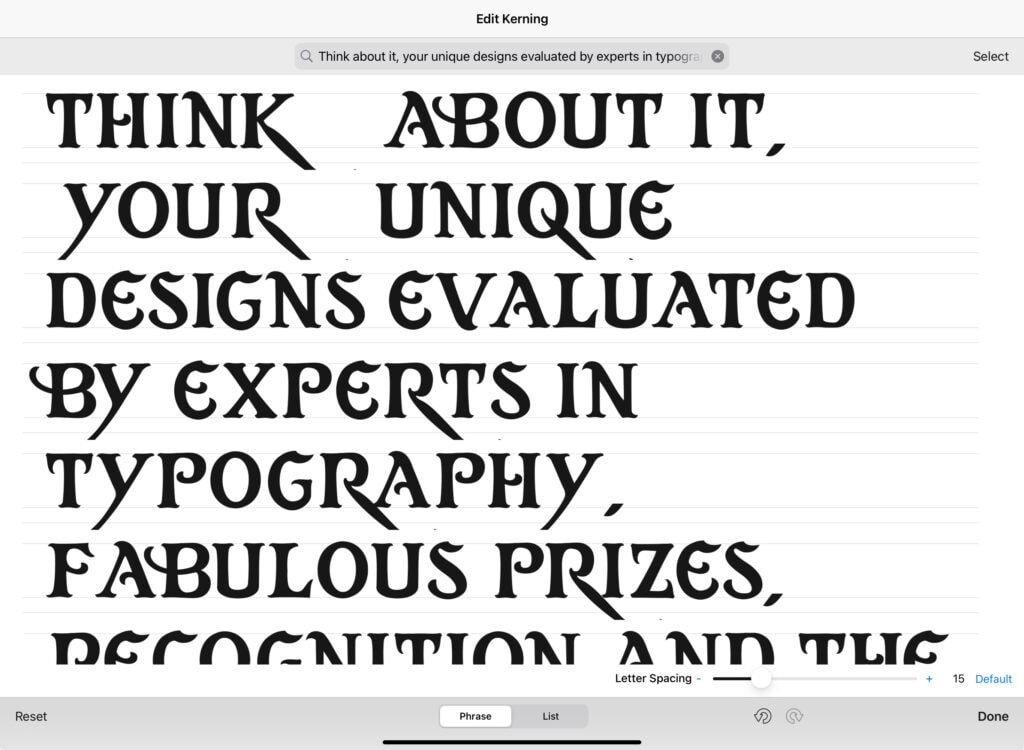 Ligatures
Another thing that I admire about the team behind the program is that they update the app regularly. As of 2020 they included ligatures which was a game changer. Ligature is the way two characters are bound together in a different manner than what they normally look like. Ligatures are very appealing when it comes to display, cursive and hand-drawn fonts in general.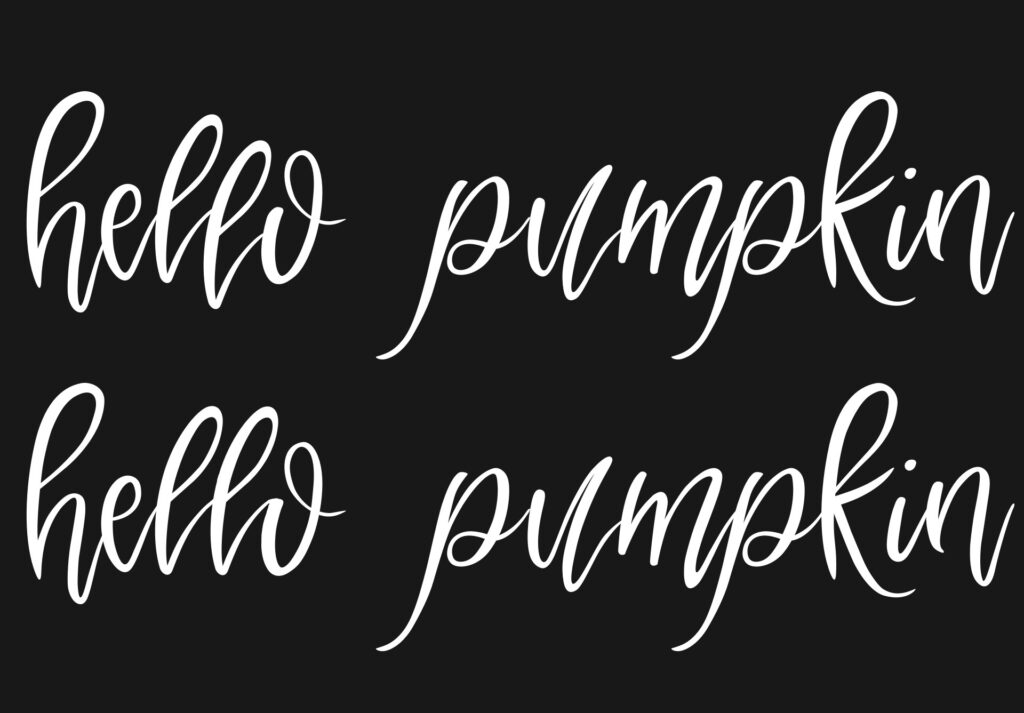 Price
iFontMaker can be purchased on the AppStore for $7.99. If you are familiar with fontmaking programs, you might know that they are pricey, no joking. Just like everything, their price varies, there are affordable and expensive choices, but the most "professional" programs cost around 300-500$. Told ya, they are pricey! IFontMaker costs just $7.99. The price tag alone, (plus the fact that you can create from the comfort of your iPad) makes the app totally invaluable.

Cons
I almost feel bad, I believe that the advantages of the app outweigh by far any possible disadvantage. Also, most cons regard pretty advanced font making functions. Not to mention that they update the app so often (and boy, major updates they do!), so you can expect minor problems to be resolved over time. In any case I always try to be 100% transparent with you, so here you have it.
No alternative characters
You cannot create alternative characters. However with ligatures, special characters and punctuation it is almost as if there are alternative characters – this is what I do all the time!
Difficult to create font families
You can definitely create font families, at least technically. However you cannot manipulate the shape as a whole. You cannot flip it, enlarge it, edit the weight. (You CAN, but only under certain circumstances) As a result you cannot easily create bold, italic and other variants.
EDIT: You CAN do those but not as easily as eg illustrator or any vector-based program. Sometimes I create the new version in procreate, then trace it back in iFontMaker. (Because I am lazy enough to use a pc but not lazy enough to put many hours of extra work) However this method is nor precise, neither professional and should be used with caution, only with decorative, hand-drawn fonts.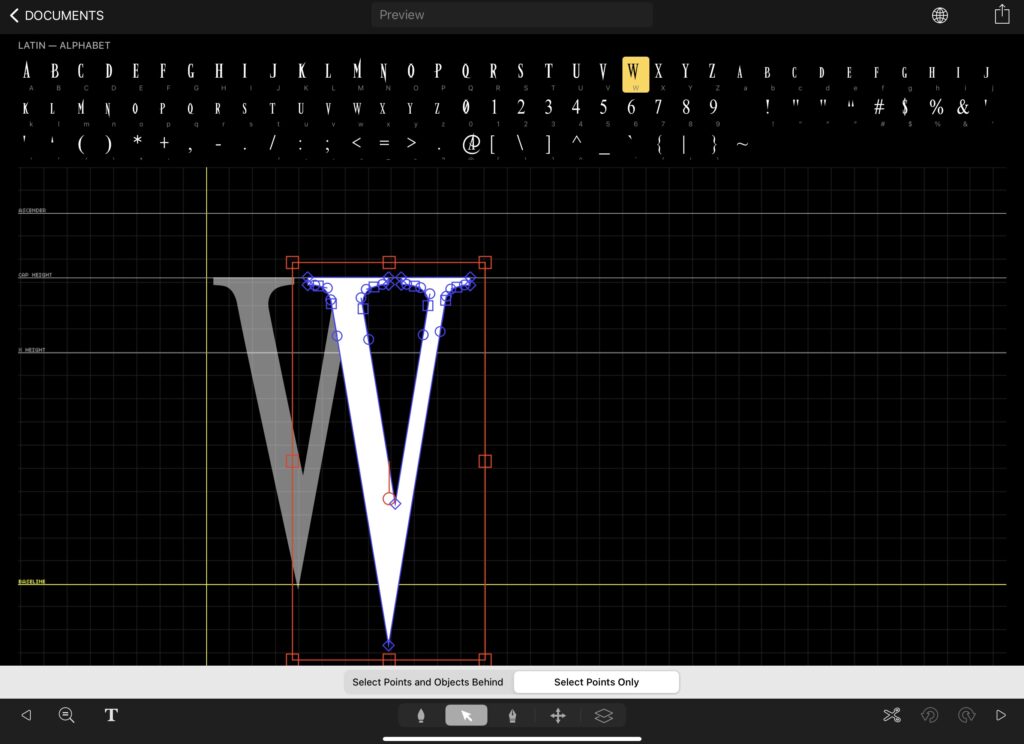 No precision
No precision, no snapping, no detailed grid, no rulers. It is impossible to tweak a point with precision, which once again is expected because iFontMaker is marketed as a hand-drawn fonts app. However I sometimes wish I had more control.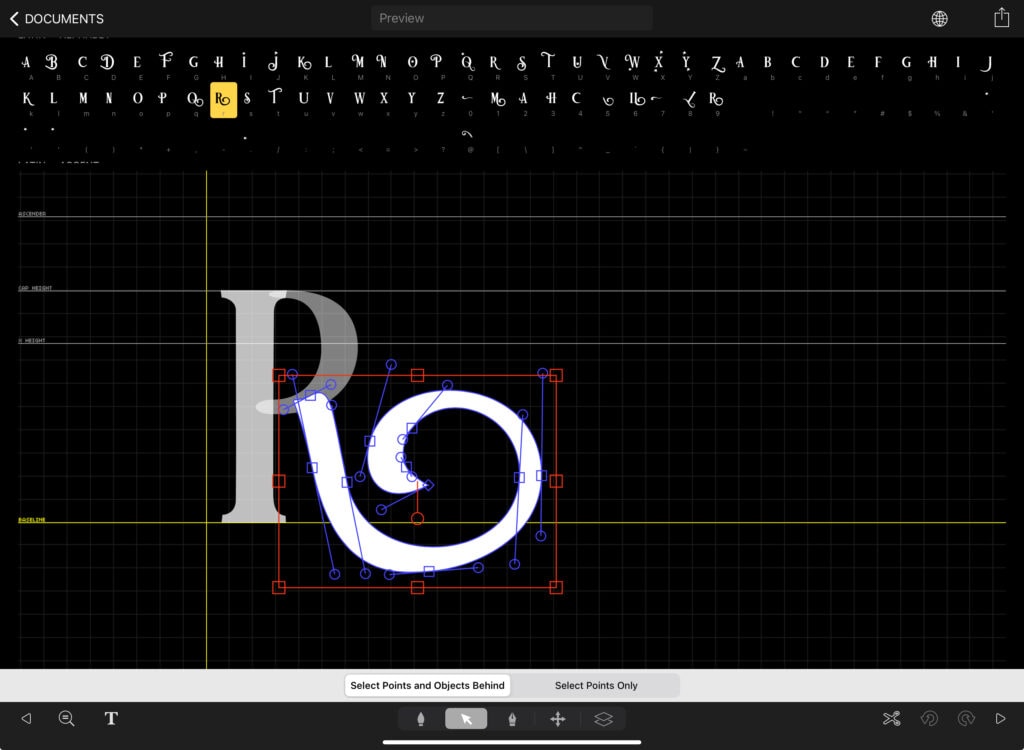 Kernings in Greek (and the rest of non-Latin based languages) aren't easy
I already praised how easy and enjoyable it is to work on kernings in iFontMaker, but this is only true for the basic English characters. For accented characters and for non-English alphabets, working on kernings is not-so-fun. Which is kinda disappointing (they created such a unique system to edit kernings, and I feel it is kinda taken away from me when I work on Greek!). Anyways, these are minor flaws really, just an opportunity for me to grumble! 😜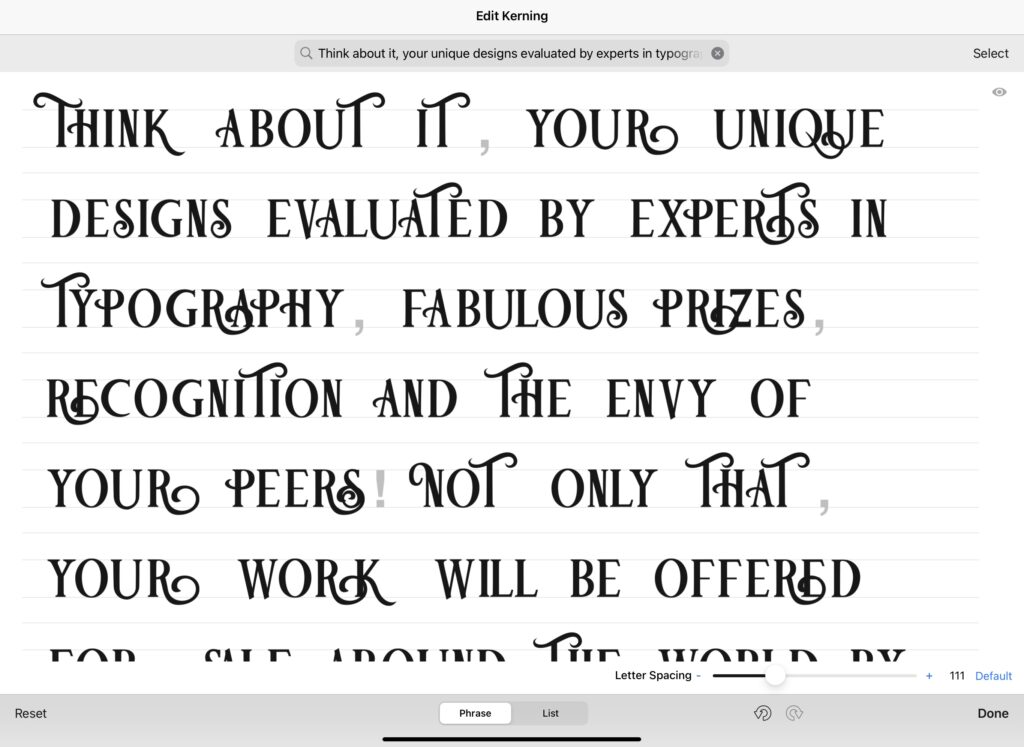 Final thoughts
I will try to summarize all the above as best as I can. IFontMaker is an indispensable app (yes really!) for those who wish to design fonts on the iPad. I have been using the app for many years and I will continue to do so. Considering the price tag and that it is the only font-making app for the iPad, everyone who is mildly interested in font-making should get it.