If you are a colored pencil artist (hobbyist or professional, it doesn't matter), chances are you are familiar with the "big three", namely Faber-Castell Polychromos, Prismacolor Premier and Caran D'Ache Luminance colored pencils. These are the top three brands that dominate the market. (I've reviewed extensively all of them in case you want to catch up before jumping into this current review) Every now and then a new colored pencil brand surfaces, that tries to compete with the "big three". Most of the times it falls short. But let me tell you this ladies and gentlemen, I am starting to believe that Arrtx colored pencils are the real deal.
Disclaimer: The pencils were sent to me for review, and some links (marked with *) are affiliate links. However this is not a sponsored review and all opinions are my own.
Generally colored pencils fall into two big categories: soft and hard. Soft pencils are normally wax-based pencils, wax is the medium used to bind the pigment. They are soft and creamy, they apply smoothly and blend easily. Hard pencils on the other hand are oil-based pencils, (oil is used to bind the pigment) they are hard and can be sharpened to a super fine point, which makes them perfect for details. Hard pencils cannot be blended as easily, usually blending occurs by applying many many soft layers. Although Arttx colored pencils, are wax-based, they are not too soft (like Prismacolor), but not too hard (like Polychromos) either. In fact if you apply different pressure they can perform both as hard and soft pencils. How cool is that?!
General characteristics
They come in a vertical vertical pencil case with a foam pencil holder at the bottom. Which means that they take a very little space, since pencils are stored vertically and not horizontally. This is super convenient for small drawing spaces (like mine!), but it makes it harder to pick the right color, since the pencils are stacked all together and not one next to another. The pencil itself comes in a basic design, with a circular barrel.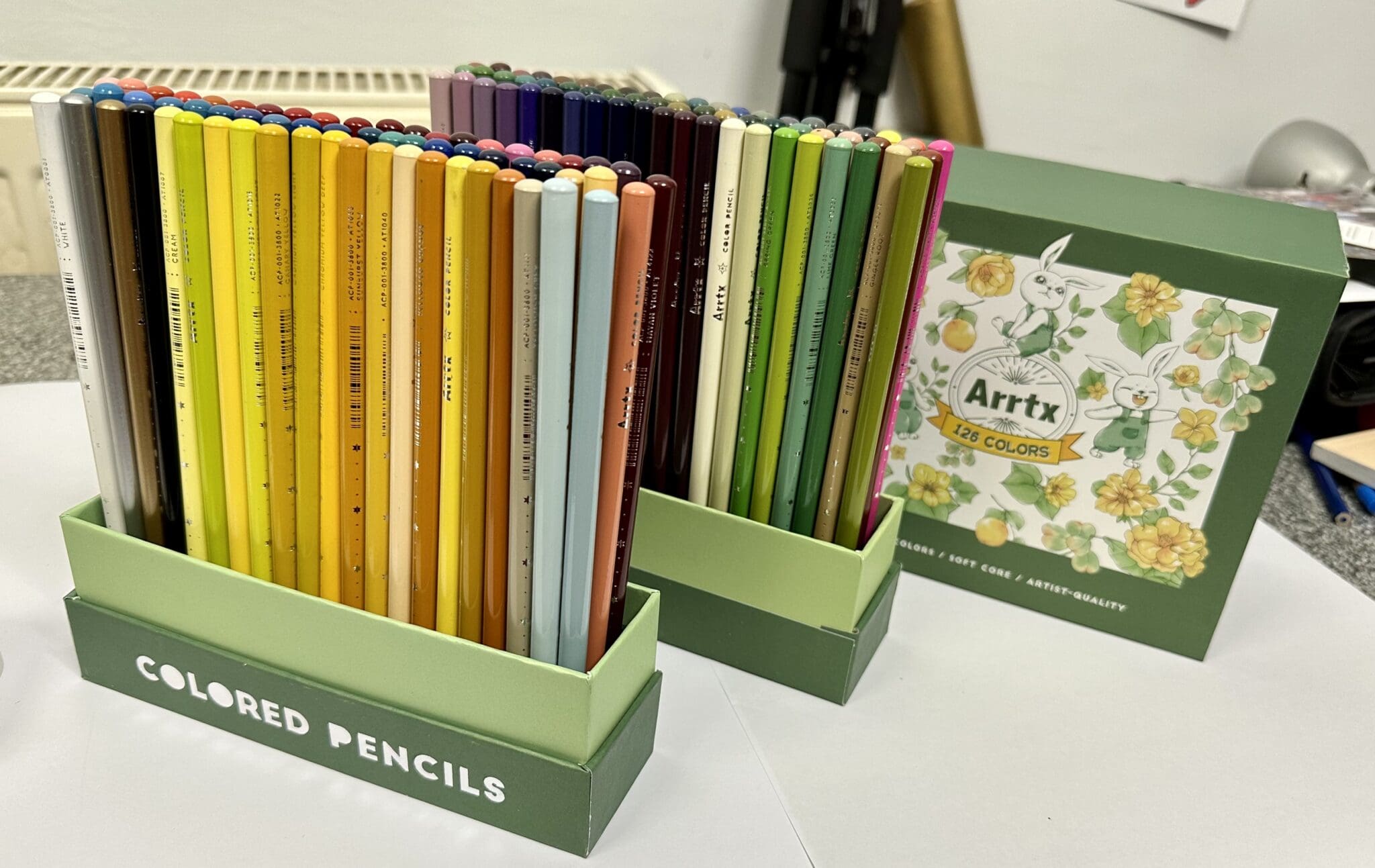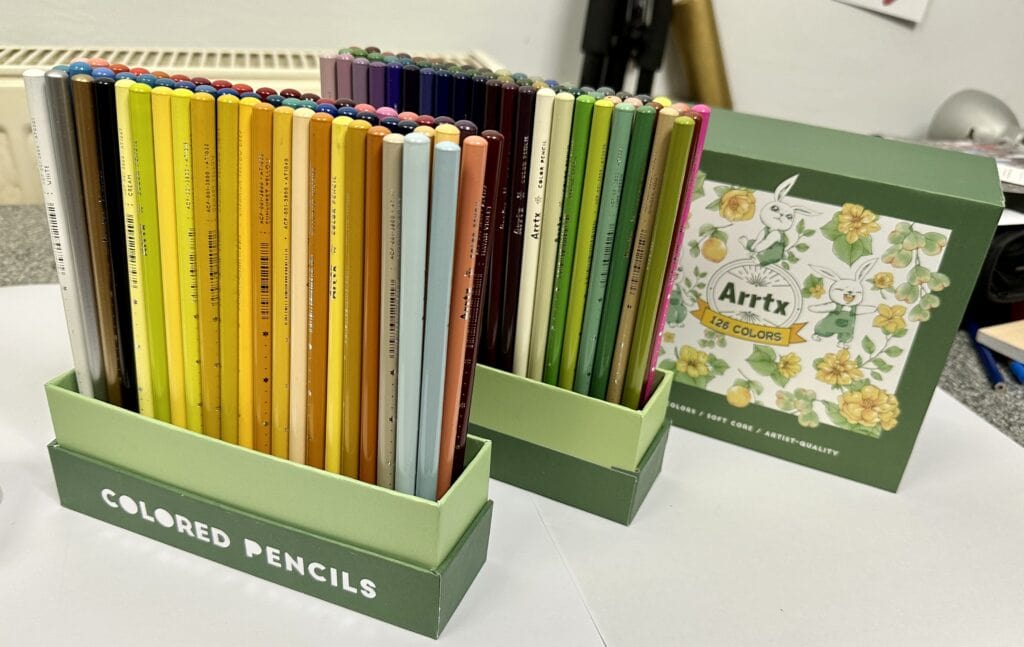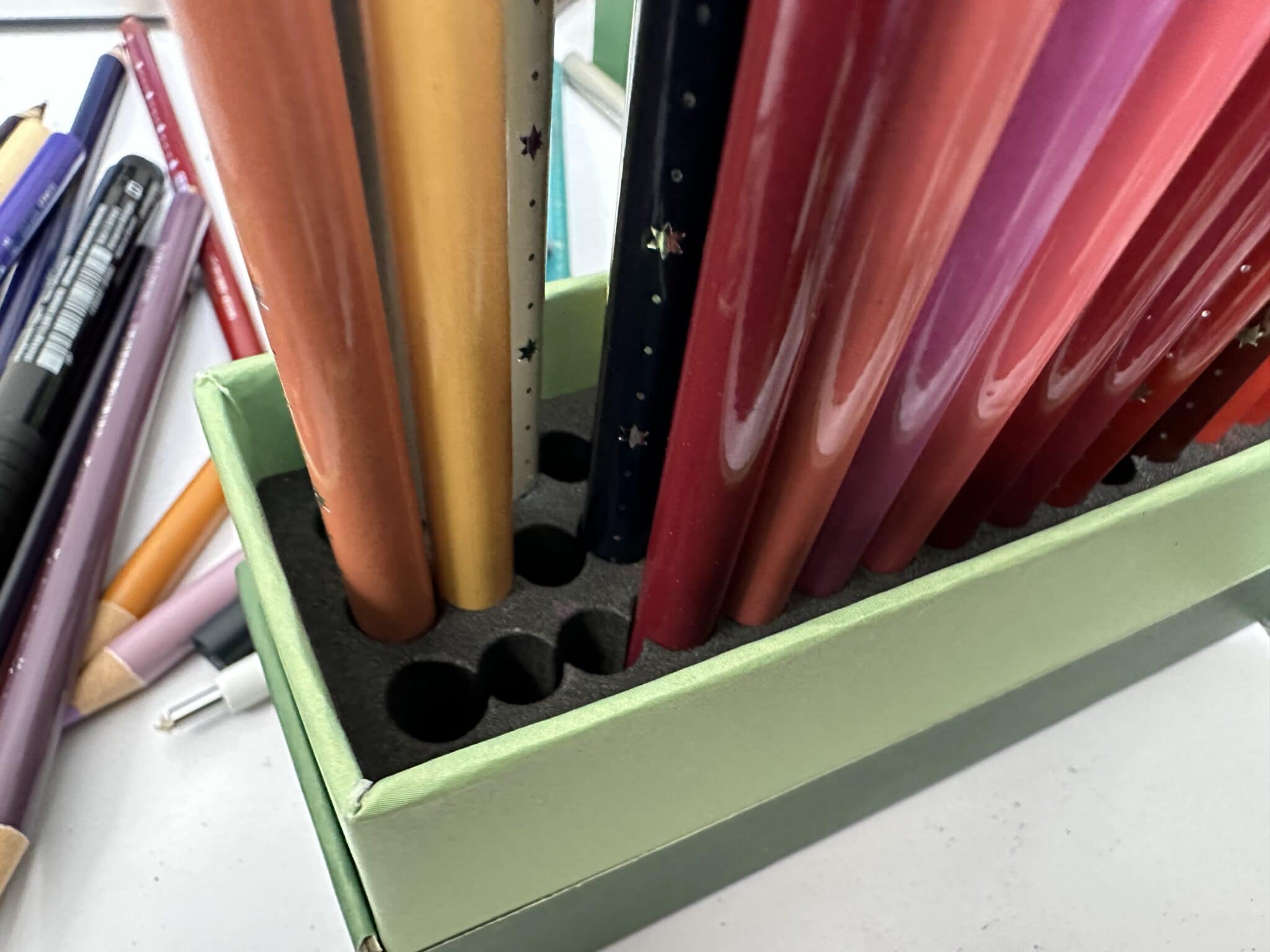 Color variety
The set consists of 126 colors, which is … ridiculous! In a good way. Of course big brands come with similar numbers. The biggest prismacolor set consists of 150 colors, the biggest faber-castell has 120 colors, and lately caran d'ache luminance released a 100 color set. However this is not something you would expect from a new, relatively unknown brand. As far as I am concerned, I am the weird minimalism artist who loves to work with a limited palette. So 126 are more than enough.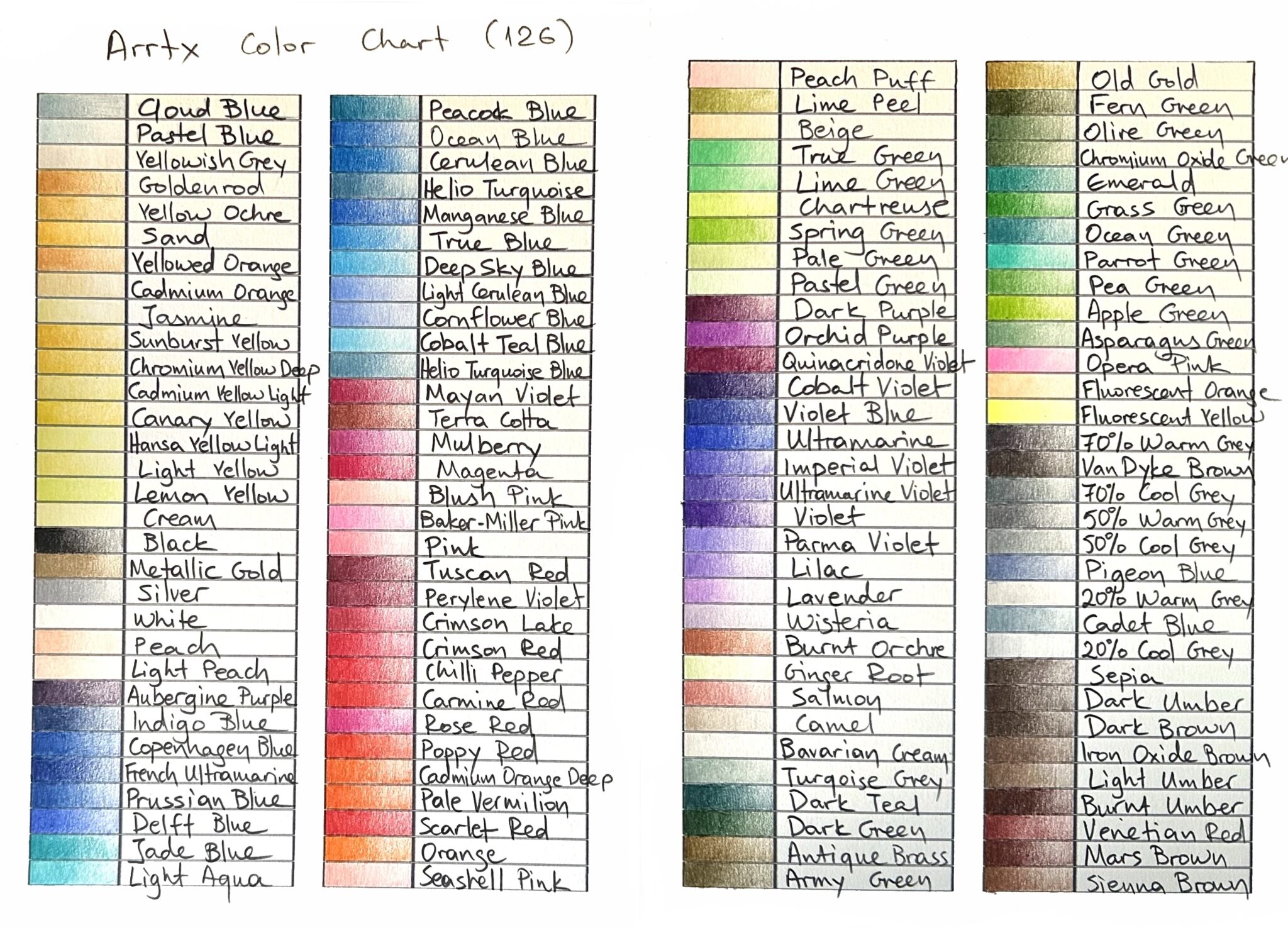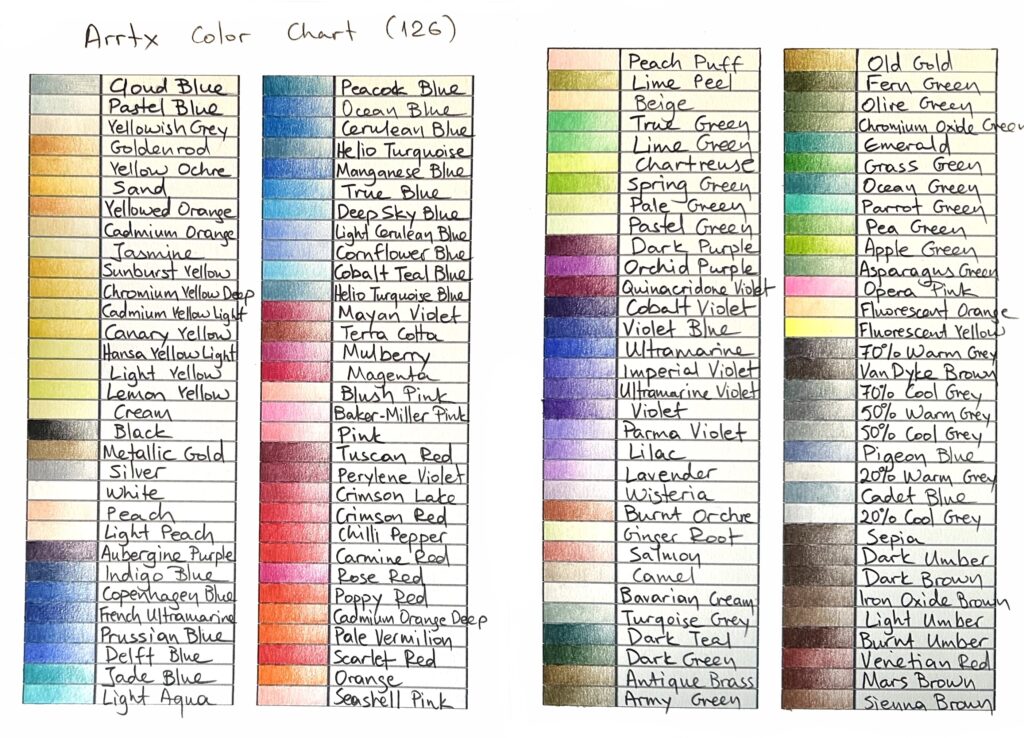 Texture
Normally soft pencils create a lot of texture. Here's the strange thing: Arttx creates mediocre texture, not as much as soft wax-based pencils, not as little as hard oil-based pencils. Personally I am quite a fan of heavy texture, I think it makes the drawing legit and unique, so I really enjoyed working with these. If you are not a fan of big texture, however, it is something you can easily manipulate and work your way around.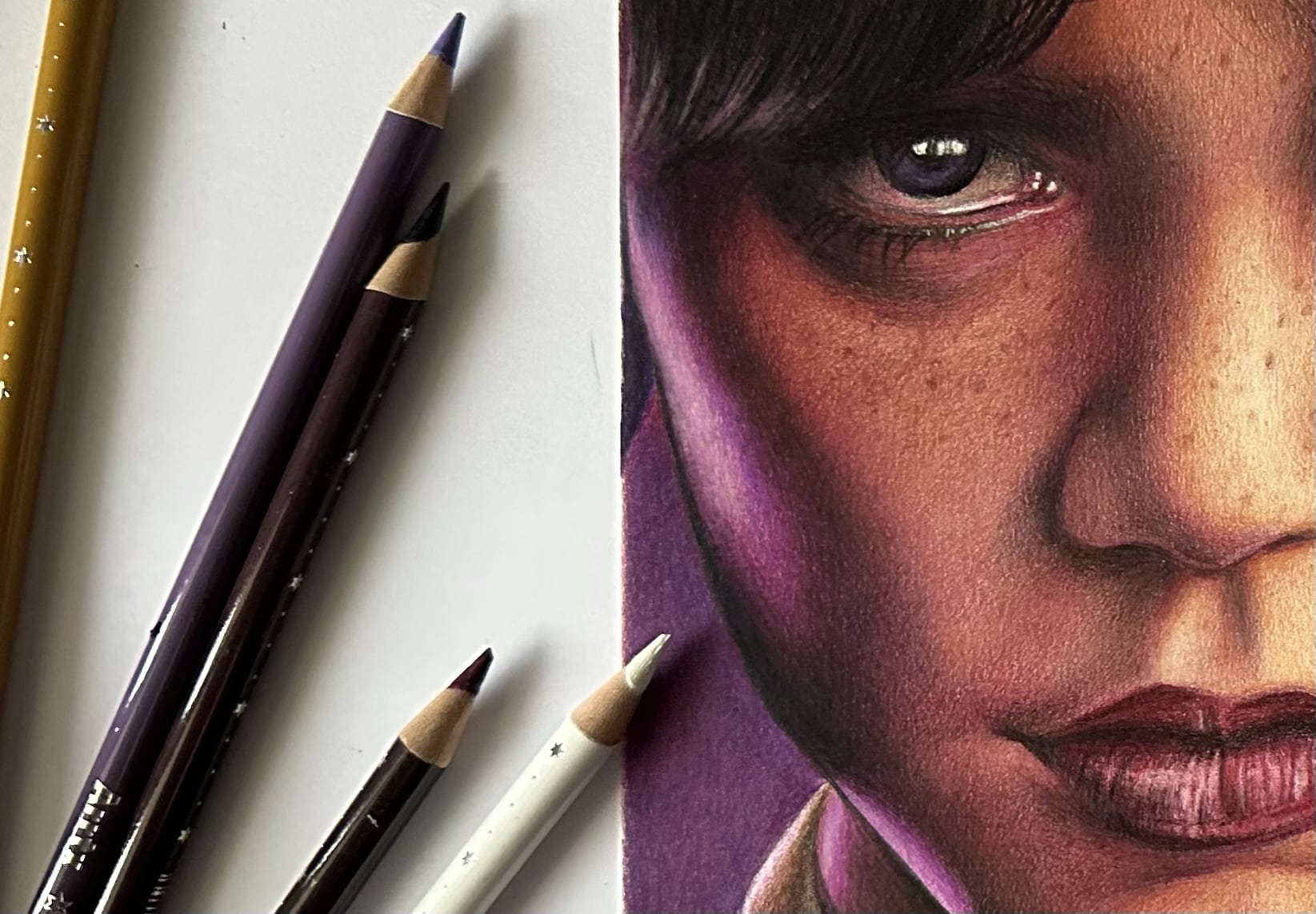 Color payoff
Generally, they can deliver an insane amount of pigment, but when pressed gently they only apply a super soft layer. The control I have over them is insane. A couple of years ago I got quite a backlash when I reviewed Caran D'Ache Luminance colored pencils. Of course they are superb quality pencils but I just couldn't control the pigmentation at all. No matter how soft I pressed, they seemed to deposit an insane amount of pigment. With Arrtx colored pencils I have total control of the amount of color delivered on the paper, it is an absolute joy using them.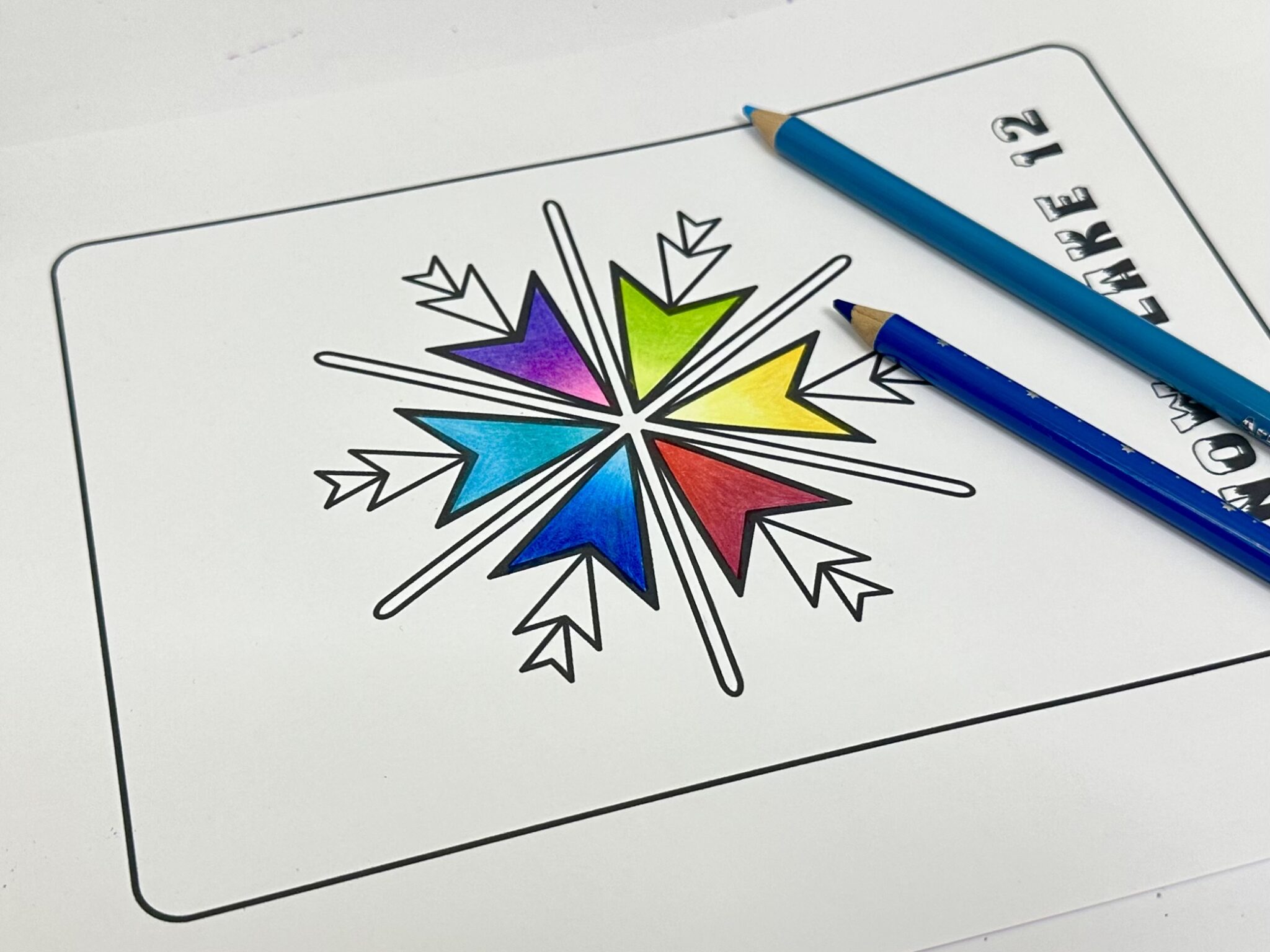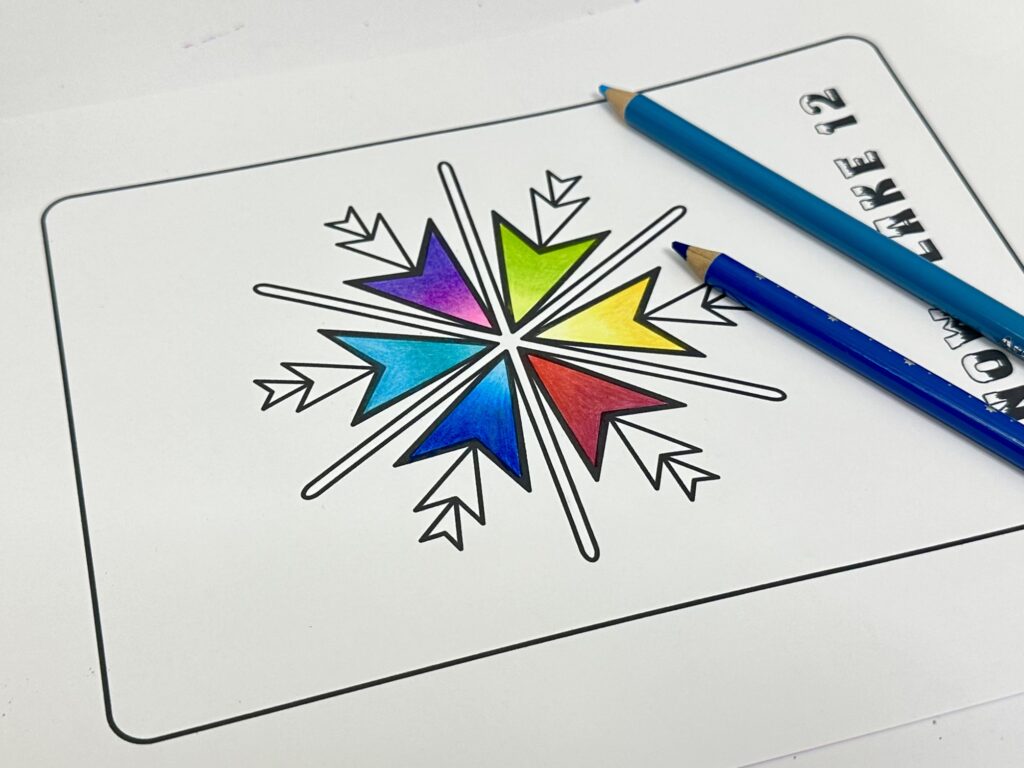 Layering
With hard pencils I can layer as many colors as I want. With other wax based pencils I can layer 4-5 colors before the paper cannot hold any more pigment. With Arrtx things are somewhere in the middle. I definitely can layer A LOT of colors before the tooth of the paper cannot hold any more pigment. It does at some point, but with 126 different colors, you don't really need that many layers to achieve the desired effect, right?
Blending
I cannot recall how many times I have said this, but I'm gonna say it once again: I hate blending. I really do. I believe it rips the drawing off the fine details that make it unique. Blending kinda washes away all the subtle features and makes the drawing "plastic" and lifeless. However, it is a technique worth knowing, and I feel it can be done effortlessly with Arrtx colored pencils. They strongly remind me of prismacolor colored pencils when It comes to blending.
Sharpening
Generally I do not have any serious issues with leads breaking, with any of the pencil brands I have ever tried. I also don't use special tools for sharpening, just normal pencil sharpeners from the local bookstore. More or less it was the same with Arrtx, occasionally I had some broken leads but nothing too serious. However, there were a couple of pencils that broke all the time. Pencil leads break for two reasons, either the pigment core is not aligned to the wooden barrel, or the core is already broken (eg if the pencil has fallen down, the core can break. Then, when sharpened, the lead literally falls out) The core seemed pretty aligned to me, so I am gonna consider the breakage a random thing. If something else comes to my attention, I will let you know!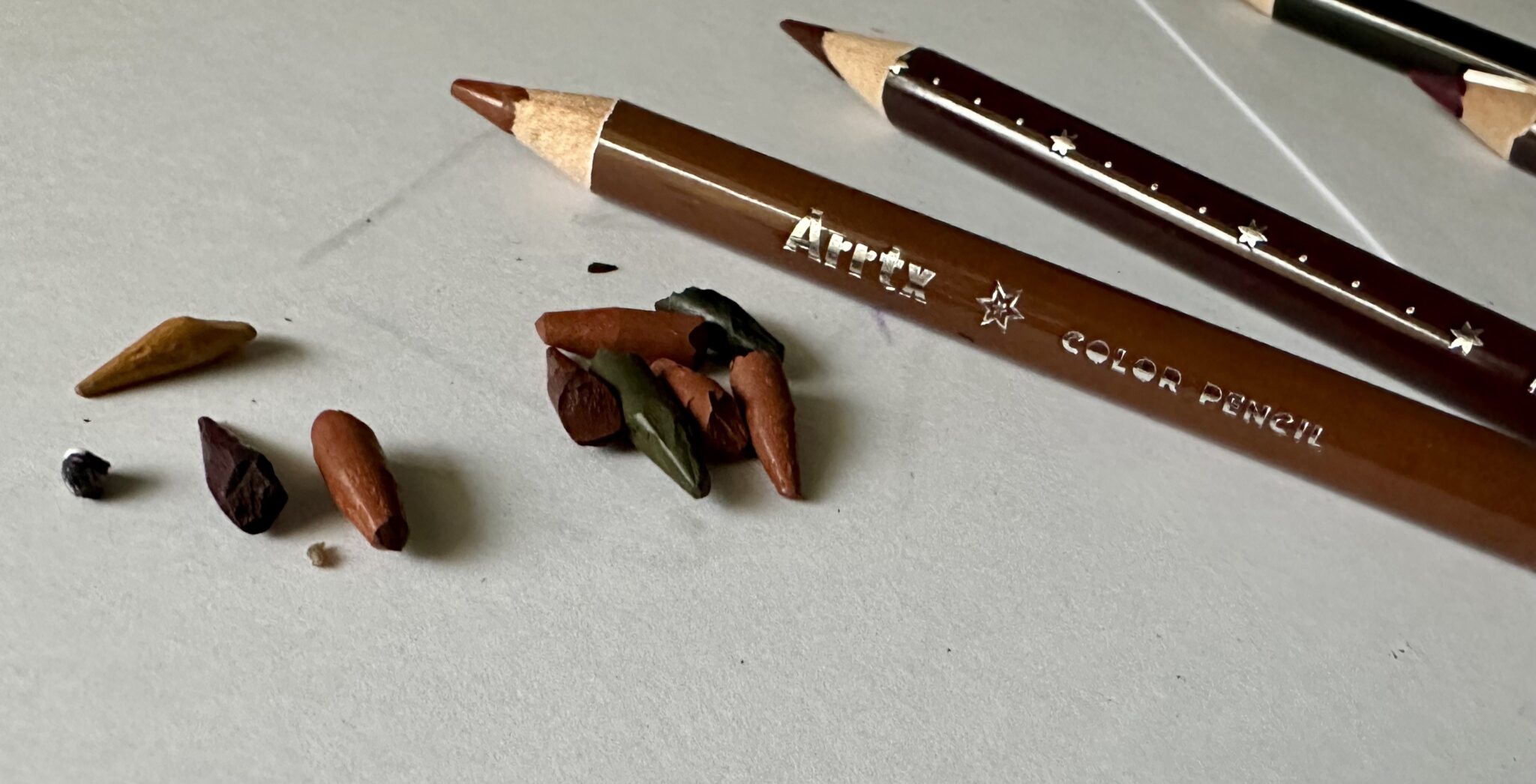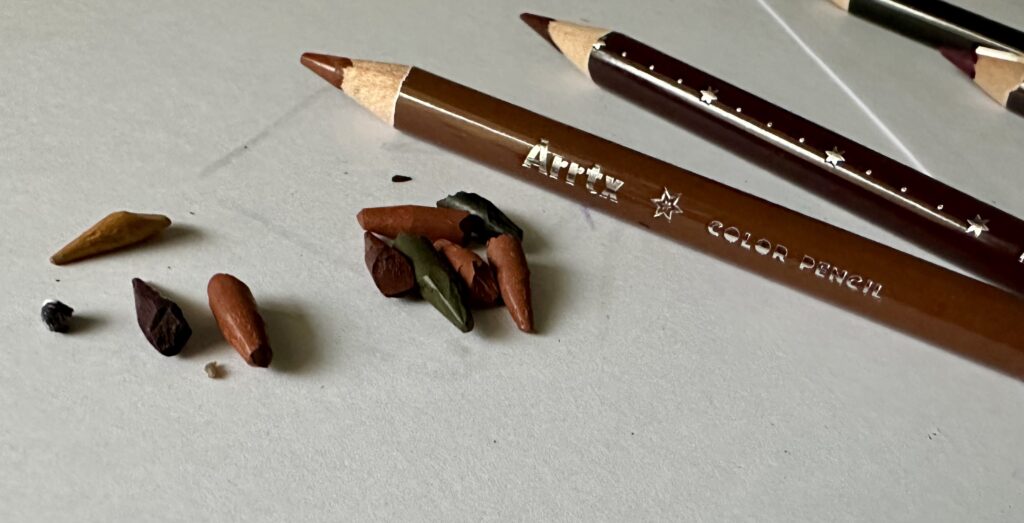 Lightfastness
Lightfastness is the ability of the colors to stay unchanged over time. It is something I am very picky about, (imagine you commissioned a drawing and the colors fade after a few months) This is the reason I sometimes choose to draw with pencils I do not like (yes, luminance, I am talking to you!). Because they have excellent lightfastness. Anyways, back to Arrtx. According to their website "The colored pencils are made of brilliant, lightfast artist-grade pigments, with vibrant colors and high light-fastness". However there is no other information, and there is no lightfastness chart. Don't get me wrong, they may have excellent lightfastness but obviously just the claim isn't enough for me. So, I think I will stick this drawing on my wall, under direct sunlight and see if it fades after a few months. Mmmm, maybe I will make another drawing for the purpose, because I like this too much!
Wax Bloom
No wax bloom, no considerable shine! Wax Bloom is generally when the wax from wax-based pencils rises to the top of the drawing, forming a wax layer and giving a "foggy" appearance. Wax bloom isn't something destructive to the drawing, it can be fixed, but it certainly can be annoying. I occasionally get some wax bloom with prismacolor and luminance colored pencils. However, I experienced no wax bloom whatsoever with Arrtx colored pencils. (At least not yet, sometimes wax bloom takes a while to form) Not only that, but shine when looking to the drawing from an angle, was minimal. (You can check out the video at the end of the post to see what I mean!) A really pleasant surprise.
Open Stock
No open stock pencils at the moment. Once you run out of a certain color, you need to replace the whole set. Of course this is not as big as it sounds. With 126 different colors you can easily find alternatives. Or at such a low price (see paragraph below) you might want to replace the whole set, just to have backup pencils!
Price
Here comes the biggest advantage of Arrtx Colored Pencils, the 126 colored pencil set costs 55€, which is nowhere near to the price of a 100-piece luminance set (~300E) or the price of a 120-piece Polychromos set (~221€), or a 150-piece Prismacolor set (~188€). (*all prices are from amazon.com) If you are just starting out and you would like to experiment with artist-grade pencils, then this set is definitely for you.

Arrtx vs Prismacolor vs Polychromos vs Luminance
I thought I should showcase how Arrtx colored pencils perform in a "real" artwork, and how they compare to the leaders in the industry, namely prismacolor, polychromos and luminance colored pencils. I am honestly dumbstruck. Won't bother you with details, results speak for themselves. Not to mention that the Arrtx artwork was done after a 1,5 year long break from drawing (my social media are proof of that) whereas the other artworks were done while my technique was at it's peak. Maybe you should take that into account as well!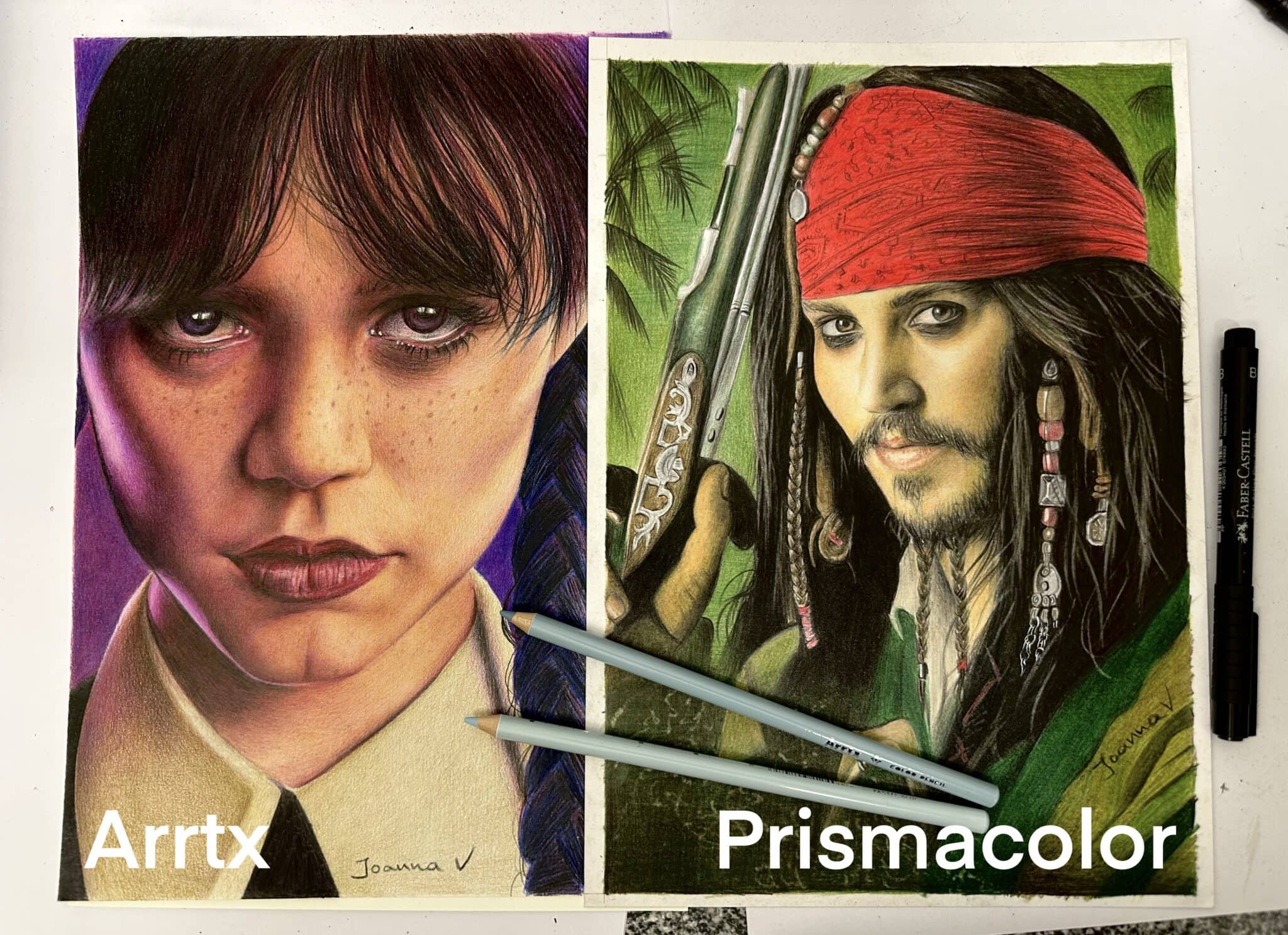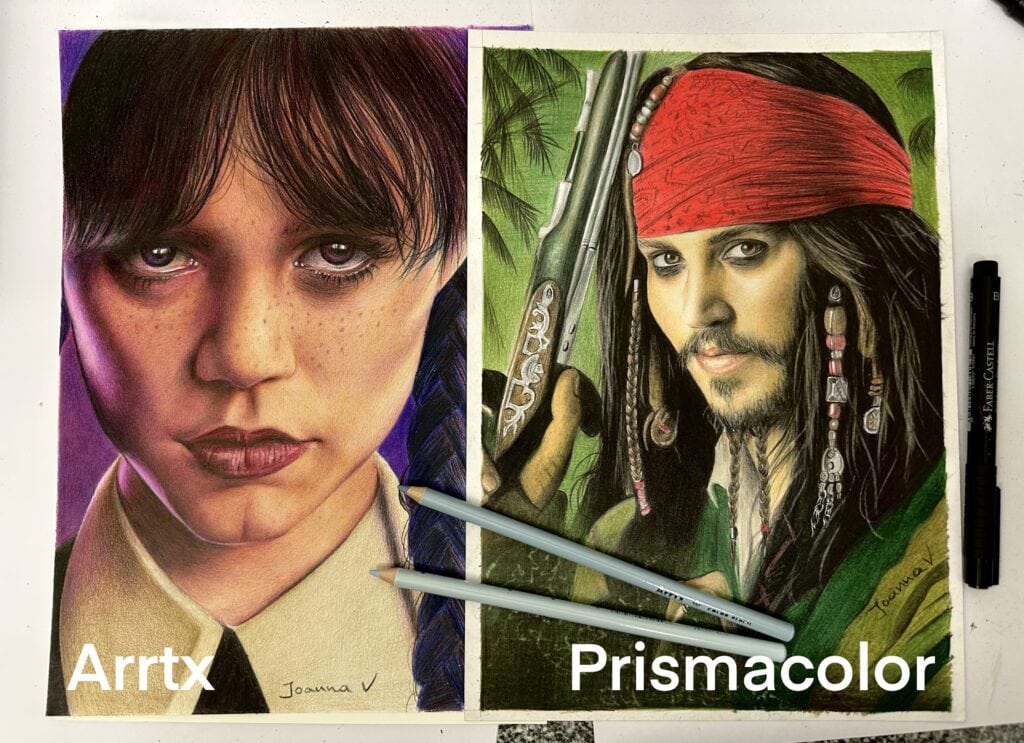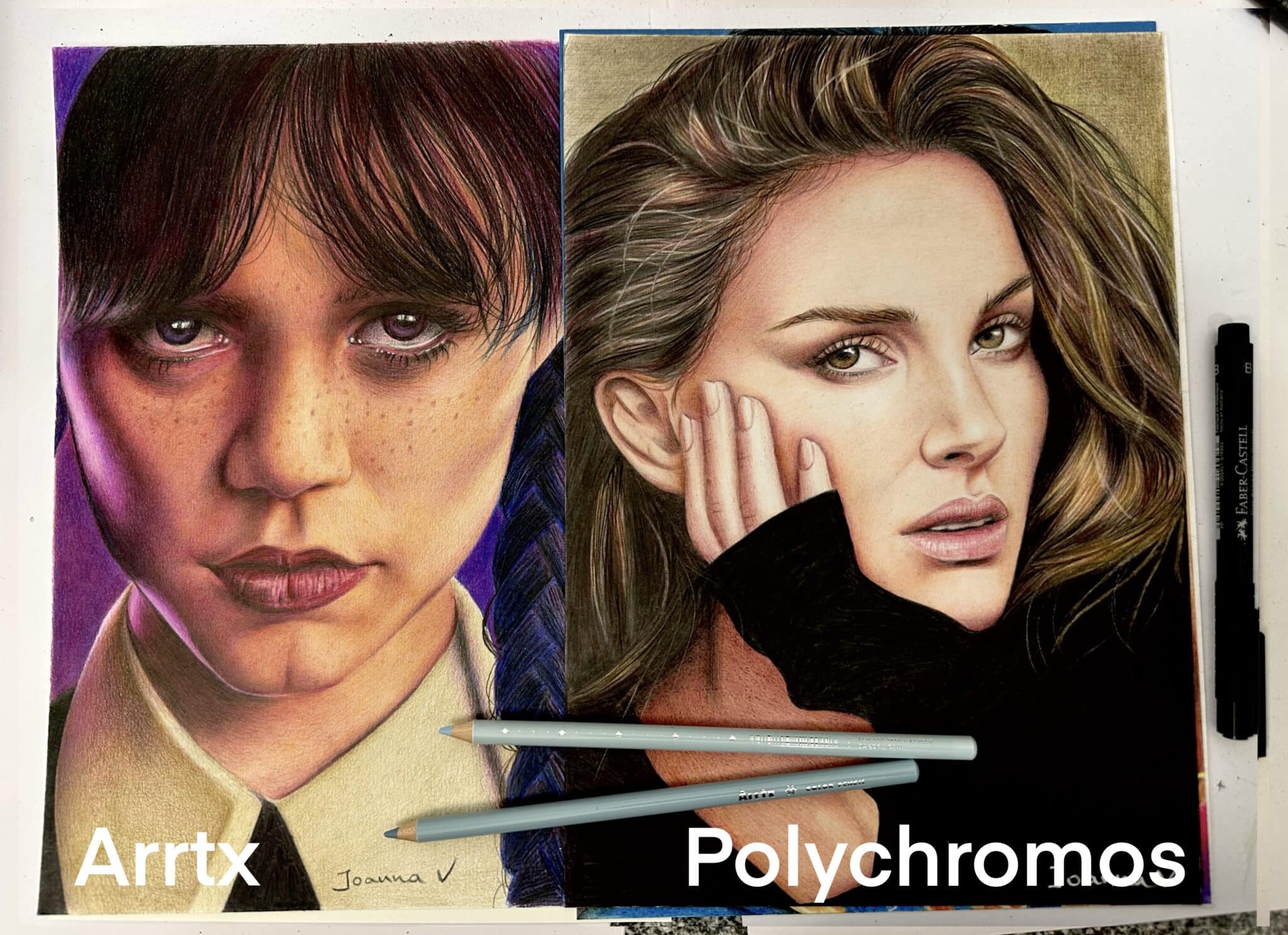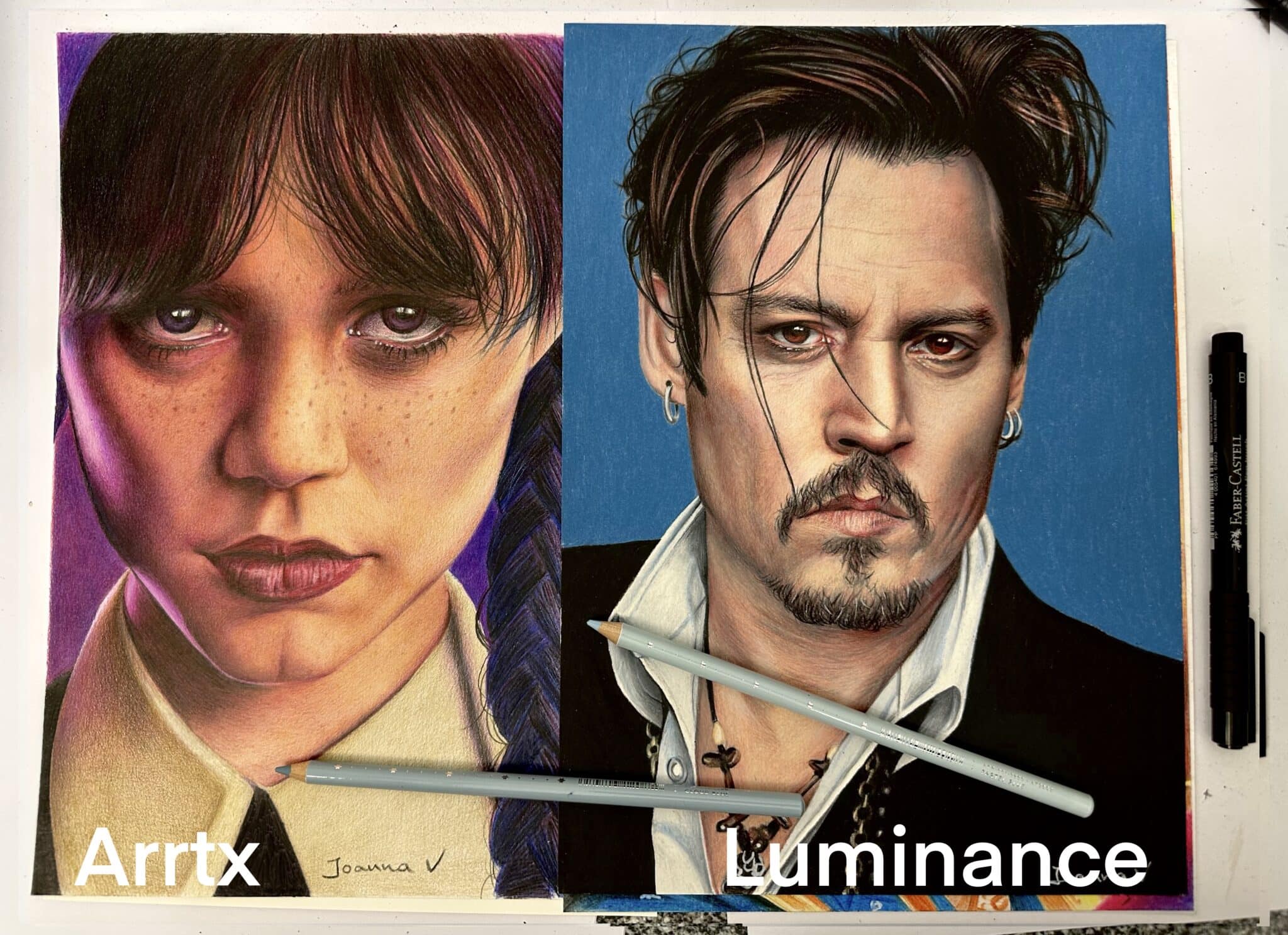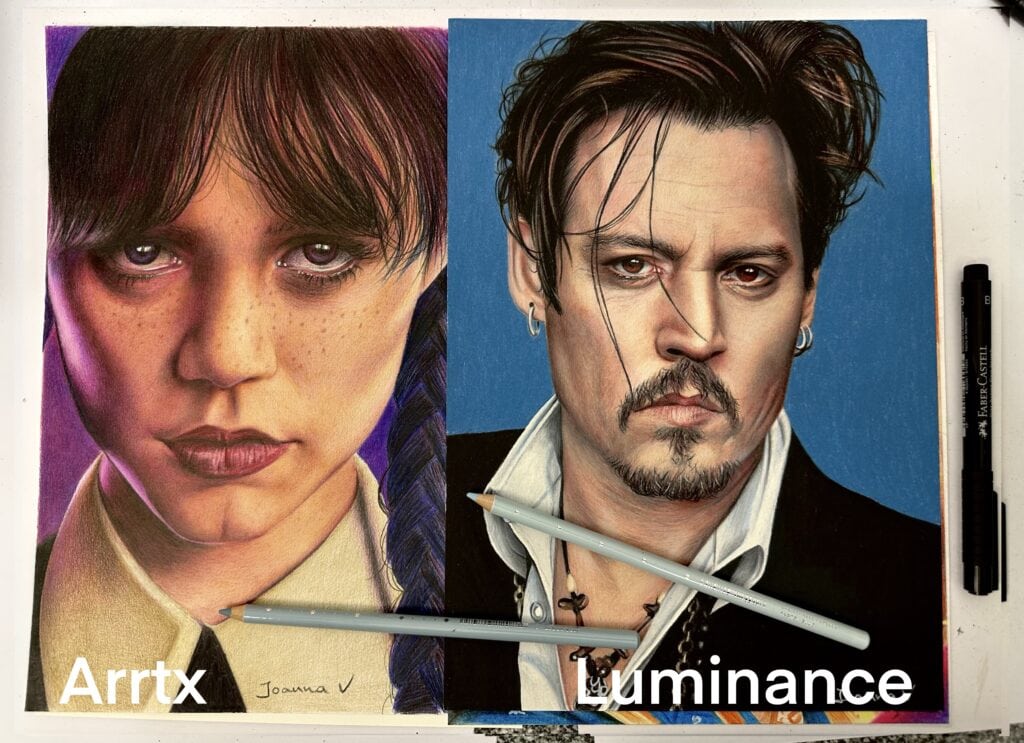 Final Thoughts
If it wasn't the issue of lightfastness (which is yet to be proved), Arrtx would easily become my go-to pencils. But even if it proved that they are not as lightfast as I would have hoped, they are a great addition to my collection. Mind you, at such a price tag, I'm getting a set for my kids as well. One thing is for sure, I will keep using them and updating this post. Stay tuned!
And the most important thing is that the pencil doesn't make the artist. Once again it is proved that you don't need expensive tools to create great art.

Arrtx Colored Pencils can be bought here: (*affiliate links)
US: https://amzn.to/3Q6PNQZ *
CA: https://amzn.to/3vwEmZk *
UK: https://amzn.to/3GAoThe *
DE: https://amzn.to/3VGa4hE *
FR: https://amzn.to/3iapIE5 *
Aaaaand they have a promotion currently. EU fans can enjoy 15% off from the Amazon page, from 1-8th January, and US and UK can enjoy a 15% discount from 9-15th January. Keep drawing!