Today is the 22nd of March 2020, and like the rest of the World I am stuck home due to the Coronavirus pandemic. Being primarily a colored pencil artist, I am already beginning running low on art supplies. Cannot buy from local stores, everything's shut down and I cannot order, the post office is really slow these days. (So slow, the pandemic will be over before my order arrives. In fact, I hope it will be this way! 😆) EDIT: Hellenic Post has shut down as of March 23rd. So no new materials altogether…
But yes, there's a way out! Whether you would like to be a minimalism artist (with minimalism referring to your supplies, not your art) or you have no access to new stuff, or you simply want to make the most out of your old supplies (because let's be honest, you probably have accumulated more stuff than you need!).
So, even if you are out of your favorite pencils, you can use alternatives and still create great art! Disclaimer: This article is mostly for colored pencil artists, but it may apply to all kinds of visual arts.

1. Choose a limited palette
Do you feel that you use your whole colored pencil stash for a single artwork? Good news, you probably could have achieved the same result with a limited palette. Choose 5-6 of your favorite (or your least favorite!) colors and use them and only them. You might be surprised with the result!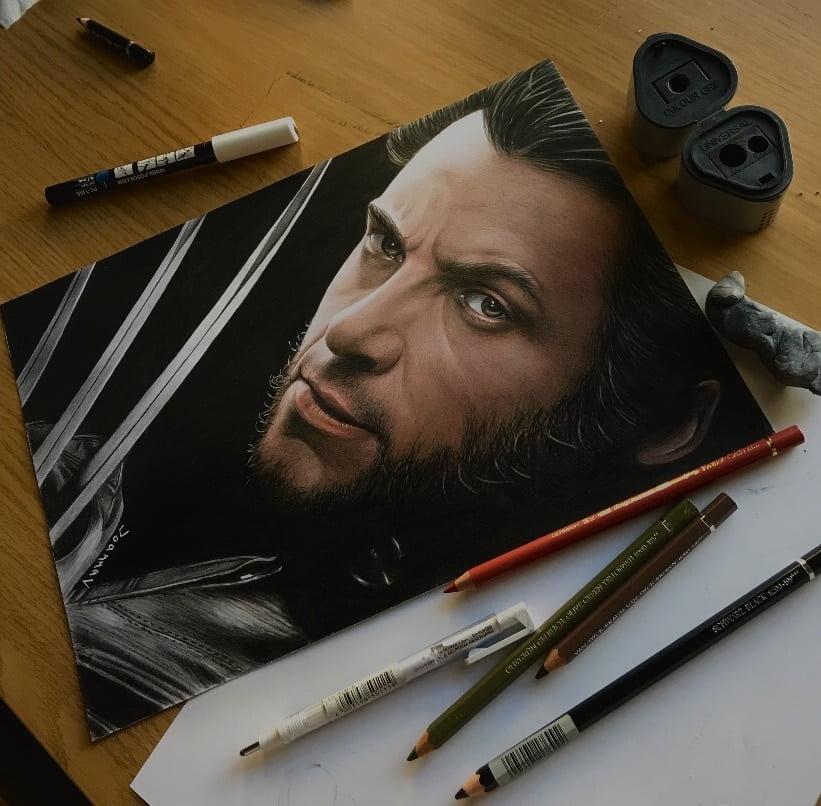 Hugh Jackman above was drawn with only 3 colored pencils – and a black.
2. Use unused tools
Remember that pencils/paper/whatever you bought ages ago and didn't like them? Yes, the ones at the bottom of your drawer! Now it's time to give them another chance. Yep, you might be surprised. Again!
Personally I am grateful I gave a second chance to some of my current favorite materials. My art would be completely different today, if I didn't. Among them are Prismacolor colored pencils and Tombow Bristol paper.

3. Use those colors you never use
Is there a color you never use because you find it "scary"? The biggest palette I have, a 120-color Albrecht-Dürer palette by faber-castell, has no browns, oranges and pinks any more, I used them all up. But, there are some greens and blues I haven't even touched! If you are like me, you can experiment and bring out those crazy colored pencils. And get out of your comfort zone!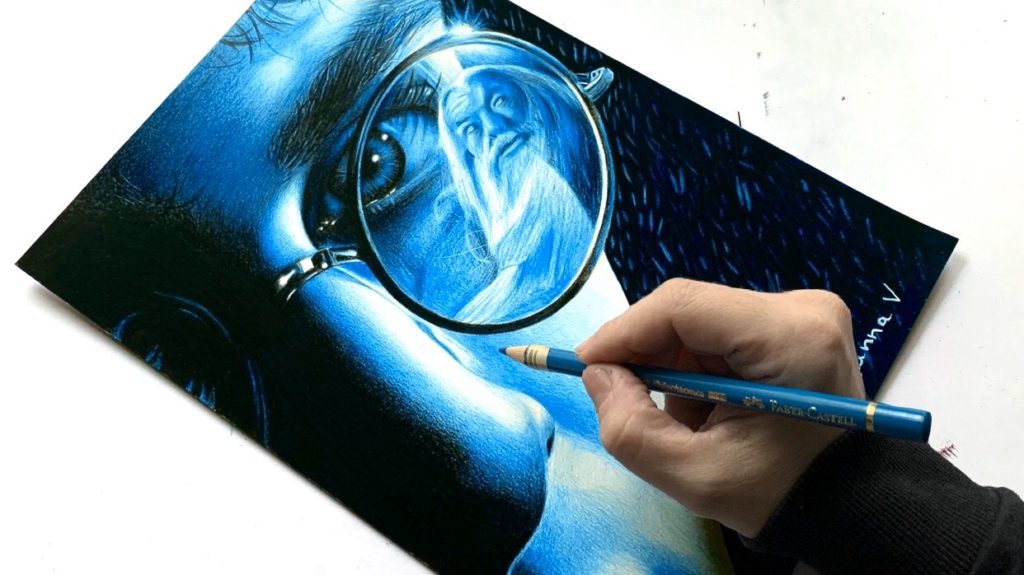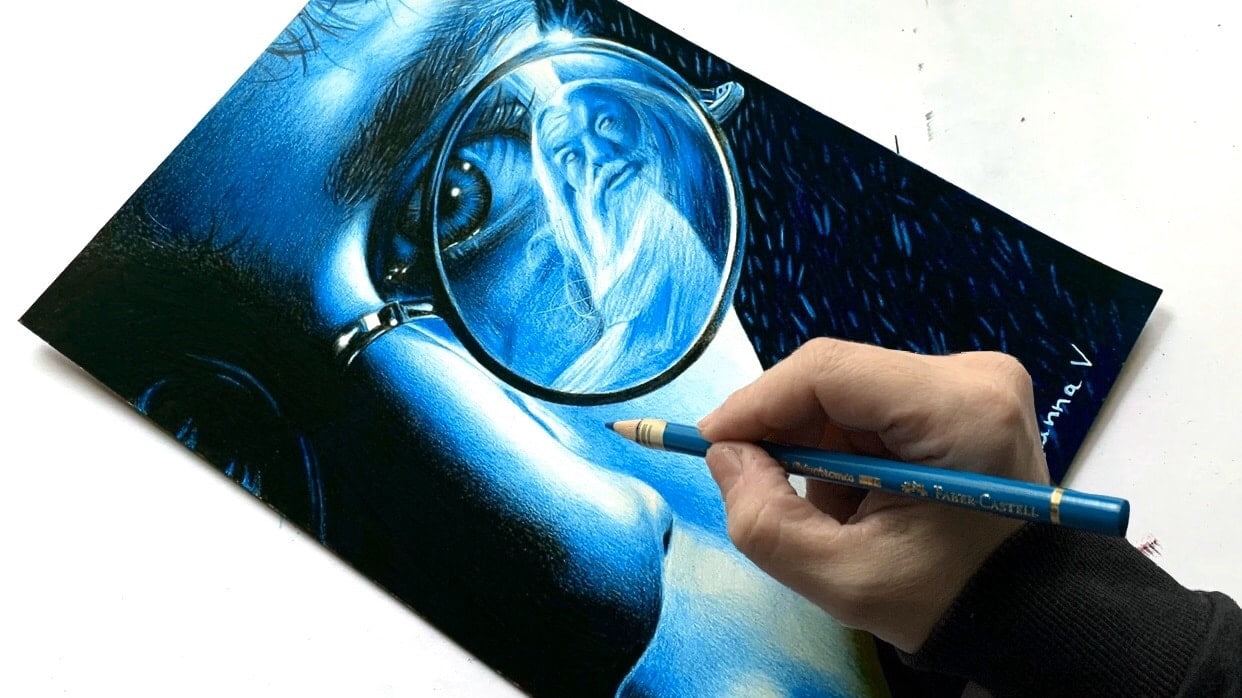 Harry Potter/Daniel Radcliffe above, was drawn with a black and a crazy turquoise pencil.
4. Mix pencils to achieve a certain hue
Out of your favorite skin color? No problem. Try to layer two or more different colors to get a similar result. According to color theory, we only need three colors (blue, red and yellow) to produce the rest of them. Let's not go to such extremes, but you get my point!
5. How about another medium?
Do you happen to have one or more extra paints/markers/whatever in your stash? For example, I once bought acrylics in order to paint my daughters bedroom. Unfortunately I never used them and I recently threw them away because they started drying out. I really wish I would have kept them…
Anyway, trying a different medium is always a good idea. It can help you grow as an artist, and sometimes it can get you out of your artist's block. Because you keep doing the same thing over over and over again, things can get boring.
For this drawing of Spider-Man I mixed markers and colored pencils.
6. Digital Art
Do you ever draw digitally? If so, now is a great time to polish your skills. If not, it's a good time to learn! We are living in the Digital World, so I personally believe every artist needs to know the basics, it will make your life only easier. Why? For many reasons (but that's a long discussion, I might do a blog post sometime), suffice to say your artistic perception will sharpen with this new skill. Not to mention the most practical aspects, you can create art "on the go", while lying on the bed, etc etc. And you are never out of materials!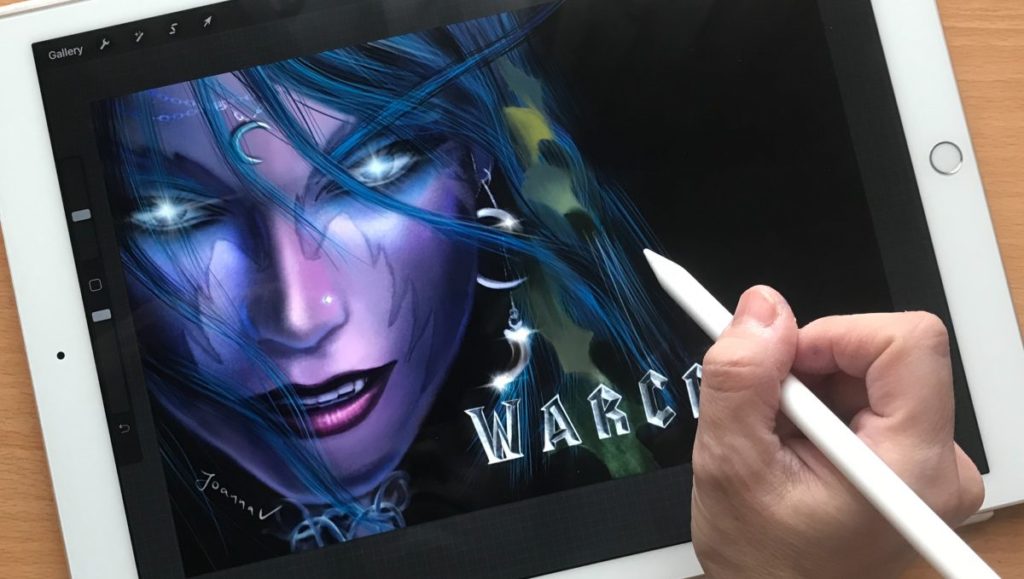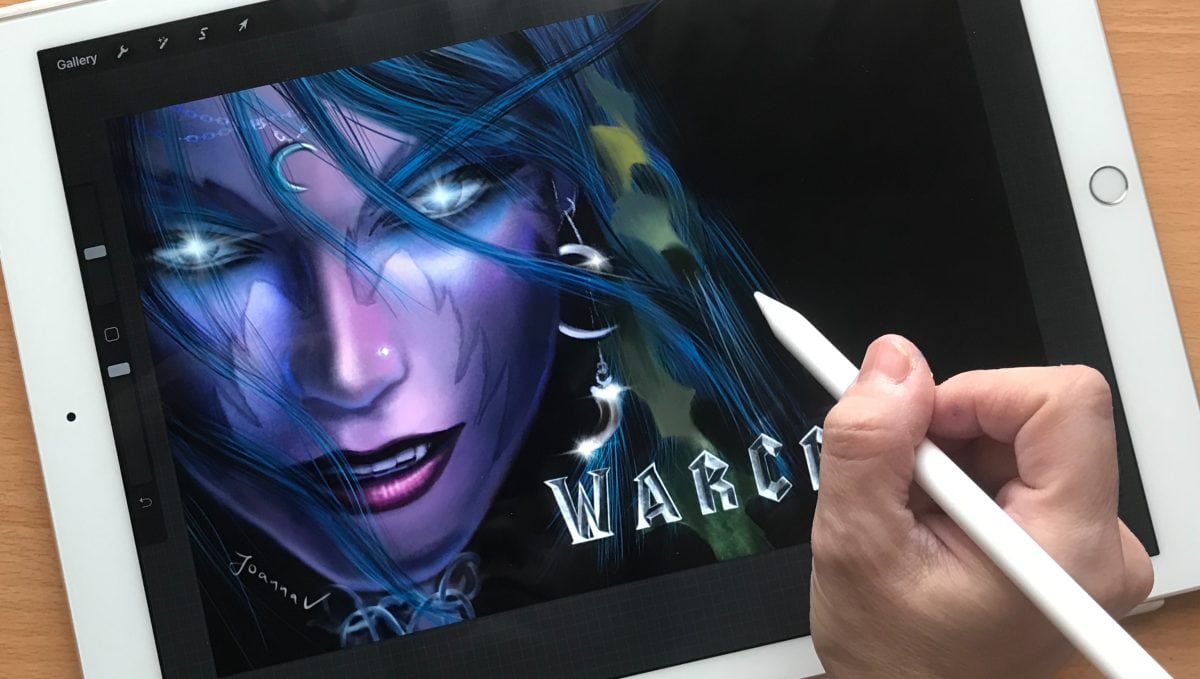 Finally, I am not gonna lie to you guys, I am running dangerously low on black pencils. I am already considering my alternatives, will let you know how this quarantine is affecting my art! For now, stay strong, stay safe, stay home! Love you all!