My husband went on a business trip to Italy and I stayed home with my kids. He brought me a deluxe moleskin set. I decided I might talk to him again, after all!
I am generally a Mega moleskin fan, I've used up countless sketchbooks over the years. Sometimes I use them to just … take notes, a waste of paper, I know, but I love the feel of the sketchbooks. The paper is hard and thin, and super smooth, really perfect for sketching (or taking notes!) on the go. What I didn't know about the brand is that they make pencils as well. Naturally, as an avid pencil collector, I had to test them out.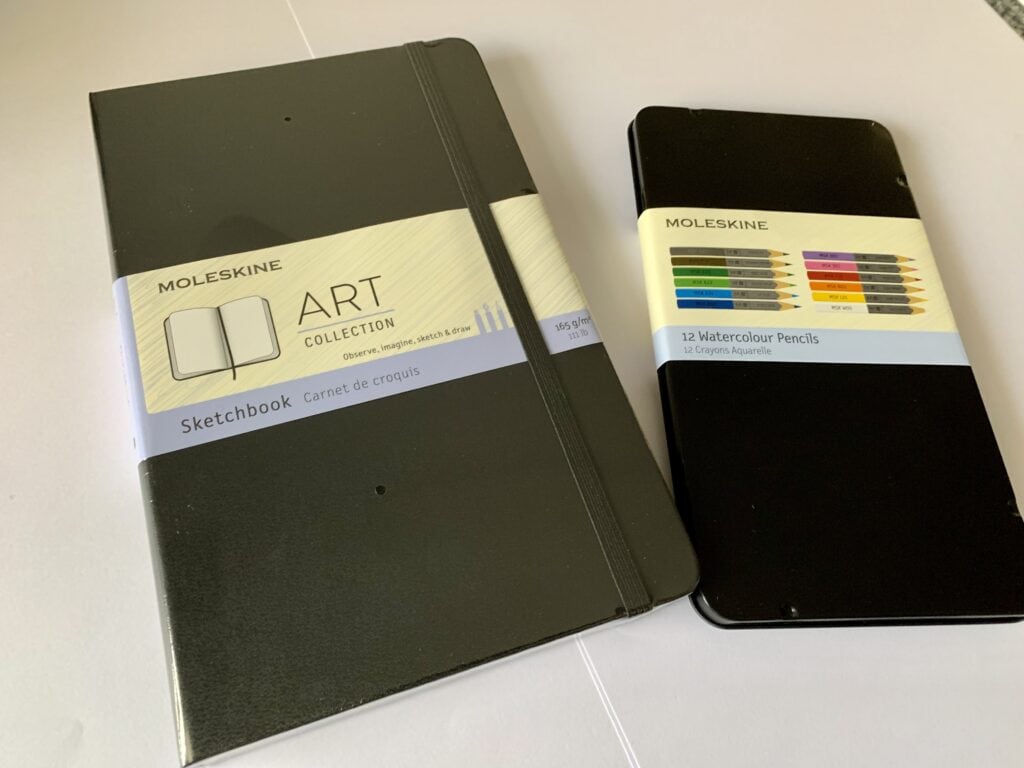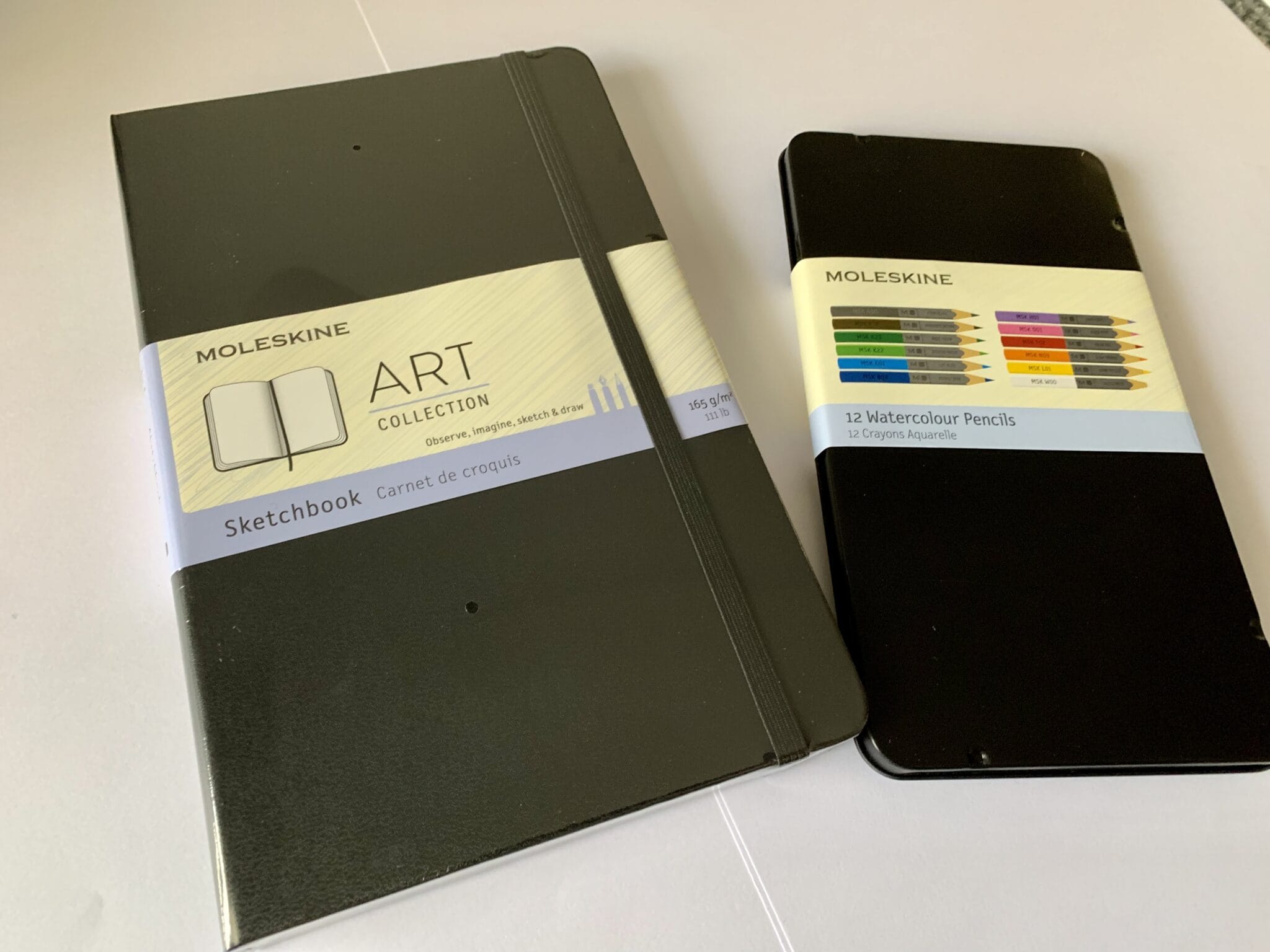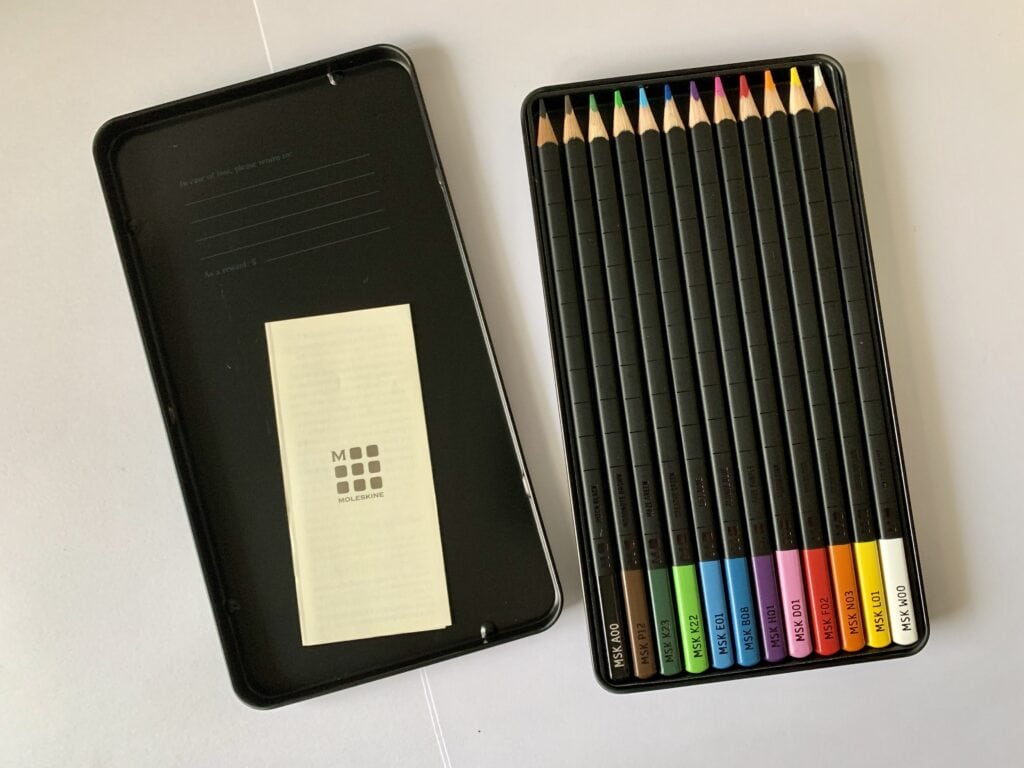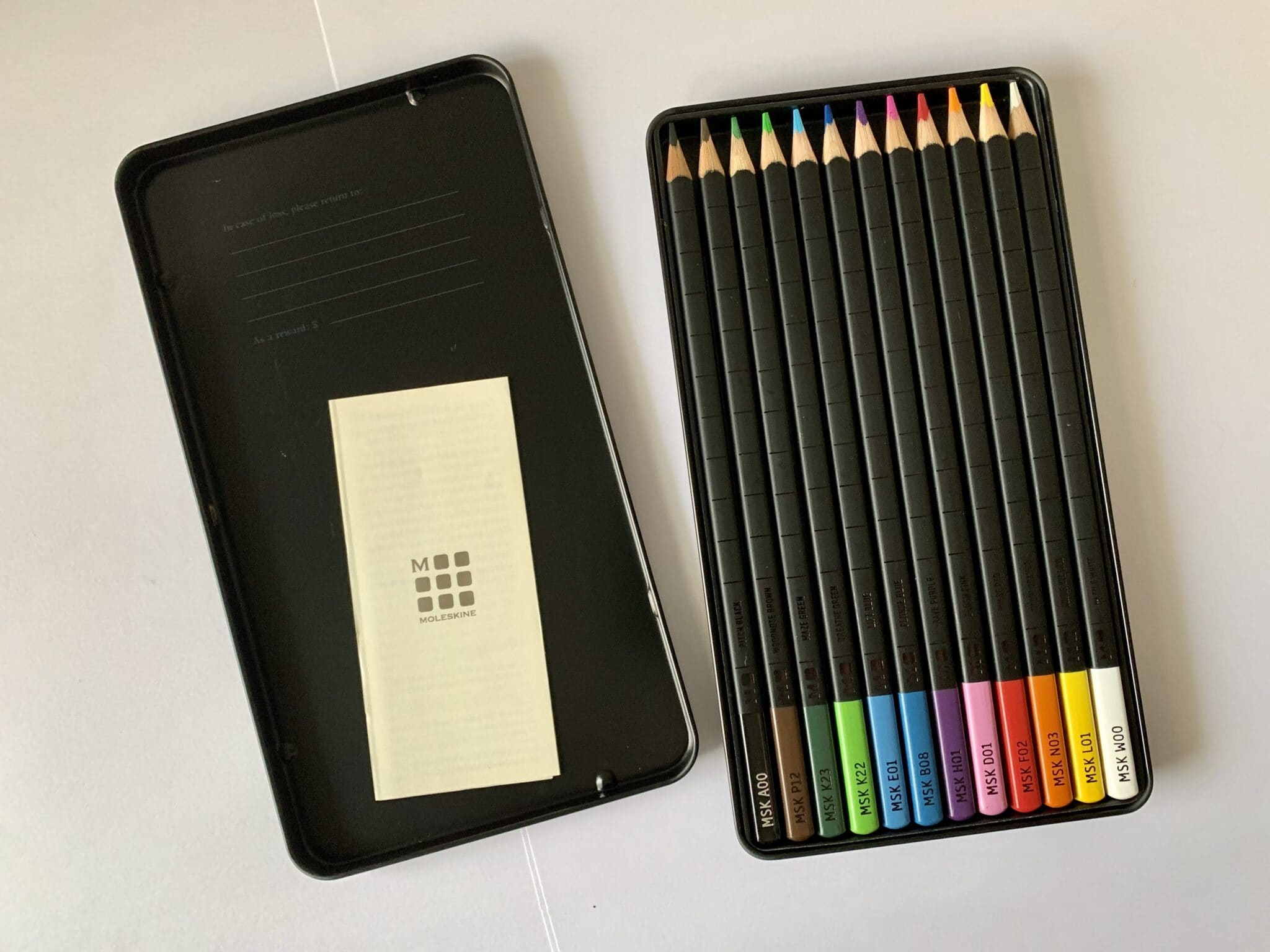 From my experience with their sketchbooks, Moleskin is one of those "luxury" brands. You mostly buy the brand, not the actual product, as you can normally find a similar product at a fraction of the price. (Why we still buy them, you might ask. Well, it's the same reason we buy designer clothes, girls buy luxury makeup etc) So, I had no idea what to expect. However, at such a price tag, (the pencil set cost $26.95 on the Moleskin website), I really wanted them to work.
The specifications first. The one and only set comes in 12 shades, no other colors available. They are water color pencils, meaning that the pigment is water soluble. The grip is square. This is a nice touch, design-wise, but I don't really see any difference regarding the hold. The palette consists of basic colors only and they are on the brighter side. Which is quite understandable, if I was to release a 12-color pencil set myself, I would make sure they covered the whole spectrum. However, such palettes are tricky when it comes to creating realism. But you know me, I love challenges. I've created pieces with kids pencils, with limited pencils, with cheap pencils, you name it. Without further ado, let's dive straight into the review.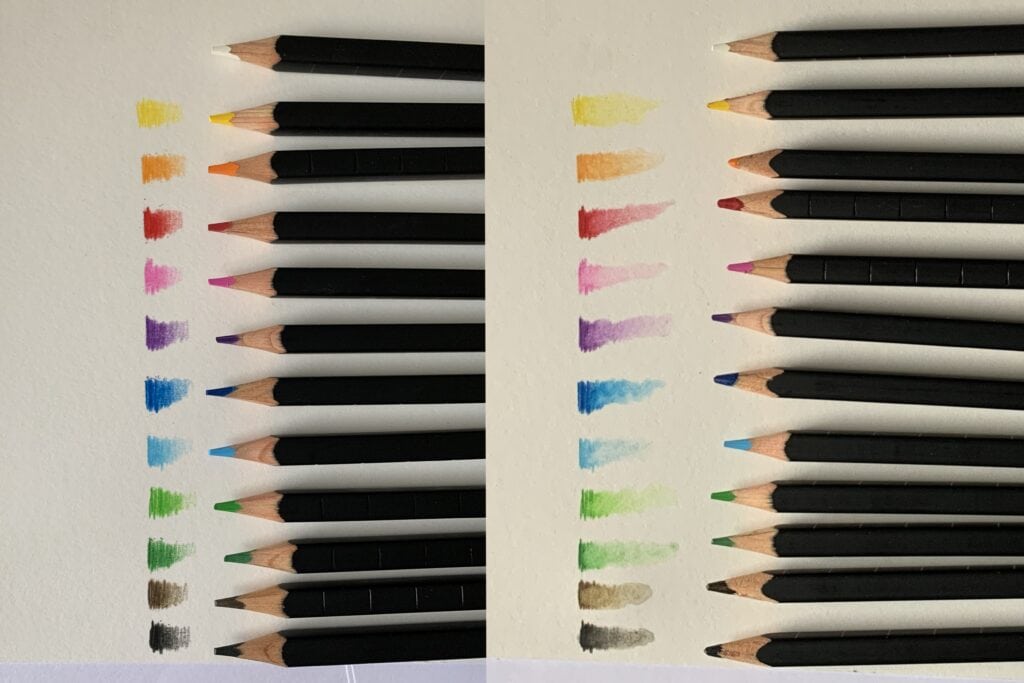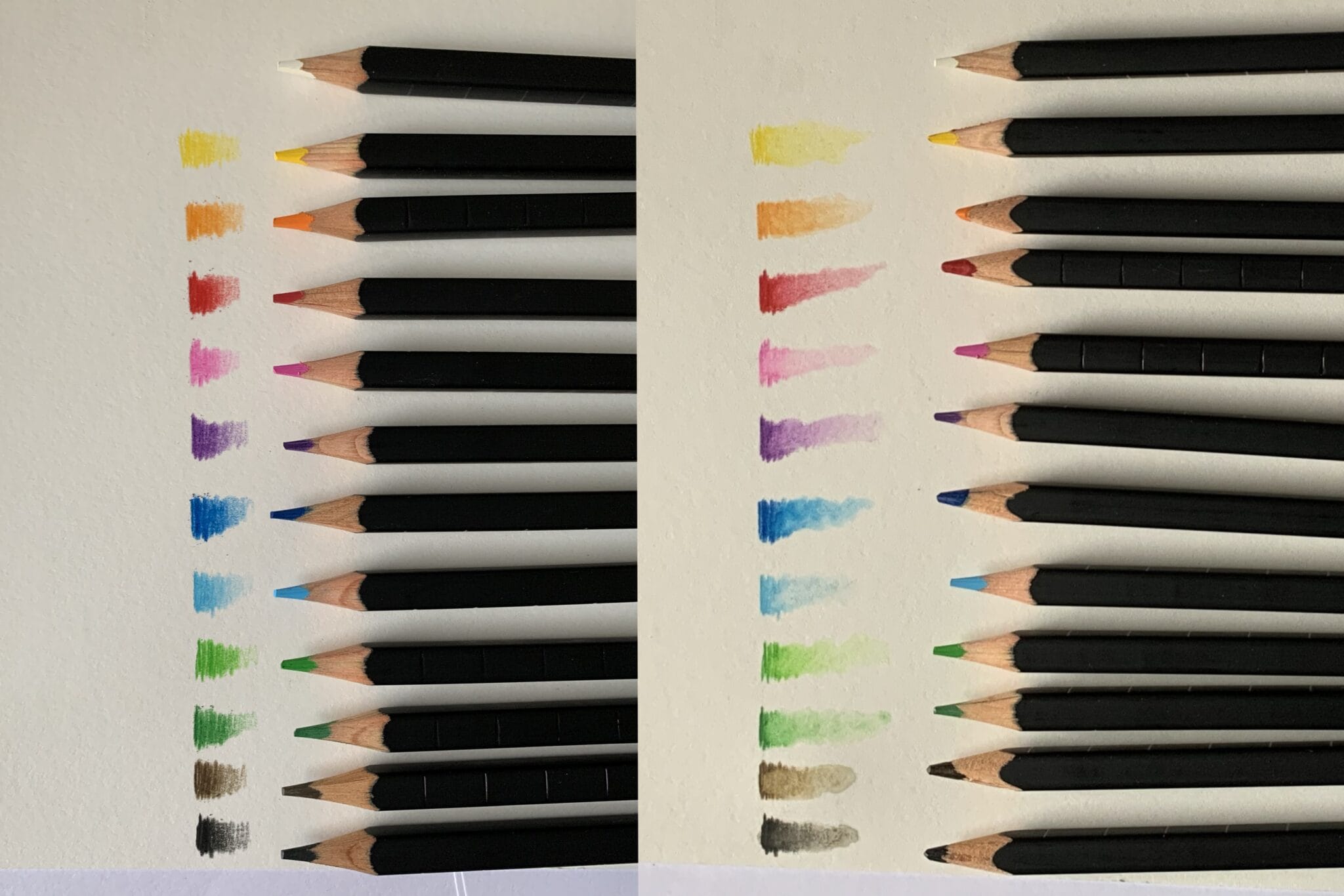 These are watercolor pencils, they can be used either dry or wet. I swatched them on my all time favorite paper, winsor&newton smooth surface cartridge pad. First thing I noticed is that the colors are super bright and saturated, like wow! They apply smoothly and blend easily. The pencils are on the harder side, not soft like prismacolor, neither hard like polychromos. Consistency wise they are closer to Faber-Castell Albrecht Dürer, which is to be expected since they are too water soluble pencils. When wet, they give off a beautiful painterly texture.
Since these are moleskin pencils I wanted to create something on the Moleskin Sketchbook. After all they are packaged together, they are supposed to be a perfect match, right? The result? Moleskin pencils didn't deliver on moleskin notebook. Which is weird, I mean come on moleskin, are you serious? Why a brand should create a Pencil that doesn't work on the brand's sketchbook? Beats me.
Disclaimer: The review below is about Moleskin pencils when used with moleskin paper. As I mentioned before, they actually perform nice when used with other artist grade paper.
Texture/Blending
Moleskin Sketchbooks are super super smooth. No texture at all. But the paper is hard and thin (as opposed to soft, "fluffy" paper, which normally works better with colored pencils) so blending is practically impossible. That's why you can see every single stroke and that alone creates the illusion of heavy "texture".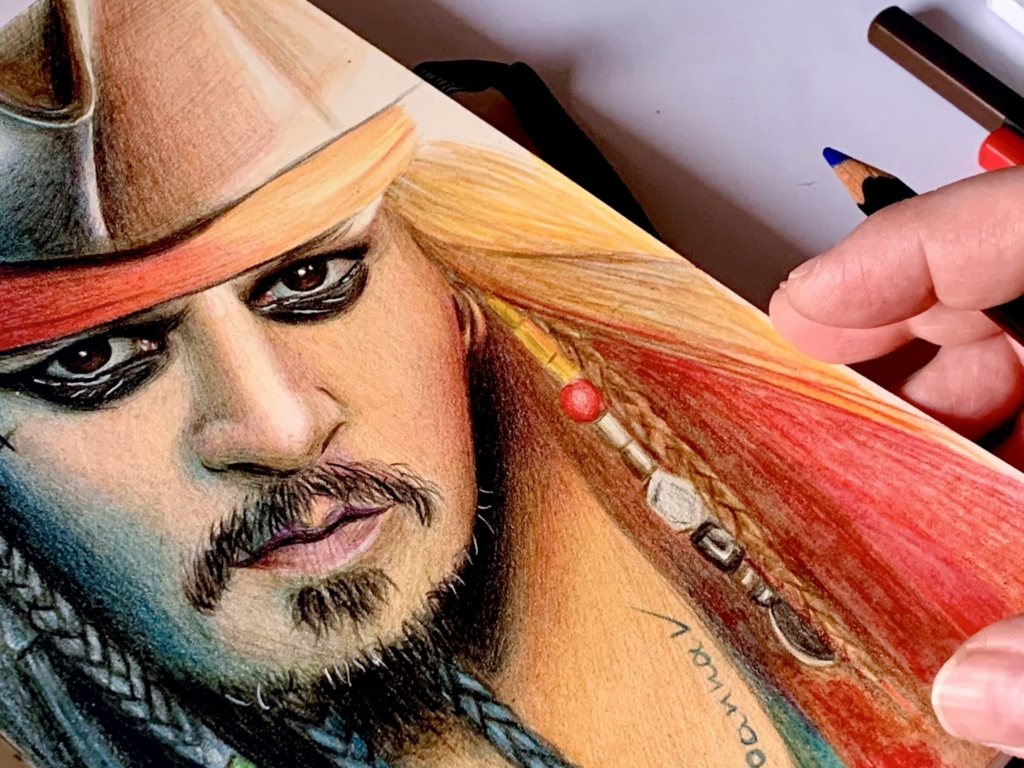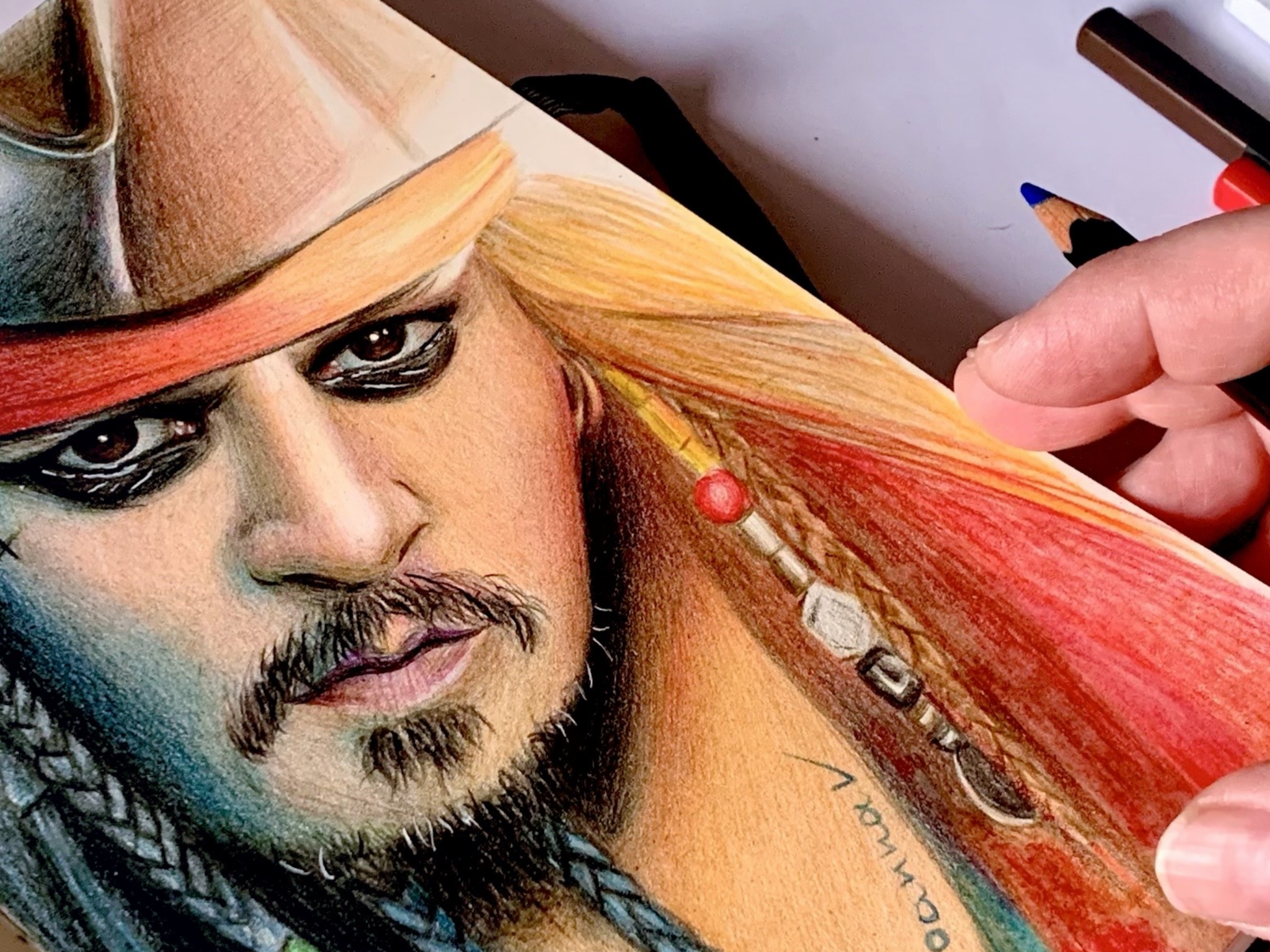 Color Brightness
Things are a bit better when it comes to brightness, however colors are not even closed to the bright colors swatched on Winsor&Newton. (which once again is strange, why create a pencil that doesn't work with the other products of the brand?)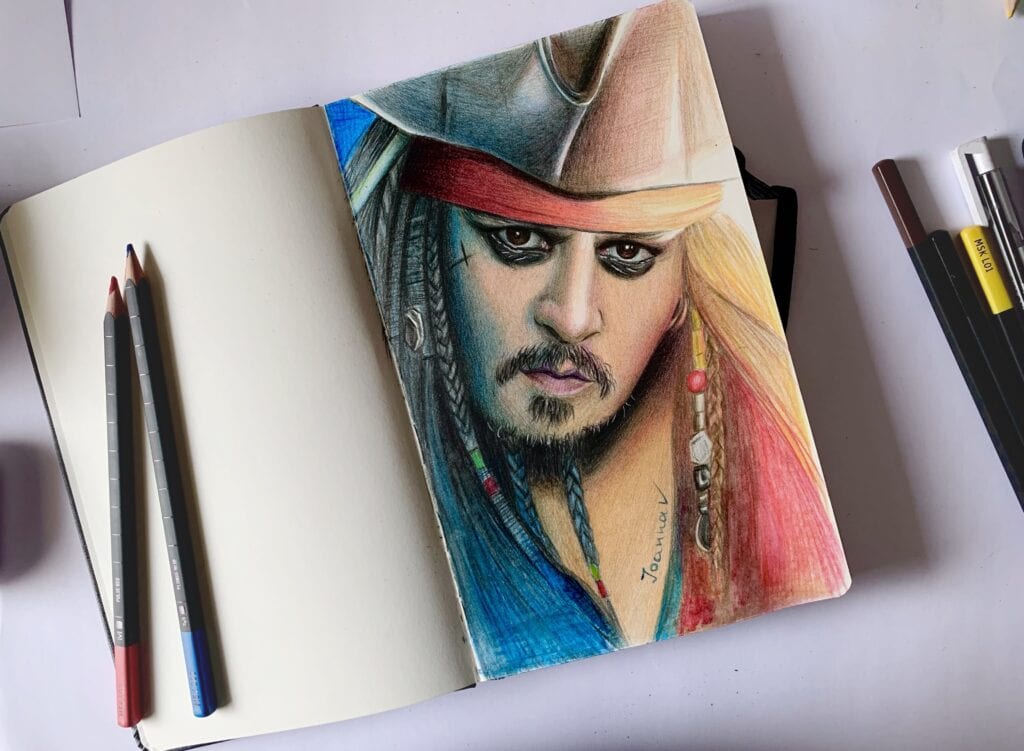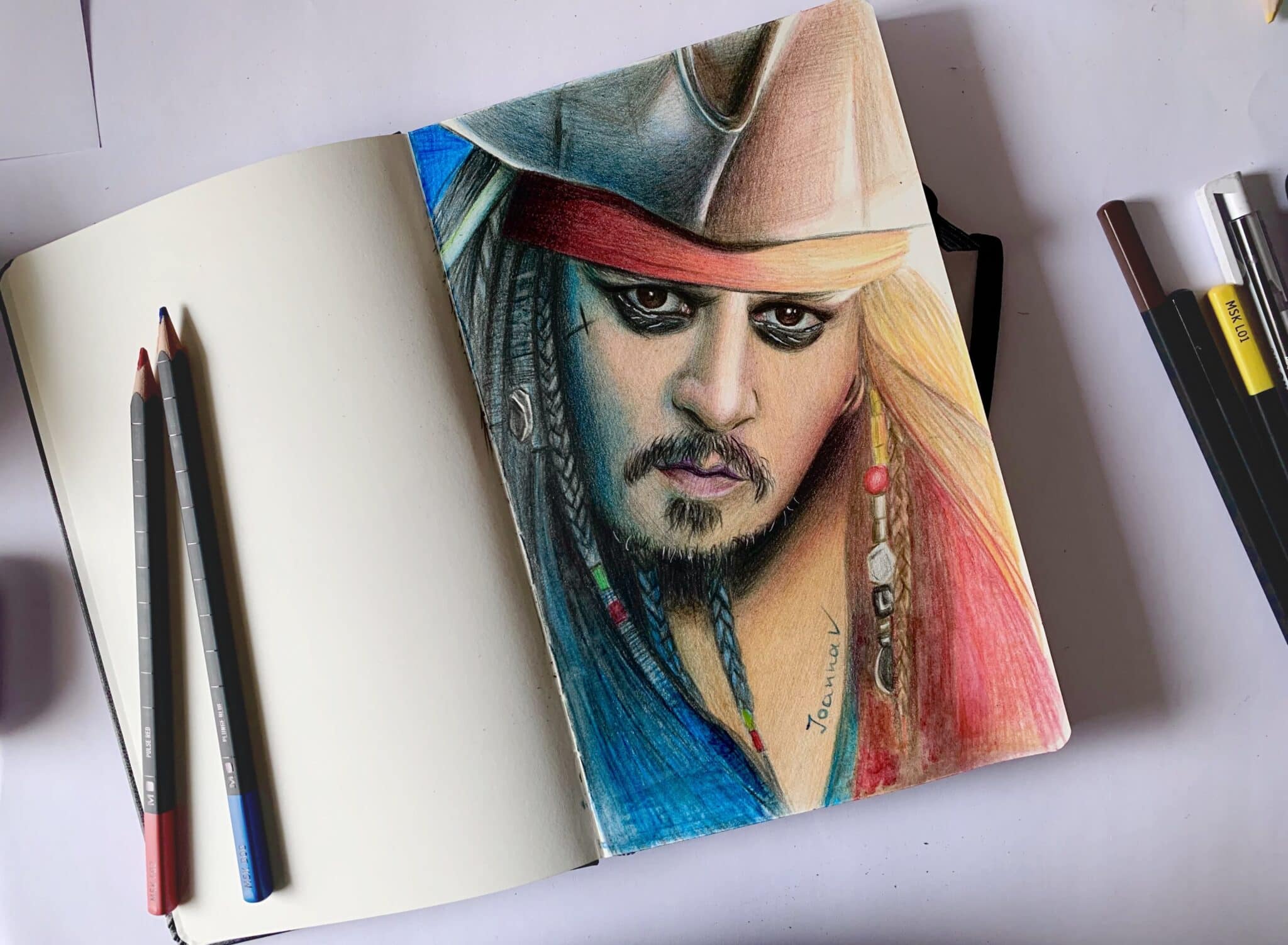 Layering
The super thin, super smooth moleskin paper doesn't go well with layering. In fact, after 2-3 soft layers, the pigment doesn't stick on paper any more. (actually even a single stroke doesn't deposit as much pigment as desired. That's why colors can look dull, the black isn't true "black" etc)
Lightfastness
Lightfastness is the color ability to remain intact as time passes. Not many people talk about Lightfastness, and modern influencers seem to care only about short-term results and ignore this quality all together (and they drive me mad to say the least). But, as you can tell, lightfastness is very important. Imagine ordering a portrait and having the colors fade in a few months. Anyway, no matter how hard I tried, I didn't find any information about the pencils lightfastness. (Maybe because they are primarily branded as sketching pencils? Who knows) In any case, I plan to make a drawing, stick it on my window and leave it there, to check out lightfastness myself. Stay tuned! 😉
Pencils per page
If you are familiar with the rest of my colored pencil reviews, pencils per page is a unit of my own invention that shows how fast a pencil is consumed. Full marks here, the pencils are on the harder side and they can last really long. Although they break quite often to be honest, maybe it has something to do the square shape?
Price
The set of 12 pencils costs 26.95$. Which is pricey compared to high-end, artist-grade pencils. The price seems even higher if you take into account that Moleskin pencils are primarily supposed to be sketching pencils
Used Wet
As watercolor pencils, they can be used either dry or wet. When used wet, they leave streaks and marks and overall a "dirty" effect which is not at all representative of watercolors. Which is to be expected since moleskin paper is thin and hard, (watercolor paper is, well, the opposite! Soft and thick) and cannot absorb water. Still dumbstruck why they are sold as a set with the sketchbook.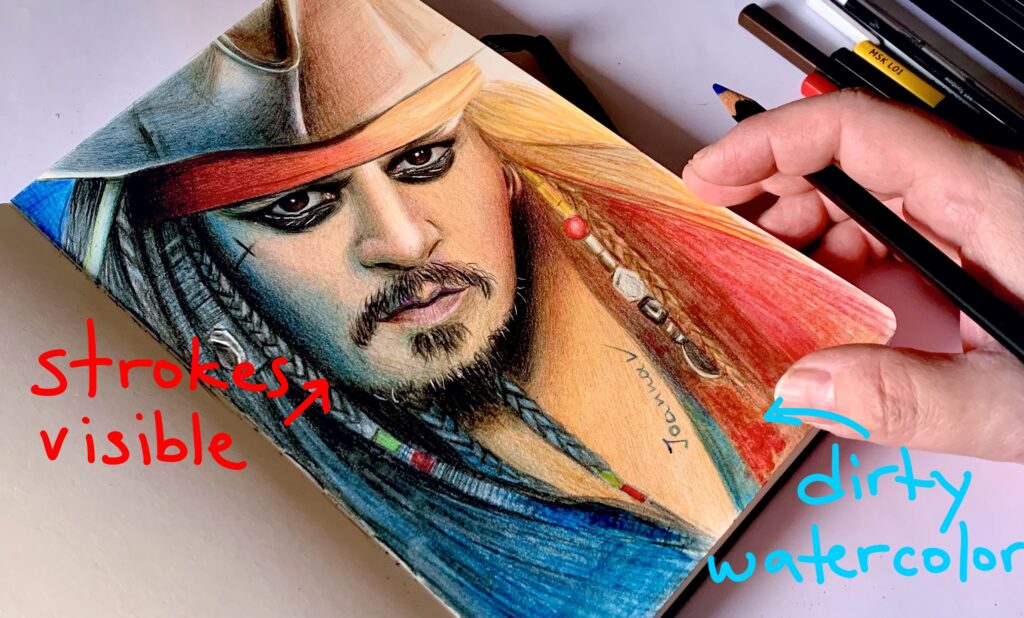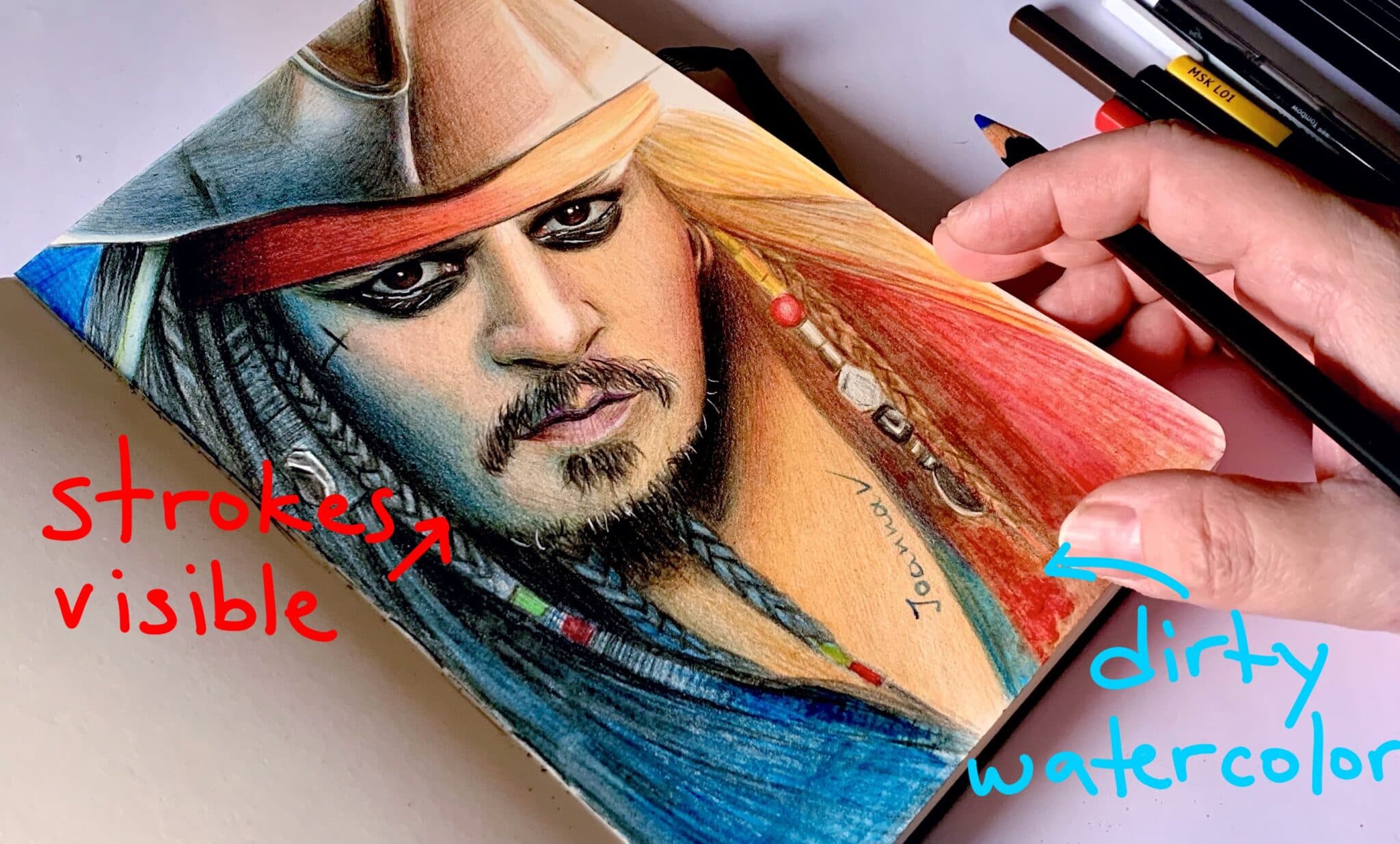 Final thoughts:
I've always been a moleskin fan and I will continue to use their sketchbook. But their pencils? No thank you very much. To be completely honest, I cannot decide if I like them. They certainly have some good qualities, but only if used with thick, fluffy paper. They deliver no results when used on Moleskin sketchbooks. I don't really understand the concept.
Anyways, these are collectors items, I will keep them ('what kind of pencil collector I am after all??) and maybe create a piece on Winsor&Newton paper. Stay tuned!