It's no news that I love Arrtx. I have reviewed their products again and again and again, I tried their colored pencils, their acrylic markers, their metallic markers, and I am anlways overwhelmed by the quality and consistency of their products. However, since my primary medium (and my greatest love of my life, art-wise) is graphite pencils, I was over the moon when they sent me their sketching pencils to review!
Disclaimer: The pencils were sent to me for review, and some links (marked with *) are affiliate links. However this is not a sponsored post and all opinions are my own.
The first thing that I noticed is the unique packaging. Look at that!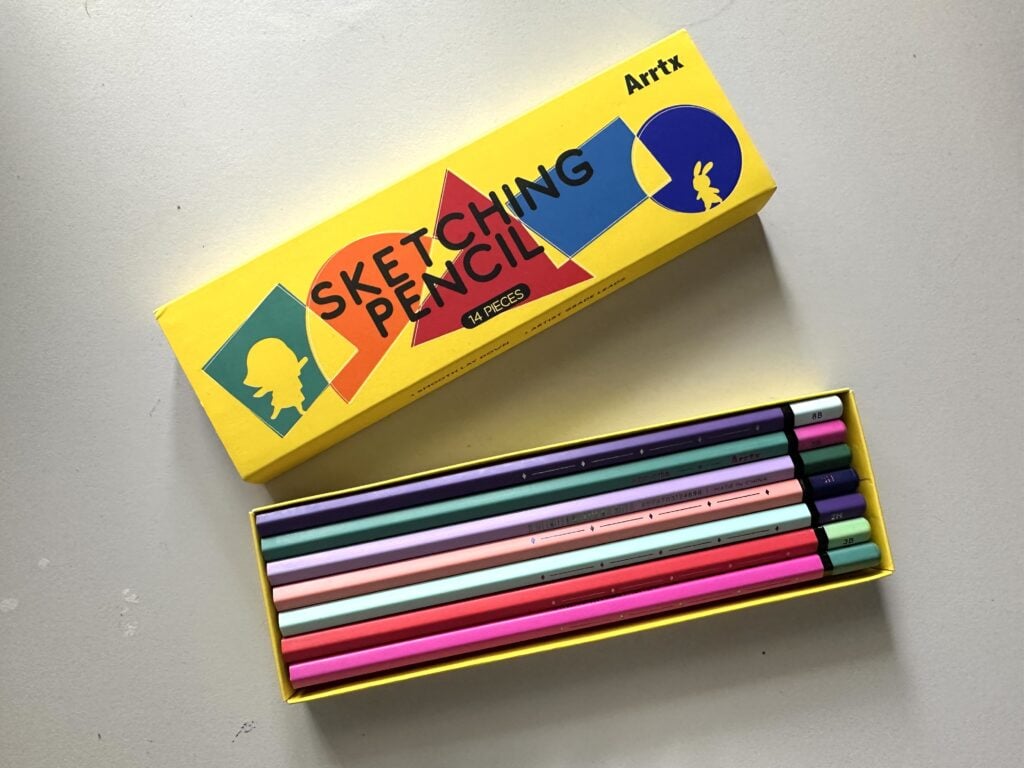 But the biggest surprise is not the packaging itself, it is what's inside. And, yes, these are the most beautiful pencils I have ever seen.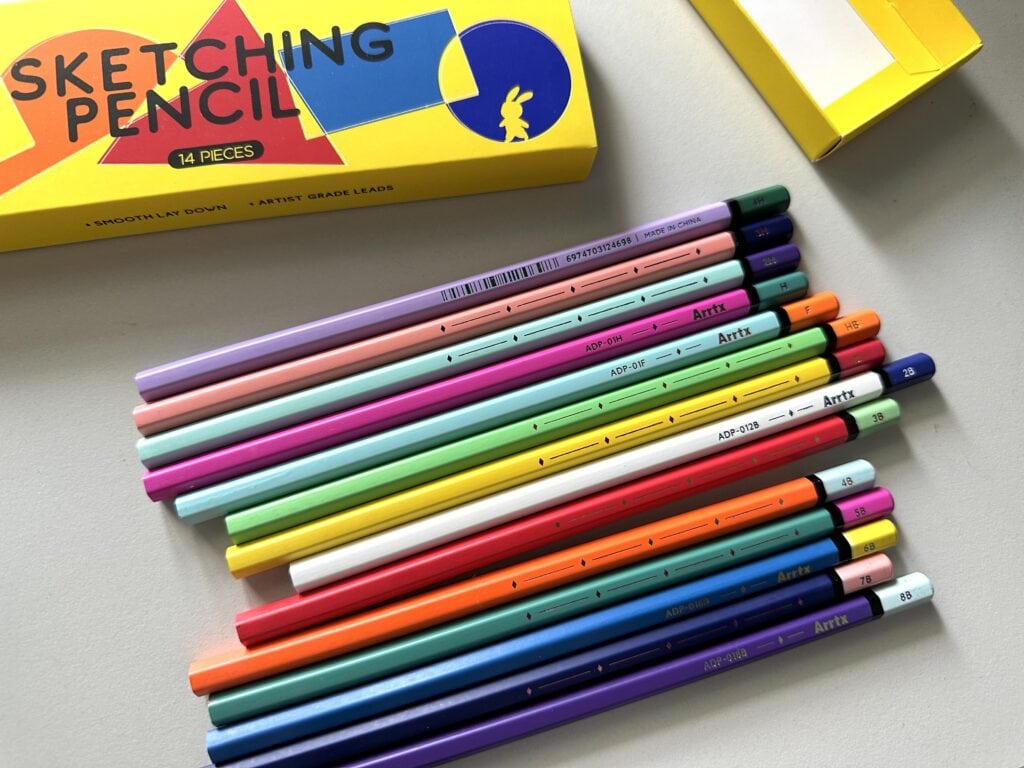 The pencils come in 14 different colors each one corresponding to a different grade (4H, 3H, 2H, H, F, HB, B, 2B, 3B, 4B, 5B, 6B, 7B, 8B). They are a joy to look at, and a joy to use. Of course one can argue that it is not the outside that matters, still I personally love when my materials are appealing to the eye. They make drawing a … colorful experience. Literally. Anyways, enough with the introduction, let's jump straight to the review.
General Characteristics
The whole set of the 14 different grade pencils comes in a stylish cardboard case. As mentioned, each grade comes in a different color. The pencils come in a hexagonal shape, so that they don't roll over the desk, and the core is slightly larger in diameter than most other brands, which means they are extremely durable when it comes to breakage. I will actually come back to this later.
One thing worth mentioning is that they do not come sharpened. Which of course isn't a problem, but that takes away the joy of getting them out of the box and use them right away!
Range of Grades
They come in 14 grades ranging from 4H to 8B. You can see the swatches below.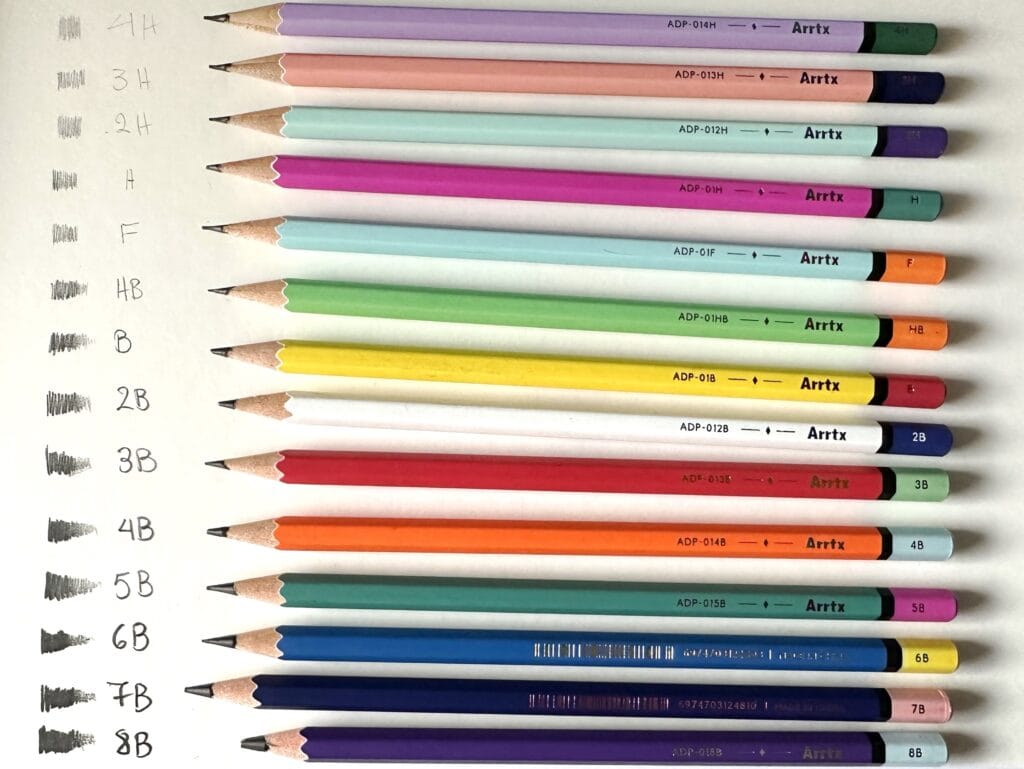 Pretty stunning right? I was also impressed by the actual range of the pencils. H grades were really hard and "scratchy" (Those grades are rarely used by drawing artists, they are mostly targeted to designers) whereas B shades were soft and creamy, they apply like butter on paper and they blend extremely well.
Blackness
Normally graphite artists care about two things when they choose their pencils: "blackness" (=black intensity of the darker values) and shine. I'll talk about shine in the next paragraph. Here I will talk about blackness.
I have written a blog post before, where I crash test all my favorite graphite pencils to see which one is the blackest. Today I tested the same pencils, but of course I added Arrtx ones to the list. You can see the results below.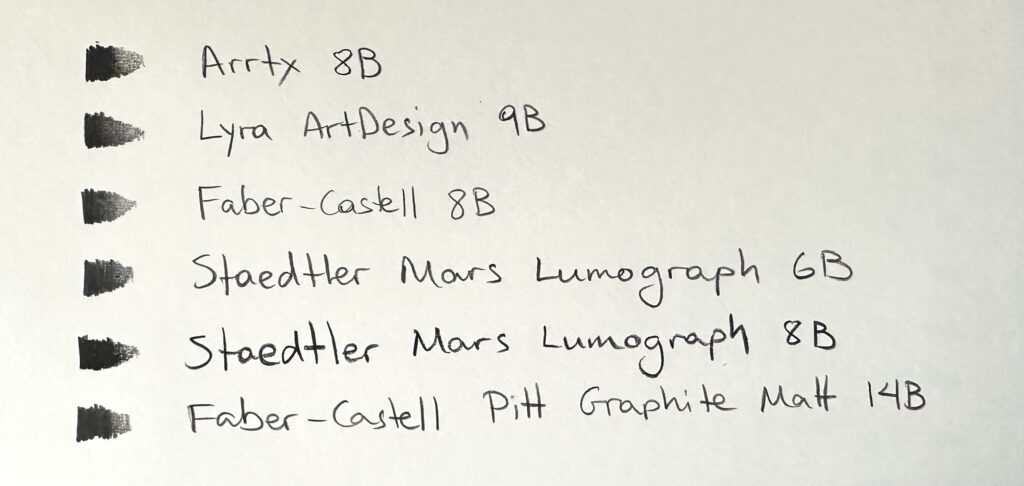 Hard to notice any difference I know. Arrtx 6B is not pitch black, I would say it is identical to Lyra 9B and Mars Lumograph 6B.


Graphite Shine
And we come to graphite shine, graphite artist's biggest nightmare. I have written about this issue quite a few times, check out this article where I talk about shine in general and this one where I compare my pencils regarding graphite shine. In short, graphite pencils fall into two categories, those that have a graphite quality, thus they give off quite a lot of shine, and those that have a charcoal-ish quality and they are matt. Arrtx pencils fall into the first category. (For reference, out of all pencils from the previous picture, the first 4 have a graphite quality, and the last 2 are closer to charcoal). There's nothing wrong with graphite shine, it all depends to personal taste, you can read more here, where I share my thoughts. Arrtx pencils give off considerable shine, when you look at a certain angle, although to be honest it took quite an effort to find that angle!


Personally I don't care too much about graphite shine, in fact I love graphite shine, I think it makes a pencil drawing legit. (Also I am an experienced graphite artist and I know how to work my pencils to diminish graphite shine, oh I think I found another topic for a future post, stay tuned!)
Breakage
No broken leads whatsoever. This came as no surprise, as I already mentioned that the lead is large in diameter, thus resistant to breakage. The pencils that break more often for me, are Faber-Castell and Lyra, and these have leads small in diameter, which means they are prone to breakage. However I have to say that, apart from the occasional breaking I never had serious problems with any of the brands I have ever tried. I also use a generic eraser, no exceptional stuff.
Price
Arrtx is notoriously one of the most affordable brands out there. (But high quality, don't get fooled!) The whole 14-piece set costs 8.49£ – 9.89€ – 10.81$ on Amazon. Which makes the costs per pencil the most affordable out there.
Overall Score
Aaaand for those of you who would like a chart, here you have it!

Black intensity: 4.5/5
Blendability: 5/5
Mattifying ability: 3/5
Price: 5/5 
Joy to use: 6/5 (!)
Yep, I have already reviewed the rest of my graphite pencils (you can find the comparison charts here), but Arrtx surpasses any other pencil when it comes to the actual joy! Apart for the feel and blendability, they are such a pleasure to look at, and hold in hand! So much that my 7 year old plans to steal them from me. Now that I am finished with my review, I might give her a handful.
Open Stock
Unfortunately you cannot buy individual pencils, it is the whole case or nothing. Which is strange because artists rarely use all these grades. Personally, I use as few pencils as possible, there isn't a single artwork that I used more than 3 different grades. (And for those who are curious, until recently these 3 grades were mars lumograph 2B, 6B and 8B. However, I believe Arrtx pencils are targeted mainly to students, so makes sense that they have all these grades together.
Arrtx Sketching Pencils in a Real Artwork
Of course I had to test the pencils in a real artwork. I chose to make a portrait of Pedro Pascal, I am a big fan! First time I saw him was in "The Great Wall" (yes, I haven't watches Game of Thrones, sue me) and I wondered why this guy isn't famous. Well, his time has come! Back to the review. I am really satisfied with the result. I saw no difference compared to most artist grade pencils. The only thing I wish is that they make a softer pencil in the future (mmmm maybe 8B) and that they were open stock. In any case they are a great addition to my collection. Totally recommended especially if you are a beginner!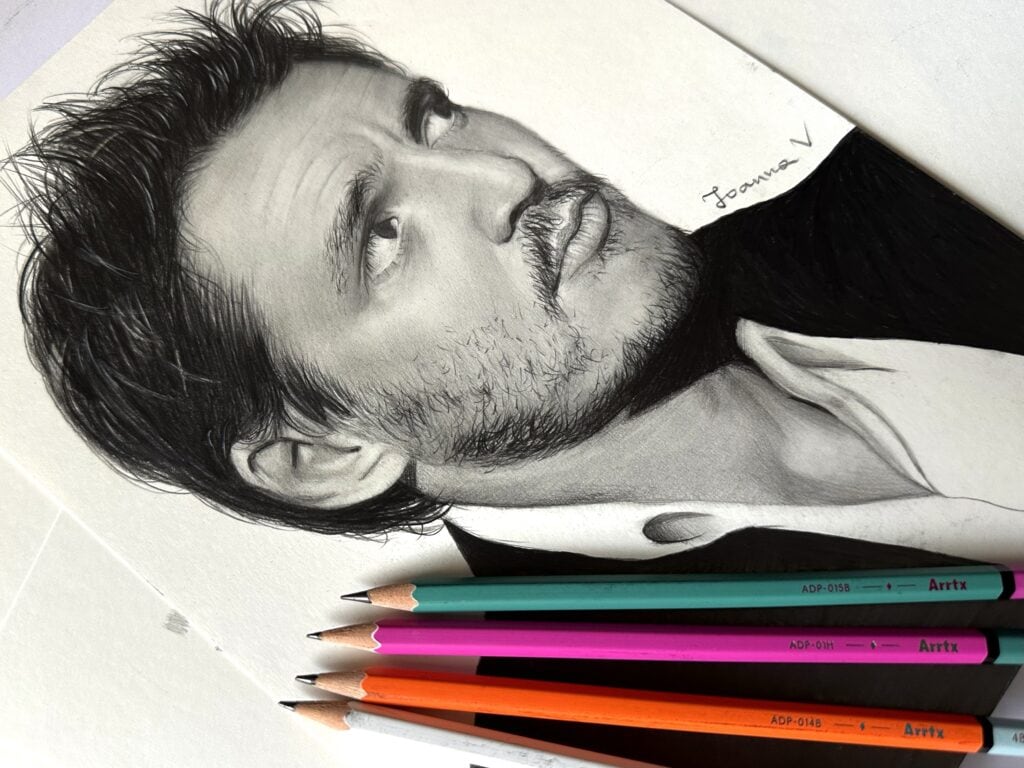 You can get Arrtx Sketching pencil here: (*affiliate linkshttps://youtu.be/mI6SzCimFWghttps://youtu.be/mI6SzCim
Amazon US: https://amzn.to/3palRdV *
Amazon CA: https://amzn.to/3NGnIQO *
Amazon UK: https://amzn.to/43PdeEs *
Amazon DE: https://amzn.to/3NFbacG *
Amazon FR: https://amzn.to/3XgLPcd *
AliExpress: https://bit.ly/3o9tSir